AT&T Stadium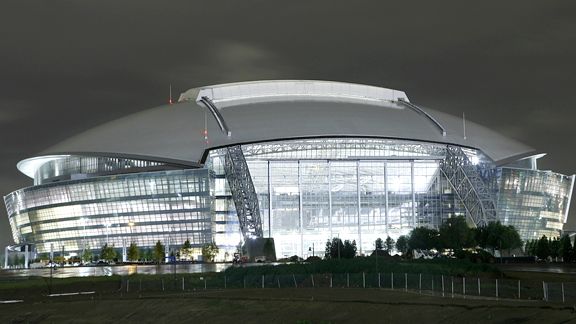 AT&T Stadium

One AT&T Way
Arlington, TX 76011

Capacity

80,000
HISTORY:
Cowboys owner Jerry Jones wanted to make his mark when it came to building a stadium to replace Texas Stadium. And he didn't disappoint. Everything is Texas-sized.
AT&T Stadium has several key design features, as outlined by the team's website, including the largest retractable roof on the planet, which when closed makes the facility the largest enclosed NFL stadium.
The most famous feature, however, may be the world's largest HDTV. A center-hung video board is composed of four display screens (two facing the sidelines, measuring 160 feet by 72 feet, and two facing the end zones at 53 feet by 30 feet), weighs 600 tons and is suspended 90 feet above the field. The two bigger screens are the world's largest, SportsBusiness Daily reports.
Designers hope that when the roof is opened, a process that takes 12 minutes, the image of Texas Stadium's famous "hole in the roof" comes to mind. Another architectural first is the world's longest single-span roof structure, featuring two 292-foot arches that support the retractable roof. The retractable end zone doors, which open in 18 minutes, also are, you guessed it, the world's largest.
The seating configuration is expandable to accommodate 100,000 for major events, including when AT&T Stadium hosted Super Bowl XLV in February 2011. And the bow on the stadium is the 86-foot-high, canted-glass exterior wall. AT&T Stadium also hosted the 2010 NBA All-Star Game.
(See more on the Pilgrimage to Cowboys Stadium.)
-- Information from the AT&T Stadium website was used in this overview
WEATHER
Monday

Rain: 2%
59º - 78ºF

Tuesday

Rain: 25%
65º - 80ºF

Wednesday

Rain: 65%
53º - 78ºF

Thursday

Rain: 5%
48º - 69ºF

Friday

Rain: 2%
55º - 78ºF