July, 22, 2017
Jul 22
7:00
AM ET
The Seattle Seahawks could have as many as four new starters when the NFL season opens. Here's a starting lineup projection: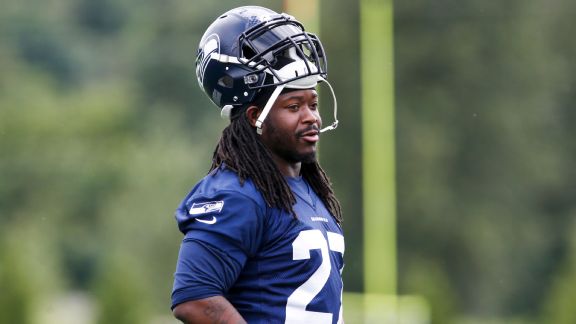 Joe Nicholson/USA TODAY SportsThe Seahawks are hoping running back Eddie Lacy will provide balance to their offense.
Offense
Quarterback (Russell Wilson): The Seahawks struggled to protect him last year, and Wilson battled through three different injuries. He deserves credit for his toughness, but he wasn't the same guy, rushing for a career-low 259 yards. The focus for Wilson will be on staying healthy and regaining his form from the second half of 2015, when he dissected defenses from the pocket and threw 25 touchdowns against two interceptions during an eight-game stretch.
Running back (Eddie Lacy): The Seahawks aggressively pursued him in free agency, and given that Lacy signed a one-year deal, he has a lot riding on this season. Assuming he keeps his weight down, Lacy is the favorite to start over Thomas Rawls, who will still have a role. At a minimum, C.J. Prosise will be the third-down back and a big factor in the passing game.
Wide receiver (Doug Baldwin): He set career highs with 94 catches and 1,128 yards a year ago. Only Odell Beckham Jr. and Antonio Brown have more touchdowns than Baldwin (21) over the past two seasons.
Wide receiver (Jermaine Kearse): Last year was a struggle. Kearse caught just 51.3 percent of his targets, had one touchdown and was called for a league-high six offensive pass interference penalties. He'll need to bounce back to hold on to the starting job. Paul Richardson, who played well down the stretch last season, could make some noise here.
Wide receiver (Tyler Lockett): He suffered fractures to his tibia and fibula (right leg) in December but should be ready for the start of the season. If healthy, Lockett has the skill set to be the Seahawks' top vertical threat.
Tight end (Jimmy Graham): He finished third among tight ends with 923 receiving yards last season and led all players at his position with a yards-per-catch average of 14.2. But the Seahawks need to do a better job of finding Graham in the red zone, where he had just six receptions last season.
Left tackle (George Fant): He was put in a tough spot last year, starting 10 games after having barely played any football since the eighth grade. Fant bulked up to 320 pounds (from 296) in the offseason and is the favorite to protect Wilson's blind side.
Left guard (Luke Joeckel): He'll compete at either left guard or left tackle. Joeckel played four games at guard with the Jacksonville Jaguars last season and is coming off of a knee injury. Like Lacy, he's on a one-year deal.
Center (Justin Britt): He was easily the Seahawks' best offensive lineman last year. Entering the final year of his contract, Britt will look to earn an extension.
Right guard (Mark Glowinski): He'll make the switch from left guard and will look to improve on an inconsistent 2016 campaign.
Right tackle (Germain Ifedi): The 2016 first-round pick will switch from guard to tackle and has to make the second-year leap. Rookie Ethan Pocic could push both Ifedi and Glowinski for playing time.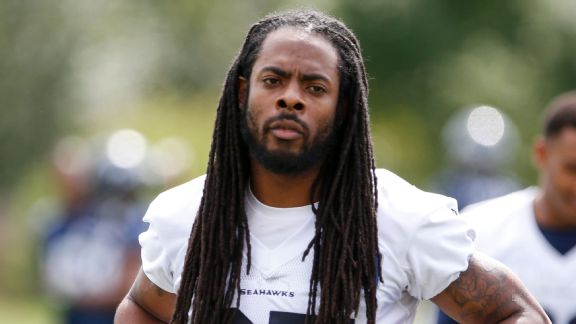 Joe Nicholson/USA TODAY SportsCornerback Richard Sherman intercepted four passes last season.
Defense
Defensive end (Michael Bennett): He missed five games last season but has been consistently one of the most disruptive defensive linemen in the NFL. Bennett plays DE in the Seahawks' base defense and slides inside to tackle when Seattle is in nickel.
Defensive tackle (Ahtyba Rubin): He doesn't get a lot of attention, but Rubin's play on the interior has been key to the Seahawks' strong run defense.
Defensive tackle (Jarran Reed): He started five games at nose tackle as a rookie and will look to develop into a consistent contributor in his second season.
Defensive end (Cliff Avril): He has 20.5 sacks over the past two seasons and has started every game since 2014. Avril, Bennett and Frank Clark give the Seahawks one of the NFL's best pass-rushing units.
Weakside linebacker (K.J. Wright): He made his first Pro Bowl last season. Teammates and coaches consistently point to Wright as one of the Seahawks' smartest and most underrated defensive players.
Middle linebacker (Bobby Wagner): He led the NFL with 167 tackles last season and plays a key role in getting the Seahawks lined up properly pre-snap.
Strongside linebacker (Michael Wilhoite): This is a part-time position in the Seahawks' defense that is replaced by a cornerback when the team moves to nickel. Wilhoite and Terence Garvin will compete for the job.
Cornerback (Richard Sherman): After a tumultuous offseason that saw the Seahawks shop Sherman around the league, he's still with the team. Sherman will undoubtedly be in the spotlight this season, but he is still one of the NFL's top corners.
Cornerback (Jeremy Lane): Most likely, he'll start on the outside and slide inside when Seattle is in nickel. But Lane will have to hold off rookie Shaquill Griffin and others for the starting right cornerback job.
Strong safety (Kam Chancellor): He's entering the final year of his contract and it'll be interesting to see if Chancellor receives an extension before the start of the season. Chancellor is the leader of the defense and played at a high level in 2016.
Free safety (Earl Thomas): He broke his leg on Dec. 4 and the defense fell apart without him, allowing 12 touchdown passes with one interception. He's ahead of schedule in his recovery and will be ready to go for the start of the season, barring any setbacks.
Special teams
Kicker (Blair Walsh): The Seahawks let Steven Hauschka walk in free agency and are counting on Walsh to replace him. He'll have to prove this summer that he's up for the challenge.
Punter (Jon Ryan): He's back for his 10th season with the Seahawks and is in the second year of the four-year deal he signed last offseason.
Long-snapper (Nolan Frese): He'll have to hold off Tyler Ott for the job.
July, 21, 2017
Jul 21
7:00
AM ET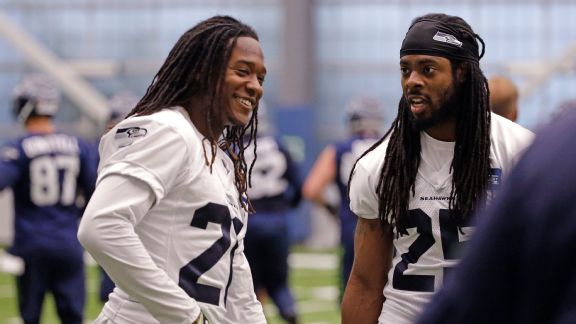 AP Photo/Elaine ThompsonThird-round pick Shaquill Griffin, left, is in the mix to start opposite Richard Sherman at cornerback.
The Seattle Seahawks open training camp on July 30 at the Virginia Mason Athletic Center in Renton, Washington. Here's a 53-man roster projection:
QUARTERBACKS (2): Russell Wilson, Trevone Boykin
Wilson has never missed a game in his NFL career but battled through three injuries last season. Boykin will compete with Austin Davis for the backup job during training camp and the preseason.
RUNNING BACKS (4): Eddie Lacy, Thomas Rawls, C.J. Prosise, Alex Collins
The first three are locks to make the roster. How Lacy and Rawls divide the workload on early downs will likely be determined by how they perform in camp and the preseason. Prosise will be the third-down back and figures to be a big factor in the passing game if he can stay healthy. Collins is competing for a roster spot and will have to hold off guys like seventh-round pick Chris Carson.
FULLBACK (1): Algernon Brown
The Seahawks had success running out of two-back sets at times last season, and it seems likely they'll keep a fullback on the roster. Brown and Kyle Coleman will compete for the job.
WIDE RECEIVERS (6): Doug Baldwin, Jermaine Kearse, Tyler Lockett, Paul Richardson, Amara Darboh, David Moore
The first five here are locks. Other than Baldwin, the wide receivers will be competing for roles and playing time. Kearse has to show he can bounce back from a down 2016 campaign. Lockett is coming off of a serious leg injury. Richardson played well down the stretch last season and is in a contract year. Darboh and Moore are rookies. Others, such as Kenny Lawler, Cyril Grayson, Kasen Williams and Tanner McEvoy, will be competing with Moore to make the team.
TIGHT ENDS (3): Jimmy Graham, Luke Willson, Nick Vannett
Graham and Willson are scheduled to be free agents after this season, and the Seahawks will be looking for Vannett to be more involved than he was as a rookie. It's possible Seattle will keep a fourth tight end like Marcus Lucas or Tyrone Swoopes if it makes sense for special-teams purposes.
OFFENSIVE LINEMEN (9): George Fant, Luke Joeckel, Justin Britt, Mark Glowinski, Germain Ifedi, Ethan Pocic, Rees Odhiambo, Oday Aboushi, Jordan Roos
As always, there will be plenty of moving parts with Tom Cable's group as the offensive line coach looks for the best five-man combination. Joeckel will get a shot at left tackle or left guard. Glowinski (left guard to right guard) and Ifedi (right guard to right tackle) are switching positions, and the Seahawks are hoping Pocic can contribute as a rookie. Seattle has more options than it did a year ago, but whether this group improved enough in the offseason remains to be seen.
DEFENSIVE LINEMEN (9): Cliff Avril, Jarran Reed, Ahtyba Rubin, Michael Bennett, Frank Clark, Malik McDowell, Nazair Jones, Cassius Marsh, Quinton Jefferson
This may be the strongest group on the roster. Avril, Bennett and Clark all have double-digit sack potential. Reed and Rubin will key the Seahawks' always consistent run defense. McDowell and Jones will look to contribute as rookies. Marsh brings versatility and special-teams value. And the team has high expectations for Jefferson, who has to get healthy after missing the spring with a knee injury.
LINEBACKERS (5): Bobby Wagner, K.J. Wright, Michael Wilhoite, Terence Garvin, Kevin Pierre-Louis
Wagner and Wright are coming off spectacular seasons and are true three-down linebackers. Wilhoite or Garvin will likely win the strongside job, but that's a part-time position that is replaced when Seattle goes to nickel. Pierre-Louis will likely be competing for a roster spot.
CORNERBACKS (6): Richard Sherman, Jeremy Lane, Shaquill Griffin, Neiko Thorpe, DeAndre Elliott, Mike Tyson
This projects that last year's starting right cornerback, DeShawn Shead, will start this season on the physically unable to perform list. Lane, Griffin and Thorpe will be competing for Shead's spot until he gets healthy. Tyson and Elliott will have to compete for roster spots.
SAFETIES (5): Earl Thomas, Kam Chancellor, Bradley McDougald, Delano Hill, Tedric Thompson
Last year, the defense fell apart when Thomas suffered an injury. In the offseason, the Seahawks added McDougald, who will serve as the top backup at both strong and free safety. Seattle could also use some three-safety looks with him. Hill and Thompson -- both rookies -- will look to earn roles on special teams.
SPECIALISTS (3): Blair Walsh, Jon Ryan, Nolan Frese
The kicking game is probably the biggest under-the-radar question mark on this team. If Walsh struggles in camp and the preseason, the Seahawks will have to scramble for other options. Frese will have to hold off Tyler Ott for the long-snapper job.
July, 20, 2017
Jul 20
7:00
AM ET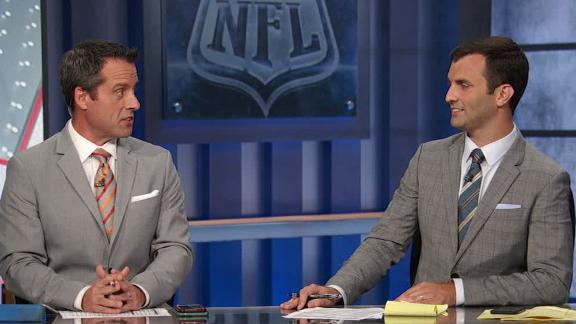 The Seattle Seahawks open training camp on July 30 at the Virginia Mason Athletic Center in Renton, Washington. Here's a closer look at the Seahawks' camp:
Top storyline: Can the Seahawks put the offseason drama behind them and compete for a Super Bowl while their core is still together? Pete Carroll and John Schneider openly shopped cornerback Richard Sherman after his tumultuous 2016 campaign, but everyone said the right things during the spring. Sherman and quarterback Russell Wilson said their relationship is fine. And Carroll dismissed an explosive ESPN The Magazine report as old news. Last year's camp featured frequent scuffles among teammates, a byproduct of Carroll's competitive culture. With Kam Chancellor and Jimmy Graham entering the final years of their deals and Sherman's future with the team uncertain, the sense of urgency will be high again this summer. Team chemistry will be the No. 1 storyline at camp and during the season.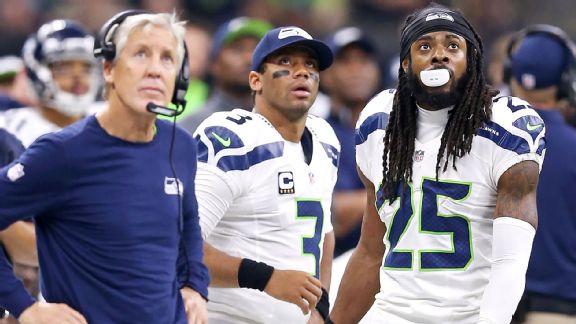 Chuck Cook/USA TODAY SportsPete Carroll, Russell Wilson and Richard Sherman are still together in Seattle. Will the team move past the offseason strife?
QB depth chart: Seattle did very little to address the backup quarterback spot even though Wilson battled through three injuries last year. The Seahawks brought Colin Kaepernick in for a visit but didn't sign him. Instead, it'll be Austin Davis and Trevone Boykin competing for the backup job behind Wilson. The Seahawks generally keep only two quarterbacks on their 53-man roster.
Bubble watch: The Seahawks decided to take a flier on 2013 No. 3 overall pick Dion Jordan, but he could have a tough time making the team. Jordan weighs in the 280s, Carroll said, and will be looked at as a rotational defensive lineman. But he had knee surgery after joining the Seahawks and did not participate in any spring activities. Given that Seattle used two draft picks on defensive linemen, Jordan faces an uphill climb to a roster spot.
That rookie could start: The coaching staff raved about cornerback Shaquill Griffin during spring practices. With DeShawn Shead unlikely to be ready for the start of the season, the competition at right cornerback is open. The most likely scenario is Jeremy Lane starting there and sliding inside in nickel, with Griffin playing the outside. But if Griffin shows he can effectively play the ball in the air during training camp, he has a chance to steal the starting spot from Lane.
Offensive line musical chairs: Tom Cable said he thought the personnel staff "nailed" the offseason in regard to offensive-line moves. But this remains the biggest question mark on the roster. The Seahawks signed Luke Joeckel and Oday Aboushi. They spent a second-round pick on Ethan Pocic. But did they do enough? Seattle needs big leaps from second-year players George Fant and Germain Ifedi. The offensive line doesn't have to be elite, but if this group can improve, the Seahawks are Super Bowl contenders.
Regaining an identity: The Seahawks aggressively pursued running back Eddie Lacy in free agency and are hoping he'll jump-start their running game, which struggled in 2016. A healthy Wilson will help, and Thomas Rawls and C.J. Prosise will carve out their own roles, but Lacy is expected to be the lead back. He'll have another weigh-in incentive early in camp. And the Seahawks want Lacy at 245 or lighter during the regular season. The veteran running back is on a one-year contract and will look to earn a longer-term deal with a strong performance in 2017.
For daily updates at camp, check out the Seattle Seahawks clubhouse page.
July, 16, 2017
Jul 16
12:27
PM ET
Every cloud has a silver lining, and every NFL team does some things well. Even the worst team has certain plays and tendencies in which the players are productive.
We've gone through Football Outsiders' extensive statistical databases to point out specific strengths of each team in 2016: one for offense, one for defense. Some of these splits are significant for illuminating the strengths and weaknesses of each team's personnel. Other splits tend to oscillate wildly from year to year, and a great performance in 2016 may not indicate that a team will be equally strong in the same ways in 2017. Either way, the numbers provide an interesting window into what each team did right last season.
Football Outsiders' advanced metrics are explained here. The most important is Defense-adjusted Value Over Average, which measures success on each play compared to the league average, adjusted for situation and opponent. Because DVOA is measured on a per-play basis, it can easily be separated to measure specific splits; you'll see a lot of those ratings below.
Charting stats such as frequency of blitzes, pass pressure and play-action come from ESPN Stats & Information research. Other charting metrics, including player personnel and broken tackles, come from Sports Information Solutions. You'll be able to find many more of these stats in our Football Outsiders Almanac 2017, which will be released online on July 24.
AFC East | AFC North | AFC South | AFC West
NFC East | NFC North | NFC South | NFC West
---
AFC EAST

Offense: Running from two-back sets
The Bills were much better when they had a fullback or tight end in the backfield: 5.7 yards per carry and 24.4 percent DVOA from multi-back sets, compared to 4.6 yards and 7.4 percent DVOA from single-back sets. Fifty-seven percent of the Bills' runs come out of multi-back sets last year, the highest rate in the league. Buffalo and New England were the only teams over 50 percent. Just five years ago, more than half the teams in the league were over 50 percent.
Defense: Play when trailing
One reason the Bills really weren't blown out until the last week of the season: The defense never let opponents run away with a game. Although the Bills had one of the league's worst defenses overall (27th in DVOA), they ranked third in defense when they were losing by more than a touchdown.
Offense: Empty sets
The Dolphins were fabulous from empty-backfield sets: 8.9 yards per play and a league-leading 95.0 percent DVOA.
Defense: First-down pass defense
Overall, the Dolphins had an average pass defense, 16th-ranked DVOA in the NFL. But on first down, the Dolphins ranked third in pass-defense DVOA; only Denver and Pittsburgh were better.
July, 14, 2017
Jul 14
7:00
AM ET
Who will win the NFC West, and how many teams from the division will make the playoffs?
Josh Weinfuss, Arizona Cardinals reporter: Cardinals. Two. Whether alleged or true, all of the turmoil will take its toll on the Seattle Seahawks this year and be one of the reasons they don't win the division. However, there still is enough talent in the Pacific Northwest, especially at quarterback and on defense, for Seattle to win nine or 10 games and make the playoffs. However, the division crown will be handed back to the Cardinals, who spent this offseason stocking their locker room with veterans who can provide valuable leadership for one more run at a Super Bowl with the current core. The Cardinals were three kicks away from 10 wins last season and two other special-teams mishaps away from 12 wins and a good seed in the playoffs. If they can repeat last season's performance and eliminate the mistakes, they could be in play for one of the top two seeds in the NFC.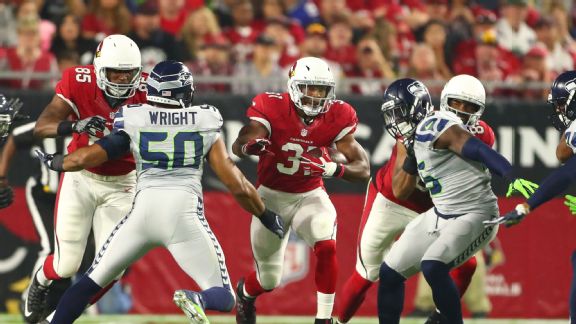 Mark J. Rebilas-USA TODAY SportsCan David Johnson and the Cardinals run through the Seahawks and reclaim the West?
Alden Gonzalez, Los Angeles Rams reporter: I have the Seahawks winning the division, pretty easily, and nobody else making the playoffs.
The 49ers are rebuilding under John Lynch and Kyle Shanahan; they made some nice moves through free agency and the draft but have a ways to go. The Rams aren't necessarily in a rebuilding phase, but they also have brought in a new head coach, are coming off a 4-12 season and have sported the NFL's least-productive offense in each of the past two seasons. They're probably still at least a year away.
Then there are the Cardinals. They were a popular Super Bowl pick heading into the 2016 season, but a lot has happened since. Mainly, Carson Palmer and Larry Fitzgerald got a year older and the Cardinals finished with a 7-8-1 record. They then lost several important pieces on defense and didn't necessarily get better on either side of the ball.
The Cardinals just don't seem to have enough to make the playoffs, and they definitely don't have enough to catch the Seahawks. I'm not sure how much longer this Seahawks defense will be dominant. But it should happen for at least another year, especially with safety Earl Thomas back. Seattle's offense will be better, as well, with Eddie Lacy in its backfield. I still have questions about the Seahawks' offensive line, but this roster, if healthy, should be good enough to coast to a division title.
Nick Wagoner, San Francisco 49ers reporter: The Seahawks will be the only NFC West team to make the postseason. The NFC West's days of dominance have come to an end. While the Seahawks, Cardinals and 49ers made this the toughest division in football in the recent past, that is no longer the case. The Niners had the biggest fall of all and are now in the midst of a full-fledged rebuild. Although they won't admit it, the Rams are in the same situation and have a long way to go to get to the postseason. Arizona boasts a lot of talent, especially on defense, and could sneak its way back into the mix, but it's fair to wonder if Palmer is still good enough to lead that charge. Seattle would be considered more vulnerable to a drop-off in a better division, but having the best defense and quarterback in the division, combined with plenty of big-game experience, should land the Seahawks their fourth division crown in five years and sixth straight postseason appearance.
Sheil Kapadia, Seattle Seahawks reporter: It will be a two-team race for the division between the Seahawks and Cardinals. Both teams will get into the playoffs, but Seattle gets the nod here as NFC West champs. The Seahawks' defense is loaded, even though it's getting a little bit older, and a healthy Russell Wilson will go a long way in the offense bouncing back from a lackluster 2016 campaign. But the Cardinals have a legitimate shot to finish first. Offensively, there are question marks, but David Johnson is the most dynamic playmaker in the division. I really liked Arizona's draft; Haason Reddick and Budda Baker have a chance to be impact players right away on what was already a strong defense. The race to clinch the division should go down to the wire, and who knows, maybe we'll even get another 6-6 overtime tie.
July, 13, 2017
Jul 13
7:00
AM ET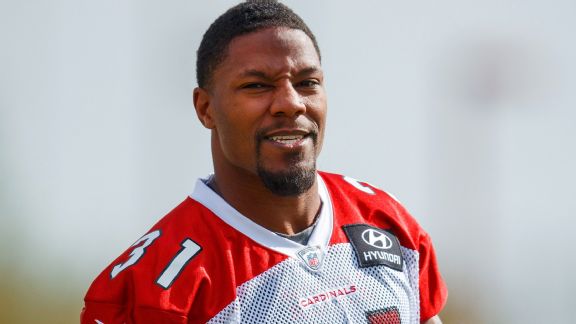 Mark J. Rebilas-USA TODAY SportsAfter a monster season in 2016, Cardinals RB David Johnson is expected to pick up where he left off.

Today's question: Who will be the MVP in the NFC West?
Josh Weinfuss, Arizona Cardinals reporter: David Johnson. Cardinals coach Bruce Arians has said multiple times this offseason that he wants Johnson to get 30 touches a game in a mix of runs and catches. There's the obvious benefit: If Johnson can continue on the torrid pace he set last year, he'll be the centerpiece of the offense and produce the type of yards and touchdowns that can help the Cardinals get back to the playoffs. If he doesn't, however, then the Cardinals' season will be stuffed at the line of scrimmage. Odds are the latter won't happen, especially with Arians' ingenuity, which will spread out the offense and open running and receiving lanes for Johnson. However, it won't be surprising if his production slows as defenses home in on him. By the end of the season, however, Johnson will affirm himself as the division's MVP. His pass catching, pass protection and vision will improve this season, making him maybe the toughest back in the NFL to stop.
Alden Gonzalez, Los Angeles Rams reporter: This one has to be David Johnson. He had a monster season in 2016, leading the NFL with 2,118 yards from scrimmage and 20 touchdowns. And his workload may actually pick up in 2017. Arians said he would like to see Johnson get at least 30 touches a game this season, and it's easy to see why. Carson Palmer, 37, is coming off a down year. Larry Fitzgerald will be 34 at the end of August, and the rest of the Cardinals' receiving corps performed well below expectations last season. The Cardinals have no choice but to rely heavily on Johnson, an elite running back who also has the skills to be a playmaking wide receiver. By the end of the year, nobody will be able to match the offensive numbers Johnson will compile. Whether it actually helps the Cardinals reach the playoffs is an entirely different story.
Nick Wagoner, San Francisco 49ers reporter: Seattle quarterback Russell Wilson. Johnson is the division's best player, but Wilson remains the most valuable player. Wilson is still the best quarterback in the division and one of the biggest reasons the Seahawks remain the favorites to win the NFC West again. Last year was Wilson's first chance to play a full season in which the offense centered on him and, though injuries prevented him from being as good as he was over the final part of the 2015 season, he still proved capable of guiding Seattle to the postseason. If Eddie Lacy can provide some stability to the running game and the offensive line shows even a modicum of improvement, Wilson should be able to stay healthy and put up the big numbers needed to remain the most important player on the division's best team. That should be enough to make him the NFC West MVP.
Sheil Kapadia, Seattle Seahawks reporter: Wilson. There's no mystery as to why the Seahawks' offense struggled last year. Wilson suffered three injuries that reduced his mobility and caused him to get heavier than he would have liked. The 2016 season was a great example of how much Wilson means to Seattle -- both in the running game and the passing game. When healthy, he can make up for deficiencies on the offensive line, and without his legs, the running game is mediocre at best. With Doug Baldwin, Jimmy Graham, Tyler Lockett and C.J. Prosise, this could end up being the best group of pass-catching weapons that Wilson has ever had. Assuming his health holds, look for him to get back to his 2015 form.
July, 12, 2017
Jul 12
9:28
PM ET
As with most award shows, fashion was the center of attention at The 2017 ESPYS in Los Angeles.
Some athletes saved their best outfits for Wednesday night, while others, such as Golden State Warriors star Kevin Durant, treated it like just another day.
His teammate, Stephen Curry, was looking dapper in an all-black tuxedo. He snapped pictures with his wife Ayesha and with Memphis Grizzlies point guard Mike Conley.
Philadelphia 76ers center Joel Embiid gave his outfit some flavor with an orange blazer, standing alongside Karl-Anthony Towns. And Grizzlies shooting guard Troy Daniels went with a gold blazer and a black bowtie.
The New England Patriots, who were nominated for six ESPYS, had several players in attendance. Several Seattle Seahawks players also attended.
July, 12, 2017
Jul 12
7:04
PM ET
ESPN.com news services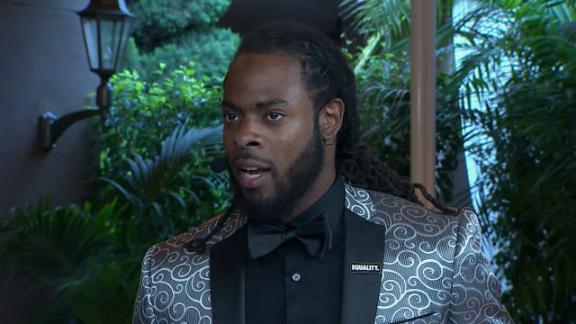 Seattle Seahawks cornerback Richard Sherman says NFL players would have to be willing to strike in order to get huge guaranteed contracts like the ones being signed this offseason by NBA players.
On July 1, NBA free agents agreed to deals totaling nearly $1 billion in the first 24 hours of free agency.
In an appearance on the ESPYS red carpet on Wednesday, Sherman was asked by ESPN's Jalen Rose whether NFL players would have to consider striking to get similar deals.
"Oh, 100 percent," Sherman said. "If we want as the NFL, as a union, to get anything done, players have to be willing to strike. That's the thing that guys need to 100 percent realize.
"You're going to have to miss games, you're going to have to lose some money if you're willing to make the point, because that's how MLB and NBA got it done. They missed games, they struck, they flexed every bit of power they had, and it was awesome. It worked out for them."
Sherman also said NFL players have to re-evaluate how they look at contracts and longevity, pointing to deals signed by the Golden State Warriors' Kevin Durant and the Cleveland Cavaliers' LeBron James.
"NBA players like KD and LeBron are sitting there taking two-year deals like it's nothing," Sherman said. "They figure, 'I'll take a two-year deal because I'm going to wait for the salary cap to increase and get another bite at the apple.' In our sport, they won't do it."
July, 12, 2017
Jul 12
7:00
AM ET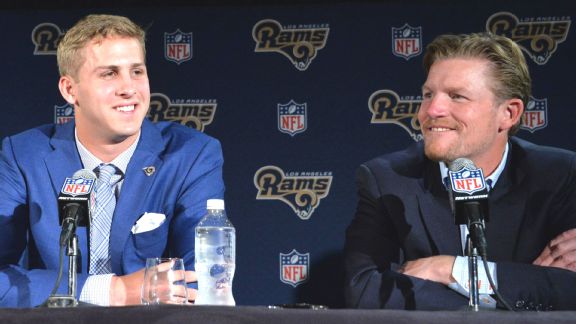 Kirby Lee-USA TODAY SportsLes Snead's job security would get a big boost if Jared Goff shows major improvement in his second season.


Who is on the hottest seat in the NFC West?
Josh Weinfuss, Arizona Cardinals reporter: Rams general manager Les Snead. He's in Los Angeles. He has a new coach. He has a top pick as his quarterback. He has a running back with elite capabilities. It's starting to become now or never for Snead. If his team struggles again, it might just be time for owner Stan Kroenke to make a change. There's too much at stake, even if the move-in date for their new stadium is three years away. The Rams can't afford to have another losing season in 2017 and scare off a fickle Los Angeles crowd, which, as everyone knows, loves a winner. Another losing season and the Rams could very likely be all but invisible to the Los Angelenos, who have at least 10 other major sports teams they can watch. And with the Cardinals and Seahawks in control of the division for the time being, the Rams need to start winning to be relevant again in the West.
Alden Gonzalez, Los Angeles Rams reporter: Snead. He came in around the same time as former coach Jeff Fisher, received an extension with Fisher, but wasn't let go alongside Fisher. When the Rams fired Fisher toward the end of the 2016 season, COO Kevin Demoff said everybody was under review, including Snead. It wasn't until the new coach, Sean McVay, was brought in that Snead's job status for 2017 solidified.
Snead is now one of few Rams executives or coaches who remain from 2016, not to mention 2012. In this offseason alone, an entirely new coaching staff was configured and a handful of scouts were fired. From 2012 to 2016, the Rams finished no better than 7-8-1 and as bad as 4-12. They have yet to construct an adequate offensive line or receiver corps, and they still don't know if they have a franchise quarterback.
A lot of that blame fell on Fisher, who had most of the control. But the pressure's on Snead to build chemistry with McVay and make the type of prudent moves that can finally steer this franchise in the right direction. The Rams badly want to be legitimate playoff contenders by the time they move into their new stadium in 2020, especially with the Chargers now giving them competition in the market.
Nick Wagoner, San Francisco 49ers reporter: Snead. The 49ers and Rams were the worst teams in the division a year ago and both made major changes in an effort to right the ship. But while the 49ers started over with a new coach and general manager, the Rams kept Snead on board. Fisher had a lot of say in the team's drafts and Snead was able to survive in part because many of the failed personnel decisions could be attributed to Fisher. Still, this will be Year 6 for Snead, and the Rams haven't posted even a .500 season during his tenure. It's always difficult to try to pair an incumbent general manager with a new head coach after the honeymoon period ends. The Rams will need to make progress this year or they could be seeking a new tag-team partner for McVay.
Sheil Kapadia, Seattle Seahawks reporter: Snead. This is an easy one. The organization finally parted ways with Fisher, and the changes to the coaching staff -- specifically hiring Wade Phillips as defensive coordinator -- should pay dividends. But that means Snead will no longer have a good excuse if this looks like a roster devoid of talent. And specifically, if Jared Goff fails to progress in his second season, it will be tough to make a reasonable case that Snead should keep his job.
July, 11, 2017
Jul 11
7:00
AM ET
Who is the rising star in the NFC West? We asked the four NFL Nation reporters who cover the division for ESPN.
Josh Weinfuss, Arizona Cardinals reporter: Cardinals running back David Johnson. To some degree, he's already a star after turning in one of the best all-around seasons by a running back in recent memory last year. But Johnson's stock and stardom will continue to rise if he puts together a season similar to what he accomplished in 2016, when he finished with 1,239 rushing and 879 receiving yards. He might have become the third running back in history to have 1,000 rushing and 1,000 receiving yards in a season if he hadn't gotten hurt in the season finale. The expectations for Johnson in 2017 will certainly be lofty after he reached 100 all-purpose yards in his first 15 games last year. But that will also make him the primary target of every defensive coordinator who faces the Cardinals. If he can repeat his performance, Johnson won't just be a rising star anymore. He'll have his stardom in the West cemented.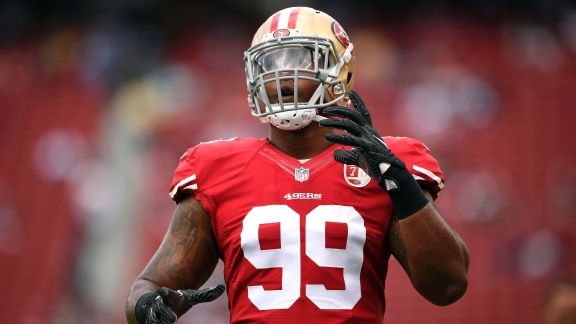 Kelvin Kuo/USA TODAY SportsDeForest Buckner should get more opportunities to rush the passer this season in San Francisco's new 4-3 scheme.
Alden Gonzalez, Los Angeles Rams reporter: We should hear a lot more about DeForest Buckner this season. The 49ers' interior pass-rusher is 6-foot-7 and 300 pounds, with the speed and power to win consistently on the inside. The 49ers made the Oregon alum the seventh overall pick in last year's draft and watched him compile six sacks while making the NFL's All-Rookie team.
Now Buckner will play on the same defensive line as Solomon Thomas, the No. 3 overall pick in this year's draft who should open up more room along the interior. Buckner will be a year older and part of an improved defense, and he should benefit from a diminished workload. Buckner ranked second in snaps among defensive linemen last season, with 963, even though he missed a game. Under new defensive coordinator Robert Saleh, the 49ers will rotate Buckner in and out of games more frequently this season to maximize his ability.
Although Buckner began his NFL career as a defensive end responsible for two gaps, he will transition to a 3-technique defensive tackle in a one-gap penetrating system, just like Aaron Donald. Buckner might not be at Donald's level -- nobody is -- but he will start to make a name for himself soon enough.
Nick Wagoner, San Francisco 49ers reporter: Arizona linebacker Markus Golden. Although his 2016 season might qualify him for the title of established star, Golden still isn't a household name. That will change soon. Golden had 12.5 sacks to lead the Cardinals last season, even after the team landed Chandler Jones. Golden combines solid athleticism with a relentless motor that has served him well in his first two NFL seasons. And he's solid enough against the run to stay on the field for all three downs, providing additional pass-rushing opportunities. With Jones re-signing in the offseason, teams won't be able to focus their whole attention on Golden, giving him a chance to continue to pile up the sacks and incite havoc for Arizona's defense.
Sheil Kapadia, Seattle Seahawks reporter: DeForest Buckner. He'll feel like a new man going from last season's scheme to the 49ers' new one-gap, 4-3 approach. Instead of being asked to read and react, per San Francisco's 3-4, Buckner will be asked to make plays behind the line of scrimmage and will have more opportunities to get after opposing quarterbacks. As a rookie last year, he played on a defense with very little talent, but he still had six sacks. Look for Buckner to make the second-year leap and thrive in the 49ers' new scheme.
July, 10, 2017
Jul 10
7:00
AM ET
Who is the best newcomer to the NFC West?
Josh Weinfuss, Arizona Cardinals reporter: San Francisco 49ers wide receiver Pierre Garcon is the pick here, although he might fly under the radar because of his team's lack of stability at quarterback. He instantly becomes one of the top wide receivers in the West, coming off a 1,000-yard season in Washington last season. Garcon, who turns 31 in August, has proved he still has what it takes to perform as a No. 1 receiver, which is what the Niners need. He had 1,041 yards in 2016, which would've been second in the NFC West, behind Seattle's Doug Baldwin and ahead of Arizona's Larry Fitzgerald. Garcon belongs in the top three, and, with a good enough season, maybe the top two behind Fitzgerald. He brings not just a star quality to San Francisco, but he can also change a game by himself, which is exactly what the floundering Niners need.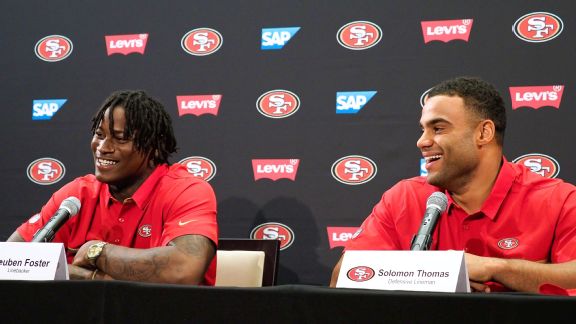 Stan Szeto/USA TODAY SportsLinebacker Reuben Foster, left, and defensive lineman Solomon Thomas, both first-round picks by the 49ers this year, are in the conversation for top NFC West newcomers.
Alden Gonzalez, Los Angeles Rams reporter: Left tackle Andrew Whitworth is the most accomplished newcomer and also the most badly needed. He replaces Greg Robinson, the failed No. 2 overall pick whom the Rams recently sent to the Lions for a sixth-round selection in 2018. And he will protect the blind side of Rams franchise quarterback Jared Goff, who absorbed 25 sacks over his final six games last season. Whitworth is 35, but he's a three-time Pro Bowler who's considered among the game's best pass-blockers. In 2015, Whitworth was a first-team All-Pro. In 2016, Pro Football Focus had him allowing only 15 total pressures and graded him second among NFL tackles.
The Rams signed Whitworth away from the Bengals with a three-year contract that guaranteed him $15 million. They hope he can be a mentor for what is still a young group of offensive linemen. And they believe he is key to helping get the most out of both Goff and running back Todd Gurley, the former Offensive Rookie of the Year who's coming off a disappointing season.
Nick Wagoner, San Francisco 49ers reporter: San Francisco linebacker Reuben Foster is my pick. The free-agent and trade additions around the division were mostly solid if unspectacular, but there were quite a few big-time pickups in the draft, particularly in San Francisco and Arizona. Foster wasn't the earliest pick of that group, but he probably brings the most ability to provide instant impact. With the usual caveat that this is dependent on Foster's shoulder being healthy and holding up for the course of the season, he has all the tools to be a three-down linebacker who makes plenty of splash plays next to NaVorro Bowman in San Francisco's defense. Arizona's Haason Reddick profiles in a similar way and should also be near the top of this conversation.
Sheil Kapadia, Seattle Seahawks reporter: Rookie defensive end Solomon Thomas was the third overall pick in the draft. The 49ers are in the middle of a massive rebuild, but they are talented up front. Thomas gives San Francisco a skilled pass-rusher who can make plays in the backfield on a consistent basis. He had eight sacks and 15 tackles for loss last season at Stanford. Considering the favorites in the division -- the Seahawks and Cardinals -- have question marks on their offensive lines, Thomas should have an immediate impact on the division as a rookie.