May, 29, 2017
May 29
6:00
AM ET
Time for a Memorial Day edition of the Seattle Seahawks mailbag. Here's today's question.
@SheilKapadia When all are healthy, what is the ideal split of touches between Lacy, Rawls, and Prosise?

— Matt Nation (@HawksFanAddict) May 25, 2017
Coach Pete Carroll said recently the Seahawks will run the ball more in 2017, and there's reason to believe him. Russell Wilson's limited mobility was a big factor in the run-game struggles last year. The running backs were banged up all season long (18 players had at least one carry). The run blocking never got in sync. And the defense fell apart down the stretch without Earl Thomas, which led to the offense needing to pass more.
From 2012 to 2015, Seahawks running backs ran the ball an average of 25.1 times per game. Last year, that number was 19.3.
There are obvious game-flow factors here. When teams are playing from behind, they pass more. But since the question was what the ideal breakdown would be, let's assume that the Seahawks produce a top-five defense in 2017, Wilson stays healthy, and they're again able to run the ball effectively.
Working off of the 25-carry average from 2012 to '15, Eddie Lacy projects to be the workhorse back. The Seahawks knew they wanted to address this position in free agency, and Lacy is the ball carrier they ended up signing. From 2013 to '15, a span in which he missed only one game, Lacy totaled 717 carries, sixth most in the NFL. That's an average 15.6 carries per game, and if Lacy is in good shape, I think he has a chance to be right around that mark in 2017.
Putting Lacy down for 15 carries leaves 10 more per game for Thomas Rawls and C.J. Prosise. Rawls is the wild card. He was great in 2015, and Carroll loves his running style. But Rawls battled through injuries last year and totaled just 349 rushing yards on 109 carries (3.2 YPC). Among 42 qualifying backs, only two (Todd Gurley and Doug Martin) averaged fewer YPC.
Rawls led the NFL in YPC and average yards after contact in 2015, but it's telling that the team aggressively sought to add a free-agent back this offseason.
The coaches love Prosise but have questioned his durability. Prosise is different than Lacy and Rawls in that he is easily their best receiving back. It's a small sample size, but last year, the numbers when targeting Prosise in the passing game were impressive: 17-for-18 for 208 yards (12.24 yards per reception).
If he stays healthy for all 16 games, it's not a stretch to suggest Prosise could catch 60 passes. Seahawks running backs caught 75 balls last year, and he's going to be on the field in all obvious passing situations.
As for the run game, my guess right now would be six carries per game for Prosise and four for Rawls.
Lacy and Rawls have similar styles, so if there's not much of a difference in their effectiveness, the gap between their workloads could be smaller. Either way, Prosise seems like a good bet for 10 touches per game between carries and catches.
May, 28, 2017
May 28
10:00
PM ET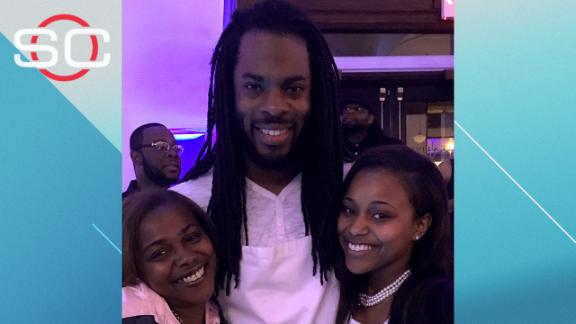 Seattle Seahawks cornerback Richard Sherman told a Virginia high school student last year that he would give her a personally funded scholarship if she brought up her grades.
And now, he's making good on his promise.
According to the Richmond Times-Dispatch, Sherman's initial conversation with Hershai James occurred last year at a charity event hosted by his former teammate Michael Robinson. Sherman challenged James to make the honor roll at Varina High School as a senior, and she did.
"It goes back to knowledge is power, and if you have knowledge, you're going to be as powerful as you ever want to be," Sherman told the newspaper. "Nobody stops anybody from reading and educating themselves. Mike is only trying to empower these kids to be everything that they can be, and if we can help with that with our presence, with our [autographed] jerseys [for an auction], with our words, we'll do everything we can."
The exact amount of the scholarship is being kept private. James plans to attend Norfolk State.
"When my senior year began, I definitely had the scholarship in my head as motivation," James told the newspaper. "With being a senior, the year is really stressful. Having something to look forward to helped. It's like saying my hard work and dedication had paid off."
May, 26, 2017
May 26
7:00
AM ET
Quarterback Colin Kaepernick made his only official team visit this week, meeting with the Seattle Seahawks on Wednesday.
The Seahawks' interest in Kaepernick makes sense on a number of different levels. They need a more proven backup than Trevone Boykin, especially after Russell Wilson suffered three different injuries last season. Kaepernick has the second-lowest interception rate in NFL history and has the athleticism to be a factor in the run game should Wilson go down.
But ultimately, whether a deal gets done or not will likely come down to cost.
There are potentially three options here:
1. A minimum salary benefit deal
The Seahawks could offer Kaepernick a one-year deal at $980,000, but only $695,000 would count against the cap. Minimum salary benefit deals were designed to help veterans who have been in the league for four seasons or more compete with younger players by reducing their cap charge.
The Seahawks used this type of deal with veteran guard Jahri Evans last summer.
However, this might not be enough incentive for Kaepernick to sign right now. If this is all the Seahawks are willing to offer, he might be better served to wait until August, see how teams are affected by injuries at the quarterback spot and reassess the situation.
2. A one-year deal between $2 million and $4 million
This is the range for backup quarterbacks. Geno Smith signed a one-year deal with the New York Giants that's worth $1.2 million, but his contract contains $800,000 in not likely to be earned (NLTBE) bonuses for a max value of $2 million.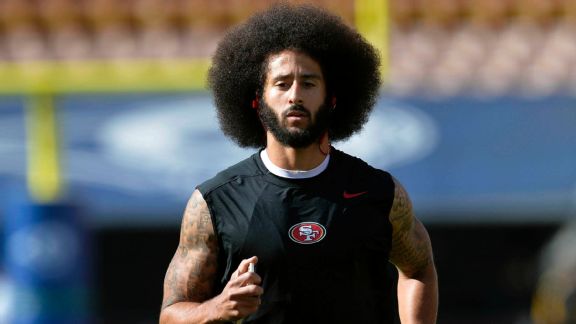 Gary A. Vasquez/USA TODAY SportsThe Seahawks will most likely offer Colin Kaepernick a deal in the $2 million to $4 million range.
Case Keenum's exact role with the Minnesota Vikings is unclear, but he got a one-year, $2 million deal. Mark Sanchez signed a one-year, $2 million deal with the Chicago Bears before they drafted Mitch Trubisky. His deal has $2 million in NLTBE bonuses for a max value of $4 million.
Ryan Fitzpatrick's one-year deal with the Tampa Bay Buccaneers is worth a reported $3 million. And Chad Henne's restructured deal with the Jacksonville Jaguars is for one year, $3.5 million.
This type of structure seems like the most likely option if the Seahawks really want Kaepernick. They can sign him to a one-year deal for around $2 million with incentives so that he's rewarded if he plays and plays well.
As for Kaepernick, he's obviously accomplished more than the other quarterbacks listed in this group. But given that we are now in late May, and the Seahawks are the only team that's had him in for a visit, it'd be a surprise if he ended up getting a deal above this range.
3. A multiyear deal
This is easily the least likely of the three options because it would make little sense for Kaepernick. His best-case scenario would be to sign with the Seahawks, play well in spot duty, have teammates and coaches rave about him and then sign a bigger deal next offseason with another team.
Wilson is signed through 2019, meaning that Kaepernick agreeing to multiple years of backup duty would lack appeal.
From the Seahawks' perspective, a multiyear deal would be great. At the very least, they'd have a viable backup. And in the event that Kaepernick were to get on the field and play well, they'd have a trade chip at the most important position in sports.
But in the end, multiple years is a concession that Kaepernick's camp will almost definitely be unwilling to make.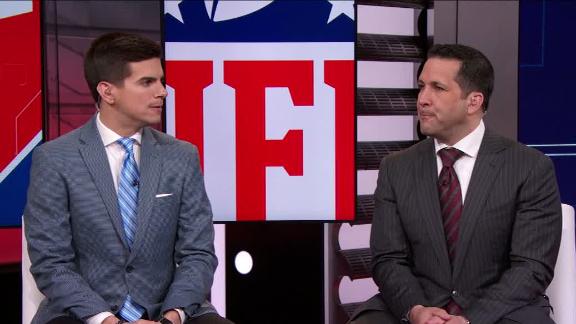 May, 25, 2017
May 25
2:11
PM ET
May, 24, 2017
May 24
4:20
PM ET
It's time to reflect on the 2017 offseason. There are a few stray veterans left in the free-agent pool, and teams could still execute something unexpected if injuries arise, but organizations have mostly closed their checkbooks and built the rosters they will take onto the field in September.
Of course, we can know only so much right now. This time last year, there was no way anybody knew that the Cowboys had drafted a franchise quarterback. Kyle Shanahan was lucky to survive the offseason in Atlanta as an offensive coordinator, let alone be considering head-coaching roles.
At the same time, we can look at what each team's goals were (or should have been) heading into March and gain a sense of whether teams did enough to address those concerns. In most cases, we also can plot what they have to do before Week 1.
It's time for our last divisional breakdown (see above for links to the others). Let's head to the NFC West, where everyone is still chasing the Seahawks.
To go directly to your favorite team, click the link below:
---

What Went Right
May, 24, 2017
May 24
10:45
AM ET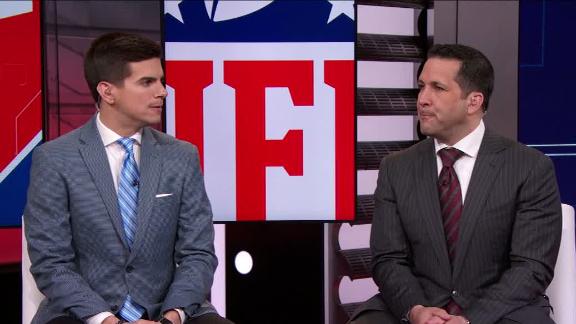 Quarterback Colin Kaepernick is visiting with the Seattle Seahawks on Wednesday, a source told ESPN's Adam Schefter.
The Seahawks are doing their due diligence on quarterbacks and want to talk to Kaepernick. But Seattle is not expected to sign a quarterback on Wednesday, a source told ESPN.
NFL Network was first to report Kaepernick's visit.
Seahawks coach Pete Carroll said last week that the team was exploring the possibility of adding a veteran backup like Kaepernick or Robert Griffin III.
"We're looking at everybody. We really are," Carroll said during an interview on 710 ESPN Seattle. "We've been tracking everything that's going on, and we've got cap and roster issues and stuff like that that we're still trying to manage properly. But quite frankly, yes, we are looking at all those guys."
In addition to Kaepernick, the Seahawks also hosted free-agent quarterback Austin Davis today, per a league source.
Davis spent time last season with the Denver Broncos. He hasn't played in a game since 2015 when Davis made two starts for the Cleveland Browns. He's thrown 13 touchdowns and 12 interceptions in 13 career games (10 starts).