March, 29, 2017
Mar 29
5:51
PM ET
PHOENIX -- Pete Carroll has coached against Colin Kaepernick nine times in the NFL, and Seattle Seahawks head man said Wednesday that he believes the quarterback should still be considered a starter.
"I think he is a starter. That's what he's been," Carroll said. "We've really seen him at his best, and we've seen him be a very difficult factor to deal with. The last couple of years, the offense has been changing, and they've had new coaches and all kinds of stuff.
"I don't think he's found that level that he found when he was with Jim [Harbaugh] that they were really on it. But it's there to be had, and I think he's a difficult guy to play against. We've always found that. We've given respect to that whenever we've had to play them."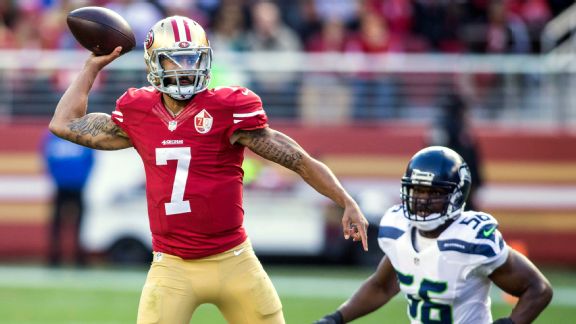 Neville E. Guard-USA TODAY SportsPete Carroll and the Seahawks are very familiar with Colin Kaepernick and his abilities..
Carroll added that he thinks Kaepernick will eventually find a team, and he doesn't believe the quarterback is being blackballed.
"A lot of quarterbacks are out there right now, so I don't think that's accurate at this point," Carroll said.
"He's up against it like all the other [unsigned] quarterbacks right now -- what is the right opportunity? He's as capable as any of those guys of turning a team around and playing great football. He has done it before. He's been to the Super Bowl. He's been a championship player. He's got his style that best suits him, and some team will find it. I don't know where that's going to happen, but I think the dominoes will start falling when the first guy goes. Tony [Romo] has been out there and anything can happen. And when these guys start going, I think it'll go quick."
The Seahawks are looking for a backup quarterback behind Russell Wilson. On some levels, looking into Kaepernick would make sense. Given his mobility, the Seahawks wouldn't have to change any of the zone-read elements in their offense if Wilson were to go down.
And many in the Seahawks' locker room -- Doug Baldwin, Michael Bennett, Cliff Avril and Jeremy Lane -- voiced support for Kaepernick's social activism last year.
On the other hand, Kaepernick will likely be a pricier investment than the Seahawks are looking for, and he might want to go to a team where he'll actually have a chance to compete for playing time.
"We consider everybody," Carroll said. "We look at everybody."
March, 29, 2017
Mar 29
12:38
PM ET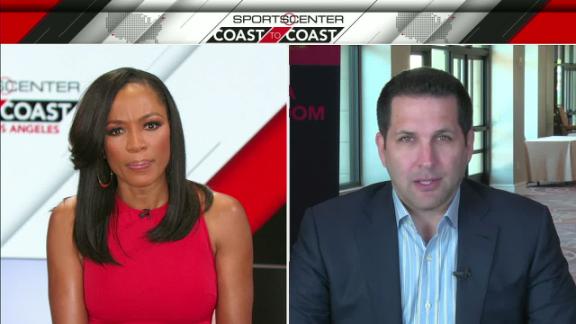 PHOENIX -- The Seattle Seahawks have fielded trade offers for Richard Sherman but aren't expected to move the Pro Bowl cornerback, coach Pete Carroll said Wednesday.
"You're either competing or you're not. And so we've always had to be open for everything, every suggestion that comes along," Carroll said. "There have been some teams that have called, and so we've talked about it. But he's extremely important to our football team.
"I don't see anything happening at all. And I don't see anything happening with any other players, just the banter that's out there right now. But it has been talked about. He's a great player and can impact another team. I can see why people would be interested in him."
In two days at the owners meetings, the Seahawks have made it clear that they are willing to listen to offers for Sherman. General manager John Schneider shared the same message Tuesday.
Sherman had two sideline blowups last season that were directed at coaches. The first involved defensive coordinator Kris Richard after the defense gave up a big play in Week 6 against the Atlanta Falcons.
In Week 15, when the Seahawks attempted a pass play from the Los Angeles Rams' 1-yard line, Sherman went off on Carroll and offensive coordinator Darrell Bevell. Afterward, Sherman did not back down, referencing the team's Super Bowl XLIX loss in which Russell Wilson was intercepted in a similar situation.
March, 29, 2017
Mar 29
12:08
PM ET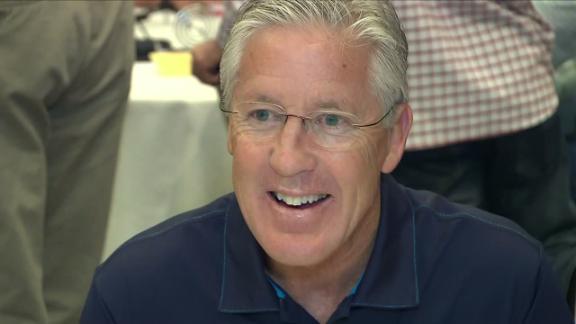 PHOENIX -- Seattle Seahawks coach Pete Carroll says he talked to Marshawn Lynch about 10 days ago and the running back is at least considering a return to the NFL.
"He came through the office and had a good visit," Carroll said Wednesday. "I know that he is somewhat entertaining the thought of it. I can't tell you how strong it is. You've got to talk to him. And that chance isn't happening."
ESPN reported earlier this month that the Oakland Raiders would have interest in Lynch should he decide to come out of retirement.
Lynch officially went on the reserve/retired list in May 2016. If he filed for and was granted reinstatement, he would be under contract with the Seahawks for two more years.
Asked if Lynch could play for the Seahawks again, Carroll responded, "He's retired."
For Lynch to play for the Raiders, the Seahawks would have to release or trade him. Lynch would be due a salary and cap hit of $9 million in 2017, and he would be in line for a base salary of $7 million in 2018, along with a $3 million roster bonus.
Carroll was asked whether the Seahawks would release or trade Lynch if he came out of retirement.
"I don't know," Carroll said. "We'll talk about that if the time comes."
Lynch turns 31 in April. He last played in 2015, averaging 3.8 yards per carry in seven games.
Carroll was asked whether Lynch could still be effective at this point in his career.
March, 29, 2017
Mar 29
7:00
AM ET
Which free-agent move in the division surprised you the most?
Josh Weinfuss, Arizona Cardinals: There were a few moves that caught my attention but none that completely surprised me. The 49ers signed two very good receivers in Pierre Garcon and Marquise Goodwin when they don't have a clear-cut quarterback, and left tackle Andrew Whitworth got a three-year, $33.75 million contract from the Rams with $15 million guaranteed at 35 years old. The biggest surprise, for me, was the Rams letting Kenny Britt go when they are in the process of building an offense to compete for division titles in the next couple of years. Putting Britt with Tavon Austin and Robert Woods to provide a passing game -- for which Whitworth would block -- could open up Todd Gurley in the running game. It seems like an obvious way to begin a new era with a young quarterback.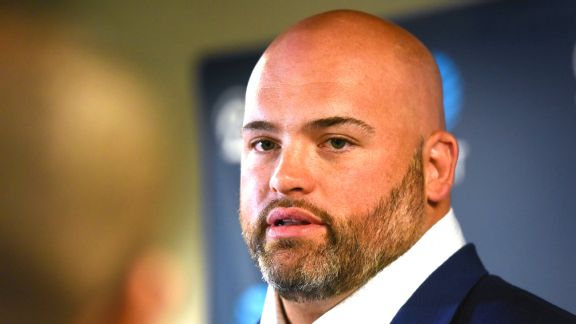 AP Photo/Michael Owen BakerThe Rams' three-year deal worth $33.75 million for 35-year-old tackle Andrew Whitworth surprised some observers.
Alden Gonzalez, Los Angeles Rams: I was surprised, mostly, that the Seahawks didn't do more for their offensive line. The Seahawks are a win-now team, and offensive line play was a major issue throughout 2016. It was a tough free-agent market -- and it's expected to be a thin draft -- at tackle. But adding former No. 2 overall pick Luke Joeckel doesn't seem like enough. He was given $8 million for one year, so it isn't all that much of a long-term risk. But he struggled to keep his job with the Jaguars and then tore his ACL. Now it looks like the Seahawks are asking him to step in as their new left tackle. Perhaps they should've instead tried to spend more on someone such as Riley Reiff or Rick Wagner to solidify their offensive line. A close second in the surprise category: just how much the Cardinals lost on defense, most notably defensive end Calais Campbell, safety Tony Jefferson and cornerback Marcus Cooper.
Nick Wagoner, San Francisco 49ers: The Rams' heavy investment in offensive tackle Andrew Whitworth at the age of 35. It's not that the Rams didn't desperately need to upgrade at left tackle or that Whitworth isn't worth the money, especially if he can at least help give the Rams a fair and real chance to evaluate quarterback Jared Goff. It's surprising because it feels like a move a contending team would make that could help put it over the top, rather than a move a rebuilding team like the Rams would make while transitioning to a new coaching staff. It's as surprising that Whitworth didn't seek to land with a team that could give him a chance at a championship before he retires.
Sheil Kapadia, Seattle Seahawks: The Rams signing Robert Woods. In theory, their idea made sense: Find weapons for Goff. In practice, the five-year, $39 million deal ($15 million guaranteed) to Woods is a complete head-scratcher. Since entering the league, Woods ranks 82nd in yards per reception (12.07), 160th in yards after catch (2.88 per reception) and 124th in catch percentage (60.0 percent). In other words, he has not shown the tools to suggest he can stretch the field or make plays with the ball in his hands. He hasn't been very efficient, either. Why not take a flier on a higher-ceiling option such as Alshon Jeffery or Terrelle Pryor? Maybe the Rams identified something in Woods that no one else saw, but given their track record, that seems unlikely.
March, 28, 2017
Mar 28
8:51
PM ET
PHOENIX -- During free agency, the Seattle Seahawks made two offensive line additions in Luke Joeckel and Oday Aboushi.
On Tuesday, general manager John Schneider shed some light on the state of the unit, which could involve Germain Ifedi moving to right tackle.


"Yeah, there's a chance," Schneider said. "The thing we loved about Ifedi in college was he had played guard, some left tackle, right tackle. We all thought he was a heck of a right tackle, so he's got the ability to go play both."
Ifedi started 13 games as a rookie -- all at right guard. But when the team originally drafted him in the first round last offseason, they viewed him as a right tackle.
The Seahawks currently have guard options in Mark Glowinski, Aboushi and Rees Odhiambo. Joeckel could be an option at left guard as well, Schneider said.
"We feel [Joeckel] can play left tackle," Schneider said. "Actually in our opinion, played a little bit better at guard last year. So he's got that ability to play both spots, so there's utility value there. He's got almost a veteran presence about him, played a lot of football."
Aboushi will be an option at right guard, Schneider said.
"Real efficient guy," Schneider said. "He was one of those guys who stood out from just a pure numbers standpoint. Really kind of flashed, so we were able to do a lot of work on him."
Asked what he meant by the "pure numbers" Schneider said, "All the [Chicago Cubs executive] Theo Epstein stuff, analytics. Just from an analytic standpoint, just all these different reports people throw at you, he was just really efficient. And so he just stood out. With all the analytic stuff we do, it's kind of about asking more questions and going back to the film. And that's what we did with him. Just talking to a bunch of people that he has been with led us to a really good place with him. Came in that day and had a great visit, and we have a good relationship with his agent and he was ready to roll. So he wanted to do it.'"
The Seahawks, whose plan is to try guys out at different spots and look for the best five, have previously indicated that Odhiambo is more comfortable on the left side.
March, 28, 2017
Mar 28
6:20
PM ET
PHOENIX -- On Tuesday, the NFL approved a rule change that will ban players from leaping to block field goals and extra points.
Seattle Seahawks strong safety Kam Chancellor is not happy about it.
No Fun League...
How can you entertain if you are governed by people who never broke a bone before? #TheyDontUnderstand #NFL

— The Enforcer (@Kam_Chancellor) March 28, 2017
Both Chancellor and Bobby Wagner have successfully executed the leap in the past.
But Rich McKay, the chairman of the NFL's competition committee, said the ban was unanimous, meaning the Seahawks voted for it.
He also said the initial recommendation for the ban came from players.
"We saw many instances as teams began to understand how to block it, it became a little more concerning," McKay said. "Early on, teams didn't know how to block it. The guard didn't get up in the air. The center wasn't getting up. Nobody was chipping on the player. The player was getting a free run. All of a sudden, the player wasn't getting a free run, and now the player was coming down at a really bad angle.
"When we met with the players association, to a person, they were quick to say, 'We don't like this play. And we really don't like the fact that somebody on Monday gets selected to have to do that play and be that person.' So that absolutely always plays a part in our decision."
The Seahawks' official Twitter account gave Chancellor a shoutout when the ban was announced.
— Seattle Seahawks (@Seahawks) March 28, 2017
But in the end, Chancellor was in the minority as every team voted to get rid of the leaps.
March, 28, 2017
Mar 28
5:12
PM ET
PHOENIX -- Seattle Seahawks general manager John Schneider was asked Tuesday about the idea that the team could be open to trading cornerback Richard Sherman.
"I mean, we listen," Schneider said. "We listen to like everything you would think. We're in a lot of stuff. We try to pride ourselves on that. I think I've told you guys before we walk away from 98 percent of the deals that we're involved with or talking about.
"But at least we know that we've knocked down their door, we've gone in there and checked it out. We're not just going to assume. We always just have to constantly be thinking about the organization and how we're going to move it forward."
During a recent podcast on The Ringer, former league executive Mike Lombardi brought up the idea of the Seahawks trading Sherman.
"I truly believe based on what I hear around the National Football League that the Seahawks would in fact for the right deal trade Richard Sherman," Lombardi said.
"Seattle really thought twice about paying Richard Sherman [in 2014]. They thought they had to when they won the Super Bowl."
Sherman turns 29 later this month and has two years remaining on his current contract. He is due $11.431 million guaranteed in 2017 and a base salary of $11 million in 2018.
Earlier this offseason at the combine, Schneider said that Sherman was an elite player.
Sherman got into sideline shouting matches with coaches on two occasions last season but played at a high level. He has not missed a game in his NFL career.
"I just laugh it off, man," Sherman said of the trade speculation on First Take last week. "It's funny to me. But sometimes people need to see you gone to realize what you had. The grass isn't always greener on the other side. But I don't let things like that bother me. The chips will fall how they're supposed to."
March, 28, 2017
Mar 28
7:19
AM ET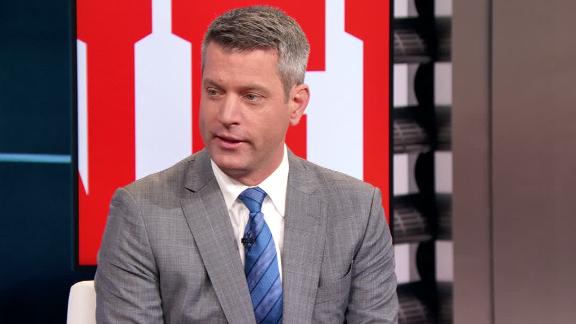 PHOENIX -- NFL owners formally banned players from leaping over the line of scrimmage to block kicks and approved a plan to centralize replay review decisions to the league office, highlighting a flurry of votes Tuesday at their annual meetings.
The league's competition committee joined players in expressing concerns about the safety risks of the leaping strategy that proliferated last season. Although it didn't happen in 2016, they feared a player could be flipped in the air by blockers as they rose from their stances and land awkwardly. The strategy will be expressly barred in the 2017 NFL rule book.
Seattle Seahawks linebacker Bobby Wagner, who has perfected the leap over the line to block kicks, tweeted Tuesday night on the rule change.
Teammate Kam Chancellor also tweeted of his disapproval:
The final say for replay decisions will rest with senior vice president of officiating Dean Blandino or a member of his supervisory staff, all of whom watch games from a command center in New York. Referees will follow the conversation on a video tablet rather than using a sideline "hood" -- a move that, in reality, is a formalization of the process the league has used since the command center was established to aid referees in 2014.
Pittsburgh Steelers president Art Rooney II told ESPN's Jeremy Fowler that estimates given to league owners showed that the new centralized replay system can save 1.5 minutes per game.
Owners completed the on-field portion of these meetings at midday Tuesday by clearing their list of playing proposals. A bid to shorten overtime from 15 to 10 minutes was tabled. Owners rejected a proposal by the Washington Redskins
March, 28, 2017
Mar 28
7:00
AM ET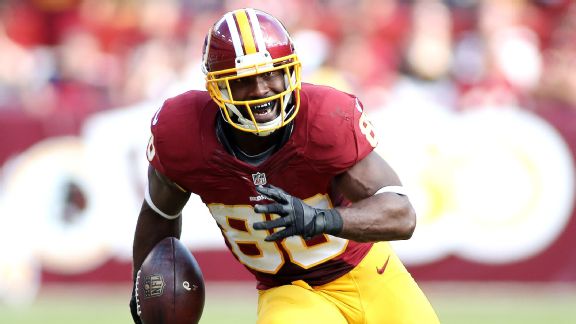 Daniel Kucin Jr./Icon SportswireThe 49ers added two of the quickest wide receivers in the NFL in Pierre Garcon, above, and Marquise Goodwin.
Which team in the division improved itself the most through free agency?
Josh Weinfuss, Arizona Cardinals: The San Francisco 49ers improved the most in the NFC West, but mostly by default. They've signed 12 players, all but instantly bolstering their roster in the process. The Niners signed quarterbacks Brian Hoyer and Matt Barkley, although it remains to be seen whether either will be the starter. San Francisco also added two of the quickest wide receivers in the NFL in Pierre Garcon and Marquise Goodwin. If the Niners can find someone to get them the ball, then the offense could develop rather quickly.
Alden Gonzalez, Los Angeles Rams: This is a division that generally didn't really wow in free agency, so in that case, you have to go with the 49ers. They were busy, at least. They had to be. The Niners began with a lot of vacancies on their roster and a lot of salary-cap space in their payroll, so they went about adding players who would fit the scheme and culture Kyle Shanahan wants to implement as a first-year head coach. And they did it without necessarily sacrificing financial flexibility. The 49ers added a premier receiver (Garcon), signed a stopgap quarterback (Hoyer), splurged on a versatile fullback (Kyle Juszczyk), landed a speedy No. 2 receiver (Goodwin), then filled in a blocking tight end (Logan Paulsen), another linebacker (Malcolm Smith) and a replacement for Phil Dawson (Robbie Gould). Yes, the Niners still have a long, long way to go. But going from two wins to five qualifies as significant improvement, doesn't it?
Nick Wagoner, San Francisco 49ers: I'm not sure any of the four teams did anything that will make a substantial difference in their record in 2017, but the 49ers made the most changes and upgraded at more spots than the other teams. If nothing else, the Niners almost can't be any worse than they were a year ago -- and with players that Shanahan knows and trusts to run his system, it's fair to expect at least some uptick in performance from last season. Perhaps best of all, San Francisco's free-agent crop will help without breaking the bank, allowing it to keep some powder dry for next year when it could be in better position to land a franchise quarterback.
Sheil Kapadia, Seattle Seahawks: The San Francisco 49ers. To be honest, it's smart to go with the 2-14 option with questions like this. There's nowhere to go but up. The 49ers handed out some big-money contracts, but the goal in Year 1 under Shanahan should be to start to get the personnel in place who can execute his system. Even though the signings were costly, San Francisco at least began to do that with the additions of guys such as Garcon and Juszczyk. And the 49ers were wise to hold off on making a drastic move at quarterback. They are not built to win now, so why panic and pour valuable resources into the position? Instead, Hoyer can serve as a bridge option until Shanahan finds more of a long-term solution. The 49ers were outscored by 171 points a year ago, the widest margin in the conference. They have a long way to go to be competitive, but the roster looks far more professional than it did going into 2016.
March, 27, 2017
Mar 27
11:22
AM ET
ESPN.com news services
Seattle Seahawks quarterback Trevone Boykin was arrested early Monday in Dallas on misdemeanor charges of marijuana possession and public intoxication after a car in which he was a passenger struck pedestrians and then a night club, injuring eight people -- and sending seven to local hospitals.
According to police, at 2:10 a.m. local time, Shabrika Bailey, 25, backed up at a high rate of speed, striking pedestrians on a sidewalk and then a wall of Sidebar in Dallas. The impact of the car with the building caused bottles of alcohol and an ice cooler to fall inside Sidebar, hitting and injuring the bartender.
None of the injuries were considered life-threatening, according to police.
Bailey was charged with two counts of intoxication assault with a vehicle -- serious bodily Injury, a felony 3 charge.
Boykin, 23, was being held on $500 bond at the Dallas County Jail. He is currently on probation stemming from an incident in 2015, when he was TCU's starting quarterback.
He was suspended for the Alamo Bowl after a Dec. 31, 2015, incident at a bar.
He pleaded guilty to a misdemeanor charge of resisting arrest in June and paid a $1,500 fine, plus $237 in court costs, and was placed on one year probation. He was also ordered to take alcohol awareness and anger management courses and serve 80 hours of community service.
Boykin went undrafted last year and signed with the Seahawks as a free agent.
"We are aware of the situation involving Trevone Boykin. We are still gathering information and are disappointed," the Seahawks said in a statement.
ESPN's Sheil Kapadia contributed to this report.
March, 27, 2017
Mar 27
7:00
AM ET
Here's a roundup of Seattle Seahawks mock draft projections, along with my thoughts on each prospect's potential fit.
ESPN analyst Mel Kiper Jr. has the Seahawks landing Washington cornerback Kevin King. Daniel Jeremiah of NFL.com projects King as well:
"King is the perfect fit in the Seahawks' scheme. His stock continues to soar following an outstanding combine performance."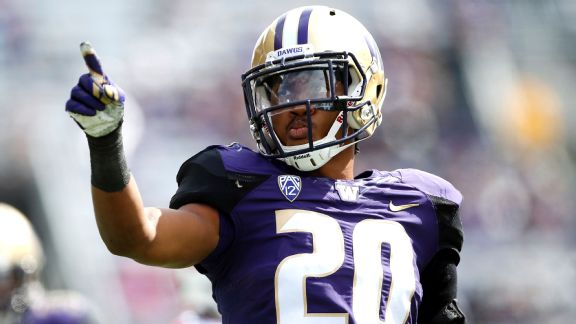 Jennifer Buchanan/USA TODAY SportsThe Seahawks have shown they can coach corners, so picking an unfinished product such as Washington's Kevin King may be to their benefit.
My take: King would make a lot of sense for Seattle. At 6-foot-3 with 32-inch arms, he has the length the Seahawks look for in their corners, and he is an elite athlete. Seattle coach Pete Carroll knows Washington coach Chris Petersen well, so the Seahawks should have a good grasp of King's intangibles. He may not be a finished product, but Seattle has shown it can coach corners, and King has tremendous upside.
ESPN's Todd McShay has them going with Michigan State defensive tackle Malik McDowell.
My take: McDowell is definitely a player who could intrigue the Seahawks. They have used a top-100 pick on a defensive lineman in three of the past four drafts. McDowell (6-foot-6, 295 pounds) is one of the better athletes at his position in this year's draft. He can play multiple spots on the defensive line and has high upside, but he struggled through an ankle injury last year. McDowell is a possibility at No. 26.
Bucky Brooks of NFL.com suggests another cornerback, UCLA's Fabian Moreau:
"Moreau is a fast-rising corner with a blue-collar game."
My take: Moreau (6 feet, 31 3/8-inch arms) doesn't have the same length as King but is also a tremendous athlete. This draft is loaded with cornerbacks, and Moreau is among the guys the Seahawks could consider in the first two rounds. It's worth noting that he had surgery recently after tearing his pectoral muscle at his pro day.
Emily Kaplan of The MMQB has the Seahawks drafting Wisconsin offensive tackle Ryan Ramczyk:
"The Seahawks need tackles. Some scouts believe Ramczyk is the best one in this draft, even a Day 1 starter on the left side. As long as his medicals hold up, Seattle could be getting a steal here."
My take: This draft class is weak at offensive tackle, but Ramczyk could intrigue the Seahawks. He presents a difficult evaluation though, having undergone hip surgery this offseason. Ramczyk did not participate in athletic testing at the combine or during Wisconsin's pro day. He played just one season of Division I football. There's a good chance that Ramczyk won't be on the board when Seattle picks, but if he slides, he'd be a possibility.
Dane Brugler of CBSSports.com mocks Utah offensive tackle Garett Bolles to the Seahawks:
"A polarizing prospect in league circles, Bolles has a checkered past and is an older prospect who still needs plenty of strength and technique work. However, he is a fantastic athlete with the mean streak that will endear him to NFL coaches."
My take: This one would surprise me for a couple of reasons. The biggest is Bolles' age. He turns 25 in May, meaning he'd be pushing 30 when up for his fifth-year option. I'm philosophically opposed to using first-round picks on players who are this old, but perhaps John Schneider feels differently. Bolles played only one year at Utah and doesn't have ideal measurables to play tackle. He has the tools to be a good player, but there are a lot of question marks.
Rob Rang of CBSSports.com has Seattle landing Alabama offensive tackle Cam Robinson:
"It is no secret that the Seahawks' top priority over the offseason would be addressing a leaky offensive line. Robinson, the reigning Outland Award winner as the nation's top blocker, has the size and strength Seattle prioritizes with a skill set that projects well to guard or tackle, wherever offensive line coach Tom Cable needs him most."
Peter Schrager of FoxSports.com has them going with Robinson as well:
"Much has been made of Seattle's offensive line woes last season. The Seahawks got a whole lot out of a group that wasn't necessarily a bunch of high-priced players. They've added some pieces in free agency, but I believe they'll hit this spot in the draft, too. Robinson can play, move, and protect."
My take: Robinson was a three-year starter at Alabama and has the look (6-foot-6, 327 pounds) of an NFL tackle, although some see him better-suited to play guard. He has a below-average athletic profile, but given the Seahawks' need at this position, Robinson is an option. It's worth noting that Carroll was in attendance at Alabama's pro day this offseason.
Chris Burke of SI.com has Seattle going with Western Kentucky offensive lineman Forrest Lamp:
"Don't be surprised if Lamp is the offensive lineman who sneaks into the top half of Round 1. The Seahawks would be doubling down after drafting G Germain Ifedi last season, but Lamp's worth it."
My take: The concern here would be more with the idea of using a first-round pick on a guard than Lamp's ability. The Seahawks used last year's first-round pick on Ifedi and moved him to guard. They also used a third-round pick on guard Rees Odhiambo. And in 2015, the Seahawks used a fourth-round selection on Mark Glowinski. Free-agent addition Luke Joeckel can play guard, and the Seahawks signed Oday Aboushi as well. In my opinion, it'd be a poor use of resources to use a first-round pick on a guard like Lamp.
March, 27, 2017
Mar 27
7:00
AM ET
Which free-agent signing will have the biggest impact in the division?



Josh Weinfuss, Arizona Cardinals: Forget his age. Left tackle Andrew Whitworth will have the biggest impact in the NFC West next season simply because of the running back he'll be blocking for, Todd Gurley. In the case of the Rams, who made a strong run at most improved through free agency this year, adding Whitworth will cause a domino effect throughout the offense. He'll give Jared Goff more time to throw, which, in theory, should help the passing game. Because defenses are looking for the pass, the running game should develop. It's a cycle that will be sparked by Whitworth, who's still one of the best left tackles in the NFL at age 35.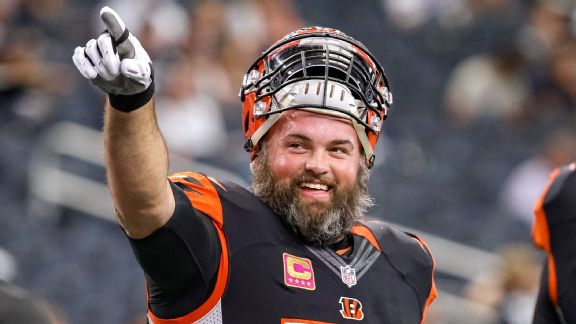 Andrew Dieb/Icon SportswireEven at age 35, Andrew Whitworth is one of the best left tackles in the NFL.
Alden Gonzalez, Los Angeles Rams: I'm going to go with the addition of Andrew Whitworth, for one very simple reason: The Rams went from one of the very worst to one of the very best at one of the game's most important positions. By signing Whitworth to a three-year, $33.75 million contract, the Rams added one of the NFL's premier pass-blockers at left tackle and bought themselves the freedom to potentially move the struggling Greg Robinson to right guard, where he can more freely use his 6-foot-5, 332-pound frame to maul interior linemen. Will it make the Rams a playoff team? Probably not. Will it make their offense respectable? Even that is a stretch. But adding Whitworth creates a ripple effect that could make a world of difference for Jared Goff, Todd Gurley, Tavon Austin and Robinson -- the team's top picks from each of the past four drafts.
Nick Wagoner, San Francisco 49ers: There were some intriguing additions made around the NFC West, but none figure to have the significant long-term impact of the Arizona Cardinals re-signing pass-rusher Chandler Jones. Jones instantly upgraded Arizona's pass rush to a league-leading 48 sacks after coming over in a trade with New England last year. Jones finished with 11 sacks, four forced fumbles and 44 hurries. After losing Calais Campbell to Jacksonville in free agency, Jones will have to shoulder more of the load to keep the Cardinals' pass rush humming in 2017 and beyond.
Sheil Kapadia, Seattle Seahawks: NFC West teams spent a lot of money in free agency on mediocre players and guys with question marks. But Chandler Jones was an exception. In the past four years, his 41 sacks are fifth most in the NFL, and Jones will be just 27 at the start of next season. When the Cardinals acquired him from the Patriots, they obviously had a plan for keeping Jones in Arizona for a long time. Elite pass-rushers are expensive (five years, $83 million in this case), but Jones gives the Cardinals another defensive building block for years to come. Arizona might have trouble repeating its defensive performance from 2016, but Jones gives the Cardinals a dangerous pass-rusher in his prime whom opponents have to account for on a weekly basis.