July, 26, 2017
Jul 26
8:00
AM ET
OXNARD, California -- The last time Jaylon Smith wore pads on a football field was Jan. 1, 2016, in the Fiesta Bowl.
His left knee was shredded after he was pushed in the back by an Ohio State offensive lineman, causing Smith's foot to plant into the ground. He tore his anterior cruciate ligament. He tore his lateral collateral ligament. He suffered damage to the peroneal nerve, causing some teams to eliminate him from their draft boards.
As Smith was slowly helped off the field, he could not lift his left foot as it skimmed across the ground.
When the Dallas Cowboys put the pads on Wednesday for their third practice of training camp, Smith will be in full pads on a football field for the first time since the injury.
To Smith, it will be just another day in a journey that he believes will see him become one of the best linebackers in the NFL.
"Very confident on myself and everything I've done this far," Smith said. "The strength staff, the rehab, Britt Brown, Jim [Maurer], all those guys: We have a plan set in place and we don't want to defer from it. It's just about working every day, and it's something where for me everything I've done we start off slow, we continue to progress, we continue to progress and we're good. And I've succeeded in everything thus far."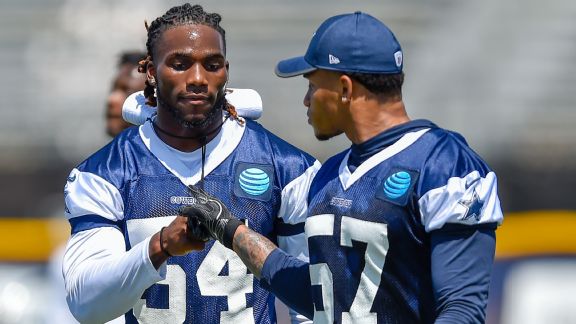 AP Photo/Gus RuelasDez Bryant called teammate Jaylon Smith (left) a "freak of nature" and says the linebacker looks like an "action figure" on the football field.
To almost everybody else -- coaches, teammates, executives -- it will be another sign of progress.
Smith's older brother, Rod, is a running back with the Cowboys.
"I think he's ready to get out there," Rod Smith said. "He's been preparing since the injury, so he's been doing a good job keeping his mind off it. Focused, keeping his mind right. Focused on what he needs to have it focused on. He looks ready."
Justin Durant sat next to Jaylon Smith last year in the linebackers room as Smith worked through his rehab his rookie season, unable to play.
"I love everything about him," Durant said. "I'm excited for him to get out there. I want to see how good he is, too."
Said wide receiver Dez Bryant: "The dude's a freak of nature. Look at him. He looks like a damn action figure out there. The guy's phenomenal. I'm ready to see him in action. I think he's going to perform well."
There is no way of truly knowing how Smith will perform until he is on the field in a game. Wearing pads during training camp offers more of a glimpse into the reality than offseason practices conducted without pads, though.
As optimistic as the Cowboys are, defensive coordinator Rod Marinelli said he has not seen enough to know for sure if Smith will help during the regular season.
"No, other than I know he's a very talented and a terrific college player," Marinelli said. "We know what he's about. He's got size and the movement. That's a great starting point. Great starting point."
Had he not been injured, Smith might have been under consideration by the Cowboys with their first-round pick at No. 4 overall over Ezekiel Elliott. That's if he would have been available. He could have gone among the top three picks.
While the strength and movement have returned to his left foot, Smith continues to wear a brace to help keep it flexed. Zack Martin wore a similar brace during his rookie season when he suffered an ankle injury going into the playoffs.
"It's great for support," Martin said. "Obviously when you have that injury the biggest thing is when it moves a little bit it hurts. It keeps it stable and made a huge difference for me."
Smith hopes he won't need a brace when the regular season starts, or perhaps the one he wears will be modified more. The ligaments are strong and secure. The nerve continues to regenerate and the Cowboys believe it will fire completely in the future. Smith has been coy when discussing the specifics of the nerve injury but has always been positive it would return fully.
A recent EMG showed the nerve's conduction has grown from the last test in the spring,
"Those are the things you can see that things are changing for him in a positive way," executive vice president Stephen Jones said.
The Cowboys will work Smith in slowly as he goes, just as they did in the spring. The goal is to be ready for the regular-season opener against the New York Giants, but today is a significant step.
"It's about patience," Jaylon Smith said. "But with sitting out a year, I've learned so much about myself as a man. Everything I do is with a clear-eye view. It's a focused vision, determined belief and earned dreams. It's something I live by and walk with every single day."