March, 24, 2017
Mar 24
8:16
PM ET
March, 22, 2017
Mar 22
5:35
PM ET
Rich Schultz/Getty ImagesDallas Green became a Philadelphia legend when he led the Phillies to the franchise's first World Series championship in 1980.
Dallas Green, a towering baseball figure who won a World Series as a manager in Philadelphia and paved the way for lights at Wrigley Field as president of the Chicago Cubs, died Wednesday. He was 82.
No cause of death was announced, but Green had been suffering from kidney failure and had been in declining health for much of the past year.
Green spent 62 years in baseball as a player, manager, general manager, team president, minor league director and scout. He managed the Phillies to the first World Series title in franchise history in 1980. He was one of just four men to manage both the New York Yankees and New York Mets. He also spent six seasons as general manager and president of the Cubs from 1982 to 1987.
"The game lost a great baseball man today," Phillies chairman David Montgomery said in a statement released by the team. "Dallas held many different positions in baseball, and his passion and love for the game was evident in every role he played.
March, 22, 2017
Mar 22
10:30
AM ET
Tom Szczerbowski/Getty ImagesWill losing Didi Gregorius for a good chunk of the season cost the Yankees a playoff spot?
TAMPA, Fla. -- The 2017 Yankees aren't the 1996 Yankees or, for that matter, the 2019 Yankees, who could be something special. This year's club is probably right in the middle, just another group of guys who could have a good season if they catch some breaks -- or an ugly one if they don't.
Nearly every day this spring training, you can see the future and feel the giddiness emanating from Yankees officials about what might be. Even manager Joe Girardi has gotten into the act, comparing this developing group of Gary Sanchez, Gleyber Torres, Greg Bird and Justus Sheffield favorably with the talent level of the early '90s development of Derek Jeter, Mariano Rivera, Bernie Williams and Jorge Posada.
"I look at where we are now as an organization and, obviously, I wasn't here when the Bernies and the Jorges were [first] here, [but] this is a pretty impressive group and I [wonder], 'Could this group be better than that group?'" Girardi said last week. "I don't know. There are some really talented players. That group has got Hall of Famers everywhere and if they are not Hall of Famers, then they are right next to a Hall of Famer."
The 2017 Yankees don't have a lot of Hall of Famers. In fact, at present, no one is going to Cooperstown. That is why this is a bridge season. It is also why the crack in the middle of the foundation is so significant. The '17 Yankees need some breaks.
Instead, starting shortstop Didi Gregorius is expected to miss as much as a quarter of the season, give or take a few weeks. Even though the Yankees have the deepest group of shortstops in the game, they do not have tremendous options for this season. Their standout shortstops have one thing in common -- they have never played above Double-A. This is the group, and where each player is likely to start 2017:
Gleyber Torres (Double-A)
Jorge Mateo (Single-A)
Tyler Wade (Triple-A)
Wilkerman Garcia (Single-A)
Hoy Jun Park (Single-A)
Kyle Holder (Single-A)
Wade is the only one in contention to replace Sir Didi and would have to be pushed to the big leagues without ever fielding a Triple-A grounder. The Yankees like Wade a lot, but, because of their depth at shortstop, they're trying to transform him into a Ben Zobrist-type. It is not a given that Wade can hit major league pitching, though his defense is probably ready for The Show.
This new crack in the Yankees' core is why Girardi looked so pained Tuesday afternoon, talking about another World Baseball Classic injury. The WBC will crown another champion soon, but the definite losers of the last two events have been the Yankees.
In 2013, Mark Teixeira hurt his wrist swinging off a tee at the preseason tournament. This year it was Gregorius straining a shoulder muscle. Teixeira's injury hamstrung the Yankees for two years. Both injuries may have happened anyway, but the two players upping their training to play in competitive games cannot be ruled out as a factor.
The Yankees couldn't afford to lose Gregorius, who, if he had improved as much as last year and hadn't gotten hurt, might have been an All-Star in 2017. If the Yankees are going to be a playoff team this season, they needed Gregorius to progress. Now, they will have to hope for others to step forward. But who?
The starting pitching is Masahiro Tanaka and a bunch of questions. Michael Pineda has endless potential but has never put a full season together. CC Sabathia will see if he can make his conversion into a modern-day Andy Pettitte a full-time thing.
The last two spots? Who knows? From the group that includes Luis Severino, Bryan Mitchell, Luis Cessa, Adam Warren and Chad Green, not one guy has taken control of the fourth or fifth spot. Though the bullpen with Aroldis Chapman and Dellin Betances figures to be pretty good, it is wait-and-see how many leads they will be handed.
If you take Gregorius out of the lineup and put, let's say Wade or Ronald Torreyes in, this is what Girardi could trot out in Tampa against Chris Archer on April 2:
Brett Gardner, LF
Sanchez, C
Bird, 1B
Matt Holliday, DH
Starlin Castro, 2B
Jacoby Ellsbury, CF
Chase Headley, 3B
Aaron Judge, RF
Torreyes/Wade, SS
It is not a great lineup, even with Gregorius in it. Without him, it is worse, and the five-tool replacements aren't ready yet. There are probably brighter days in the future, though the Yankees still have to live in the present.
It is a whole lot harder with Gregorius scheduled to miss about a quarter of the season. Maybe it won't cost them a spot in the playoffs, but, to borrow one of the manager's pet phrases, it's not what you want.
March, 21, 2017
Mar 21
6:43
PM ET
TAMPA, Fla. -- Well, let's first start with who we know is not replacing the injured Didi Gregorius. Gleyber Torres, the New York Yankees 20-year-old top prospect, will not be the Opening Day shortstop.
The Yankees have now said so for more than 24 hours and they aren't changing their minds. He has only played at A-ball and they don't want to mess with someone everyone thinks could be a star.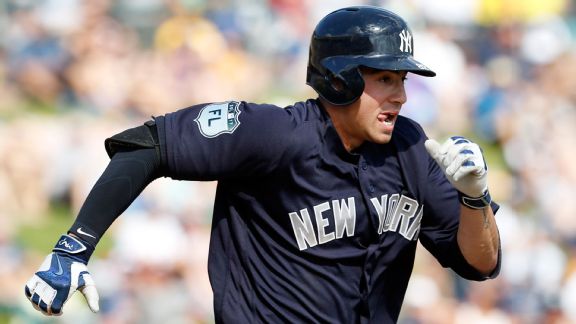 Reinhold Matay/USA TODAY SportsProspect Tyler Wade would be an exciting stopgap for the Yankees until Didi Gregorius returns.
So who could it be? Well, we know the Yankees plan on looking internally so let's break down the candidates.
The 5-foot-7 Torreyes miraculously spent the entire 2016 season with the big club, even though he appeared like a guy that would be a frequent part of the Scranton Shuttle, making the two-and-a-half mile drive to the Yankees' Triple-A affiliate.
Torreyes is hitting .282 in the spring. He barely has any power, but he could be a stopgap guy.
2. Tyler Wade
Wade is the most exciting of the choices. Just 22, he hasn't hit that much in the minors. In three seasons, he has batted .267, none of which has come above Double-A. He is slated to be the Scranton shortstop.
The Yankees' overall plans for Wade is for him to be their version of Ben Zobrist, however they will put those plans on hold if they think believe he is their best option to replace Gregorius in the short-term. Wade grew up idolizing Derek Jeter.
3. Pete Kozma
The soon-to-be 29-year-old Kozma had spent parts of five seasons in the majors before he stalled in Scranton for 2016. He is probably the best fielder of any of the Yankees' options, but his career on-base percentage is just .288.
With questions on the Yankees' starting staff, Kozma's case could be that defense could help win games. His bat won't as he is only hitting .208 this spring.
4. Ruben Tejada
The 27-year-old ex-Met has been a major league shortstop, but he has only hit .259 and it appears that Torryes has the edge for the backup job. There seems to be little reason to believe the Yankees would go with him over the two players with experience above him. He can't be entirely ruled out, but it doesn't seem as if the Yankees are very high on him.
If the Yankees moved Castro to short, then they would have a hole at second -- and Robinson Cano ain't coming back. Castro will see a little time in the spring, because the Yankees just want to be protected if they have to make moves or there are injuries during the regular season. The Yankees have all but ruled this as a regular option.
March, 20, 2017
Mar 20
1:20
PM ET
Justin K. Aller/Getty ImagesThe Yankees don't want to rush prized prospect Gleyber Torres, even though they need a replacement for injured shortstop Didi Gregorius early in the season.
TAMPA, Fla. -- Top prospect Gleyber Torres is the real deal, according to, well, everyone. He was the Arizona Fall League MVP. He is hitting .444 in his first major league camp. He seems as poised as, dare we say it, a young Derek Jeter.
So why, now that Didi Gregorius is hurt and will miss Opening Day (and then some), won't Torres be in the lineup April 1? First and foremost, because GM Brian Cashman says so.
The New York Yankees do not want to put that onus on a 20-year-old, who, despite all his accomplishments, has not played above Class A. He has never played in cold weather, a hurdle the Yankees would like him to clear at Double-A Trenton -- not in the Bronx. All in all, they want to be careful.
The last thing the Yankees want to do is rush Torres, whom they acquired from the Cubs in the Aroldis Chapman trade. That is not to say Torres won't be a Yankee this season. If he continues to play like he has played since the Yankees got him, there is a good chance that Torres will be up with the Yankees at some point in 2017.
It could be to replace a hurt or struggling Gregorius, Starlin Castro or Chase Headley. With Castro and Torres both able to play third, there are a lot of options. Torres just isn't yet an option for Opening Day.
Tyler Wade, a prospect the Yankees are trying to turn into a Ben Zobrist, seems like a more likely candidate if the Yankees don't stick with Ronald Torreyes.
March, 20, 2017
Mar 20
12:15
PM ET
Jason Miller/Getty ImagesDidi Gregorius had a solid season last year but will start 2017 on the sideline.
TAMPA, Fla. -- New York Yankees shortstop Didi Gregorius will miss Opening Day and likely won't return to the team's lineup until sometime in May, at the earliest, because of a strained shoulder muscle, general manager Brian Cashman said Tuesday.
Gregorius will go two weeks without any baseball activity before trying to build up shoulder strength with a throwing program.
"They are shooting for probably six weeks total," Cashman said. "That's a guesstimate, so don't hold me to it."
The Yankees plan to look internally for a replacement to Gregorius, but again ruled out top prospect Gleyber Torres, who has yet to play above A-ball. The Yankees could go with 5-foot-7 utility man Ronald Torreyes, who spent the entire 2016 season with the major league club.
Tyler Wade, a 22-year-old who was slated for Triple A, is an option, though the Yankees want to evaluate if he is too raw or not.
The Yankees also have veterans: Pete Kozma, a slick fielder, but a weak hitter; and former Mets player Ruben Tejada. Second baseman Starlin Castro may play some shortstop at the end of camp, but that is more in case he is needed due to an emergency during the regular season.
Gregorius had left his Netherlands team at the World Baseball Classic with the injury. It is the second WBC in which the Yankees have lost a player. Mark Teixeira
March, 17, 2017
Mar 17
6:39
PM ET
Associated Press
LAKELAND, Fla. -- Masahiro Tanaka felt he was a little too wild -- too wild for the Detroit Tigers to hit, in fact.
Tanaka kept up his strong start this spring by combining with two Yankees relievers on a no-hitter Friday in a 3-0 win over the Tigers.
New York manager Joe Girardi didn't keep the lineup card as a souvenir, but still appreciated the spring training feat.
"I'm happy for our guys," Girardi said. "It's fun. Obviously, it means more if it's the regular season, but still it's a no-hitter."
Tanaka, scheduled to start on opening day, struck out six and walked two in 4 1/3 innings. The Japanese ace has thrown 13 1/3 scoreless innings in exhibition play.
"I felt that I wasn't at my best, but considering that I still was able to put up some zeroes, so that part satisfied me," Tanaka said through a translator. "The slider and the cut fastball, the location of it, I felt like I was all over the place. The command of those can be better."
After Chasen Shreve got the final two outs in the fifth, Jordan Montgomery finished up with four perfect innings. Montgomery has emerged as candidate for a bullpen spot and could get into the mix for open fifth starter spot.
Tigers manager Brad Ausmus said "there was pride involved" in trying to avoid being no-hit, even in an exhibition game.
"You don't want to get no-hit, whether it's spring training or regular season, Wiffle ball in the backyard," Ausmus said. "It was on the radar."
March, 15, 2017
Mar 15
3:36
PM ET
AP Photo/Elise AmendolaHow much did a language barrier contribute to the most humiliating night of Michael Pineda's career? The Yankees' Dominican righty blames only himself for the pine-tar game, and has taken its lessons to heart.
TAMPA, Fla. -- When New York Yankees starter Michael Pineda applied pine tar to his neck at Fenway Park three years ago, he might as well have added a "Kick Me" sign.
The oddity of the event, combined with the enormity of the Yankees-Red Sox rivalry, pushed his ejection -- and 10-game suspension -- beyond sports, making it a topic on shows like "Good Morning America." It seemed like everyone took a shot at Pineda.
Many played Pineda as a one-dimensional figure, glossing over the fact that he was a young Dominican ballplayer still trying to figure out a foreign language and culture. What really brought Pineda to that embarrassing night in Boston is much more complicated.
Today, Pineda points the finger squarely at himself, just as he did in an awkward press gaggle after the game, conducted in English, a language he is still learning. He doesn't blame the language barrier or the culture or his coaches. It was his fault, he says.
That doesn't mean facing two dozen reporters in a cramped Fenway clubhouse, struggling to explain himself, was easy.
"The hardest thing for me is when the media uses big words because I don't know those words," Pineda says. "I didn't understand the questions."
March, 17, 2017
Mar 17
11:52
AM ET
Associated Press
HOLLYWOOD, Fla. -- The social hall of Congregation Judea in Hollywood, Florida, will be named for Joe DiMaggio during a ceremony on Sunday.
Rabbi Joseph Bronstein says the orthodox synagogue wants to honor DiMaggio, an Italian Catholic, because "he is a symbol, a hero and role model to the past, present and future to all."
Morris Engelberg, the lawyer who is the trustee of DiMaggio's holdings, said Friday it is just the fourth license granted to use DiMaggio's name since the Hall of Famer's death in 1999.
The others are Joe DiMaggio Children's Hospital and Joe DiMaggio Park in Hollywood, Florida, and the Joe DiMaggio Foot & Ankle Center at the Hospital for Special Surgery in New York.
DiMaggio played his entire 13-year career with the New York Yankees, and his 56-game hitting streak in 1941 still stands.
March, 17, 2017
Mar 17
11:11
AM ET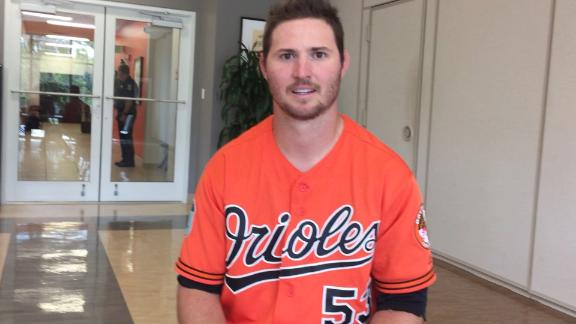 SARASOTA, Fla. -- Standing in the bullpen in Aberdeen, Maryland, that day, the kid on the mound had no idea that he was about to stumble onto a pitch that would draw comparisons to the great Mariano Rivera. All Zach Britton was doing was trying to figure out how to throw your basic, all-American cutter.
It was 2007. He was 19 years old. His ERA was climbing. And the future closer for the Baltimore Orioles wasn't even sure he wanted to pitch for a living.
But then it happened.
He threw a pitch that was supposed to zig left, like cutters are supposed to zig. Instead, it didn't merely zag right. It plummeted toward earth as if he'd just dropped a boulder off a bridge. It was a life-changing moment.
But how was the guy who threw it supposed to know that? All it felt like was yet one more pitch he couldn't master.
"He said, 'The ball's supposed to go the other way,'" Britton's pitching coach at Class A Aberdeen, Calvin Maduro, recalls. "He was like, 'The ball's sinking -- not cutting.' I said, 'Man, keep that.'"
Keep what? It's one thing to throw one pitch that does something totally unexpected. But could Britton defy the laws of physics and make it move that way twice?
"We did it for maybe 10 minutes," Maduro says. "It just kept happening."
It just kept happening, all right. For a decade. Ten years later, Zach Britton is still holding the most unique pitch in baseball all wrong -- and riding it to places no relief pitcher has ever gone.
Shades of Mariano
Which is more amazing: that America's foremost ground ball machine is coming off a season in which he had a 0.54 ERA, the lowest by any relief pitcher in history with 50 or more innings, or that he did so by throwing just that one pitch, the man-eating sinker, 92 percent of the time?
Ask his manager if it's possible that his closer could be even better this season, and Buck Showalter snaps: "No. Not even possible." He thinks he just witnessed "the best year by a relief pitcher ever."
But ask the manager if he thinks Britton needs to vary his patterns so he doesn't have to rely on the same pitch 92 percent of the time, and Showalter cocks his head to give That Look.
"Right now, he can do whatever he did last year," Showalter says. "And I'm OK with that."
Doesn't logic say that what Zach Britton does shouldn't be possible? How can any pitcher have a pitch so unhittable that he can haul it out pretty much every time he throws a baseball and have a 0.54 ERA to show for it -- in the AL East?
"I don't remember anything like that," Britton's bullpen amigo, Darren O'Day
March, 16, 2017
Mar 16
10:31
AM ET
By
Enrique Rojas, ESPNDeportes.com
Logan Bowles / USA TODAY SportsDominican Republic pitcher Dellin Betances pitches to Canada in the World Baseball Classic at Marlins Park.
Read the Spanish-language version of this story here.
SAN DIEGO -- A week after having made it into the book of the most famous phrases in the Dominican Republic's history, pitcher Dellin Betances admitted having said what is being said that he said, though with a slight variation.
Betances, who was born in New York, chose to honor his parents by playing for the Dominican Republic, instead of the United States, in the World Baseball Classic. The tournament rules allow players to choose their teams via the following options: the national team of their country of birth, the national team of their parents' country, or the national team of the country where they reside or are citizens.
"Los dominicanos nacemos donde nos da la gana (Dominicans are born wherever we want)," Betances was quoted as saying before the first game of Dominican Republic, against Canada, last week at Miami's Marlins Park. The phrase spread like wildfire through social media, and turned itself into a slogan of the Dominican fans. Last Tuesday, at San Diego, some fans and friends of the Dominican Republic delegation used a T-shirt with the phrase.
"I said it, but without the foul word," said Betances making reference to the word "maldita (hell)." "I told a reporter a couple of things, but without cursing," added the pitcher before the first game of the second round in San Diego against Puerto Rico.
"They kept asking me a lot of questions and I wanted to say that I am a Dominican, that my blood is Dominican and that it does not matter where I was born," said Betances, speaking in Spanish.
For many sons and daughters of Dominicans, who were born outside the island, particularly in New York and Puerto Rico, the American passport they receive at birth is just a mere convenience. Even though they speak English as their native language and receive the benefits of being U.S. citizens, most of them are as Dominicans as those born in Dominican Republic.
"We Dominicans are born wherever we like," Betances said once again. "It is a way of somehow explaining the meaning of living in the country where you were born but, at the same time, having your parents' country at home, every single day. I did not intend to be rude when I said what I said."
Ever since it was created in 2006, the World Baseball Classic has many examples of dual national Dominican and United States players having to choose one of the national jerseys. Baltimore Orioles young star, Miami-born Manny Machado opted to play for the Dominican Republic, like Betances.
One notable exception was the New York Yankees slugger Alex Rodríguez, who opted to play for Team USA in 2006. But the criticism coming from the island was so strong, that A-Rod switched to represent Dominican Republic, even playing an exhibition game, before a hip injury sent him to the operating room, depriving him of playing in the World Baseball Classic and the first month of the regular season.
"It was not difficult for me, I was raised eating plantain and salami. Both for me and my family it is a great honor to represent our country," said Betances, who was born in Manhattan's Washington Heights neighborhood, where a large concentration of New York's Dominican community lives. "Washington Heights is Dominican. It is like a Dominican Republic town."
March, 15, 2017
Mar 15
9:58
PM ET
Associated Press
TAMPA, Fla. -- New York Yankees manager Joe Girardi says the team has added former Los Angeles Angels closer Ernesto Frieri to the spring training roster.
Frieri pitched for Colombia in the World Baseball Classic.
"This is a guy that saved a lot of games," Girardi said after Wednesday night's 3-1 win over Philadelphia. "He pitched well in the WBC. Some of our people saw him and he's going to get an opportunity here."
The 31-year-old Frieri had 37 saves for the Angels in 2013. The right-hander last pitched in the majors with Tampa Bay in 2015.
Also, backup catcher Austin Romine left in the seventh inning after a wild pitch struck his right hand. The team said X-rays were negative
March, 15, 2017
Mar 15
7:30
AM ET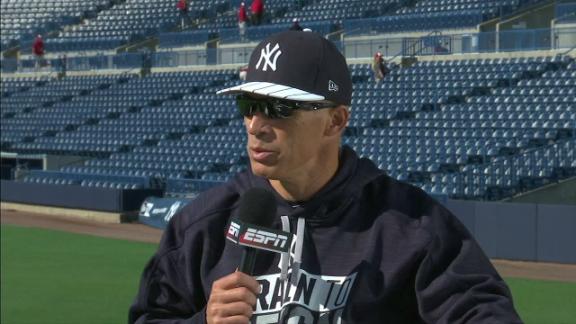 TAMPA, Fla. -- New York Yankees manager Joe Girardi has noticed the young talent this spring has jumped from low tide to high tide. And he has put everyone on notice.
"In a sense, everyone's job in here is in jeopardy in a year, two years," he said. "That is the quality of player that we have in camp. People are starting to pass people up."
Who is most likely to swipe jobs, and who is most likely to lose them? It might not happen this season or at all, but Girardi doesn't make a statement like that unless he means it. If young players continue to perform and old ones don't, there could be changes.
For now, we're not including youngsters Gary Sanchez, Greg Bird and Aaron Judge. Sanchez, barring an injury, will be the starting catcher, and Bird and Judge have the inside track to break camp as starters as well, at first base and right field, respectively. In our minds, they're already in.
Here are five potential Yankees stars of the future, and whom they could replace.
Justin K. Aller/Getty ImagesThings are looking up for Arizona Fall League MVP Gleyber Torres, who's been tearing it up in Tampa.
On the way up: Gleyber Torres, SS, 2B
Job in jeopardy: Starlin Castro, Didi Gregorius
The bottom line: Of all the players GM Brian Cashman acquired in the Purge of 2016, many feel that Torres is the closest to being a can't-miss prospect. After winning the Arizona Fall League MVP, Torres, 20, has not slowed down in his first Yankees camp.
His personality and makeup seem to match his ability. He started playing when he was 4 years old, as a center fielder, then moved to shortstop as a 7-year-old, and he has been there ever since.
Still, the Yankees are working him at both shortstop and second base this spring. He is expected to start at Double-A Trenton. If he dominates there and then at Triple-A, it wouldn't be a shock to see him with the big club at some point this year. A native of Venezuela, Torres grew up rooting for Omar Vizquel. At 6-foot-1, 175 pounds, he projects to hit for more power.
Although the Yankees liked what Castro brought last year, there are questions about his ability to get on base and make the right baseball decisions. Gregorius would seem safer, at the moment, because he could keep improving and become an All-Star. If not, Torres is waiting.
Justin K. Aller/Getty Images Watch out, Jacoby Ellsbury! Jorge Mateo's maturity has impressed the Yankees after a rocky road last season.
On the way up: Jorge Mateo, SS, 2B, CF
Job in jeopardy: Castro, Gregorius, Jacoby Ellsbury
Bottom line: A year ago, Mateo was the Yankees' next big shortstop. However, he was suspended two weeks last season for still unspecified reasons, though a source said it was nothing illegal. Bottom line: The Yankees didn't like how he was going about his business and wanted to correct it early.
This spring, Mateo is paying attention to the details, according to Tim Naehring, the Yankees' vice president of baseball operations. If he continues down that path, Mateo could be back on the fast track. He's still just 21, and the Yankees have him playing three positions.
Something to keep in mind: With all of the Yankees' options, it's an advantage to be able to freely move around the infield. The Yankees have added center field to Mateo's résumé, too, which could make him another contender to replace Ellsbury -- relatively soon.
"He's probably the best athlete in our organization," Naehring said.
No doubt, Mateo has improved his stock this camp.
Kim Klement/USA TODAY SportsClint Frazier's flowing red hair has been trimmed, but he still brings plenty of attitude to Tampa.
On the way up: Clint Frazier, OF
Job in jeopardy: Ellsbury, Judge, Brett Gardner
Bottom line: The Yankees are probably hoping for another Gary Sanchez-like experience with Frazier. It seems almost unfathomable that a year ago, Sanchez was nearly handed the backup catcher job but was so poor in camp that he lost it to Austin Romine.
The vibe around Frazier is only so-so, with his attitude and his sideshow quality. Veteran Matt Holliday has been advising Frazier, who recently cut his red hair to remove one potential distraction. Frazier, just 22, has not totally shown the "legendary bat speed" hyped by Cashman after he made the trade.
Frazier said he is learning. "I think a lot of things. How to be a better teammate, how to be a better Christian man, how to fit in with guys, how to talk to them," he said. "A lot of guys have taken me under their wing. It has benefited me in a lot of different ways in my life, not just on the field but off the field. Guys have been good father figures to me while I'm at my home away from home."
Frazier is expected to begin at Triple-A, which means that if he gets off to a hot start, he could take MLB starts away from Judge, Ellsbury and/or Gardner rather quickly.
Reinhold Matay/USA TODAY SportsJustus Sheffield has a longer road to The Show than some of the other young Yankees on this list, but he could help anchor the starting rotation in the not-so-distant future.
On the way up: Justus Sheffield, LHP
Job in jeopardy: The starting rotation
Bottom line: Sheffield is unlikely to make the majors this year, but Cashman is quick to point out that he and Frazier were the must-haves in the Andrew Miller trade. Sheffield grew up in Tennessee, and his favorite pitcher was Vanderbilt's David Price. Sheffield can mimic Price's motion to the plate.
Although a lefty, Sheffield is different than Price, who is 6-foot-5 and 215 pounds, whereas Sheffield is just 5-10, 195 pounds. Sheffield was only at Class A last year, but the buzz around him is loud, and the Yankees think they might have a future standout.
"Wherever I start, that is where I will start, but the goal obviously at the end of the year is to be up higher than the level I was at," Sheffield said. "The overall goal is to make it to the big leagues."
Reinhold Matay/USA TODAY SportsTyler Wade grew up a Derek Jeter fan, but his versatility could make him a Ben Zobrist-type in the bigs.
On the way up: Tyler Wade, SS, 2B, 3B, 1B, OF
Job in jeopardy: The bench guys
Bottom line: Naerhing compared Wade to Ben Zobrist. Wade added 10 to 15 pounds this year and is playing all over the diamond. For another franchise, Wade might be the future shortstop, but for the Yankees, he could be a super-utility player in the mold of Zobrist or Tony Phillips.
As a kid, he looked up to Derek Jeter and has been thrilled to meet him a couple of times. Wade made it to Double-A last year, so a ticket to the majors is a possibility this season. He could be a very useful bench player in the future, as the Yankees try to become younger.
Reinhold Matay/USA TODAY SportsAlong with Mateo (from left) and Torres, Miguel Andujar could take a job away from a Yankees veteran -- if not this year, then soon.
Best of the rest: This is why the Yankees' future looks really good. You could easily keep going and going with this list, even if you leave first-rounder Blake Rutherford off the board because he isn't in big league camp yet. Here are five more names to keep in mind:
Billy McKinney, a 22-year-old left-handed-hitting outfielder, has drawn raves from Girardi. He was once a top prospect but was included in the Aroldis Chapman trade. McKinney was the 24th overall pick in the 2013 draft. ... Miguel Andujar, another 22-year-old, has a chance to arrive in The Show if he excels and/or Chase Headley is hurt or struggles. Alex Rodriguez praised Andujar during his stay in camp. ... Three pitchers to watch are righties Chance Adams and James Kaprielian and lefty Jordan Montgomery. All three could be in the majors this year, though Kaprielian, coming off a flexor tendon injury, must prove he can stay healthy. If he can, scouts believe he could be at least a mid-rotation guy.