November, 21, 2017
Nov 21
5:21
PM ET
Matthew Emmons/USA TODAY SportsAndre Ellington's role in the offense faded after the Cardinals traded for RB Adrian Peterson.
HOUSTON -- The Texans claimed running back Andre Ellington off waivers Tuesday after he was released by the Arizona Cardinals on Monday.
The Texans lost backup running back D'Onta Foreman for the season when he tore his left Achilles tendon Sunday against the Cardinals. Ellington was a healthy scratch in that game, but had been Arizona's third-down back this season.
Ellington could back up starting running back Lamar Miller next Monday night against the Baltimore Ravens, especially if Alfred Blue has to miss another game with a hamstring injury.
Ellington was averaging 8.2 touches per game in the Cardinals' first five games, but his role in the offense faded after Arizona traded for running back Adrian Peterson. Ellington had just seven touches over his last three games.
This season, Ellington has 53 yards on 15 carries and a touchdown. Known as a proficient receiver, he has 33 catches for 297 yards this season.
November, 21, 2017
Nov 21
7:00
AM ET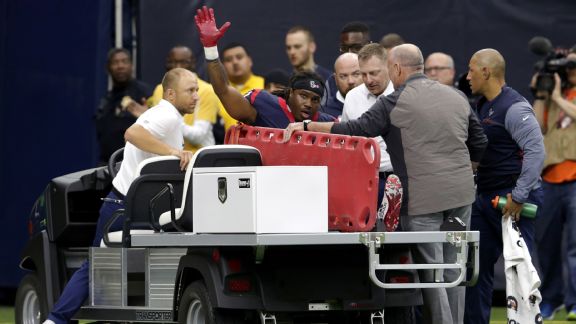 Tim Warner/Getty ImagesD'Onta Foreman was having the best game of his young career until he was carted off with a season-ending Achilles injury.

D'Onta Foreman has spent his first NFL season as an able backup for Lamar Miller, but the rookie was lost to an Achilles injury on Sunday.

November, 20, 2017
Nov 20
7:47
AM ET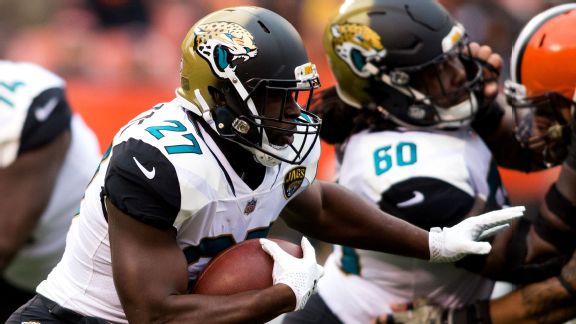 Scott R. Galvin/USA TODAY SportsLeonard Fournette showed his toughness on Sunday, recording 28 carries despite playing with a sprained ankle.

A closer look at how top rookies fared in a Week 11 that saw three RBs -- Leonard Fournette, D'Onta Foreman and Alvin Kamara -- come up clutch.

November, 20, 2017
Nov 20
7:00
AM ET
November, 19, 2017
Nov 19
4:25
PM ET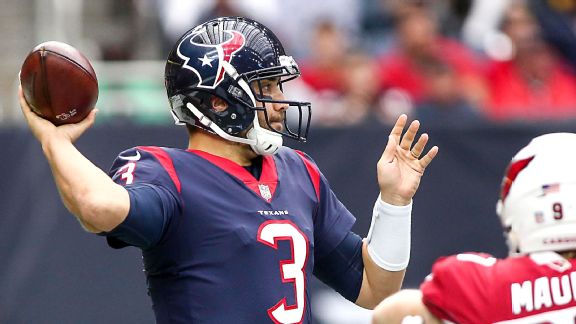 Troy Taormina-USA TODAY SportsTom Savage was 22-of-32 for 230 yards and two touchdowns in Sunday's win.

Late last week, Bill O'Brien made it clear he needed to see more progress from Tom Savage. And for at least one game, Savage delivered.

November, 19, 2017
Nov 19
4:12
PM ET
HOUSTON -- Houston Texans running back D'Onta Foreman was carted off the field after scoring on a 34-yard run in Sunday's 31-21 win over the Arizona Cardinals.
The initial diagnosis is a torn left Achilles, a source told ESPN, confirming a report by the Houston Chronicle. Foreman will have an MRI on Monday to confirm the injury.
Foreman's injury came with 6 minutes, 19 seconds left in the game and gave the Texans the winning 10-point lead. Foreman fell into the end zone and quickly reached for his left leg.
"Whoever hit it, just kind of twisted it, I guess, and I fell," Foreman said. "I was just happy I was by the end zone. So it worked out."
Foreman was looked at by the Texans' training staff before being helped off on a cart.
In the locker room after the game, Foreman was on crutches while he spoke to the media. At the time, he said he was still waiting for a diagnosis. The rookie running back ran for 65 yards on 10 carries and two touchdowns and had three catches for 15 yards. He called the game "bittersweet."
"I just wanted to get something started," Foreman said. "I felt like in the [first half] I didn't really play like I wanted to play," Foreman said. "I knew in the second half I just had to go out there and try to make some plays and try to help us win the game, and I feel like I did that."
November, 17, 2017
Nov 17
7:00
AM ET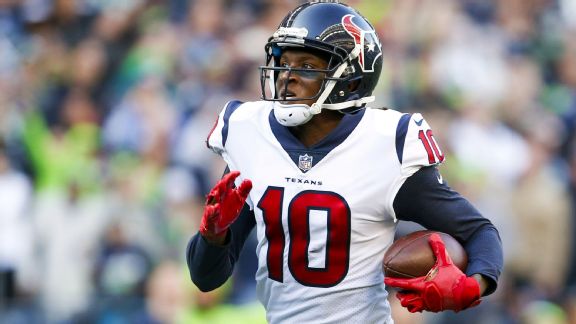 Joe Nicholson/USA TODAY SportsTexans receiver DeAndre Hopkins says his two years as Andre Johnson's teammate were invaluable to his development.

Texans WR DeAndre Hopkins spent two seasons playing alongside Andre Johnson and learned how to play the position, be consistent and be professional.

November, 17, 2017
Nov 17
7:00
AM ET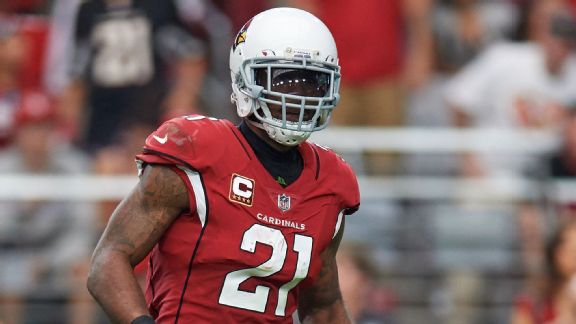 Robin Alam/Icon SportswireCardinals cornerback Patrick Peterson relishes the prospect of going against a top-tier receiver in Houston's DeAndre Hopkins.

Cornerback Patrick Peterson expects to be busy Sunday when his Cardinals visit the Texans, with standout DeAndre Hopkins figuring to get his attention.

November, 16, 2017
Nov 16
7:00
AM ET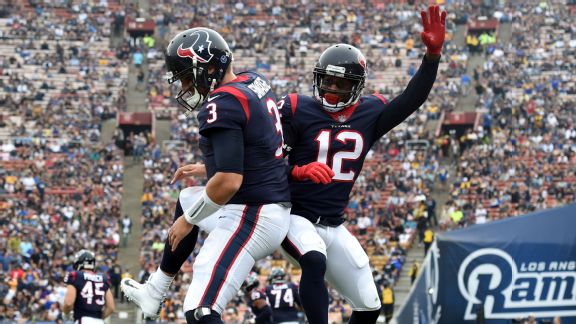 Chris Williams/Icon SportswireTom Savage, left, and Bruce Ellington combined for Houston's only score Sunday, and it's a connection the Texans might need more of with receiver Will Fuller out.

Losing Will Fuller wasn't what the Texans' ailing passing attack needed, and Bruce Ellington is among those expected to help fill the receiving void.

November, 15, 2017
Nov 15
3:55
PM ET
HOUSTON -- Texans wide receiver Will Fuller is expected to miss Sunday's game against the Arizona Cardinals with an injury to his ribs.
Fuller sustained the injury in the second quarter of the Texans' loss to the Los Angeles Rams while attempting to catch a short pass in the middle of the field. After the game, Fuller said his ribs were "a little sore, but I should be OK."
The wide receiver did not practice on Wednesday.
"He took a pretty good shot," coach Bill O'Brien said Wednesday. "He's a tough guy. ... Very tough guy, especially for the way he's built. He's one of our better receivers when it comes to blocking. He does a lot of different things for us that people probably don't even notice. But he's slightly built."
Fuller missed the first three games of the season after he broke his collarbone during training camp. In six games this season, Fuller has 17 catches for 326 yards and 7 touchdowns.
November, 15, 2017
Nov 15
7:00
AM ET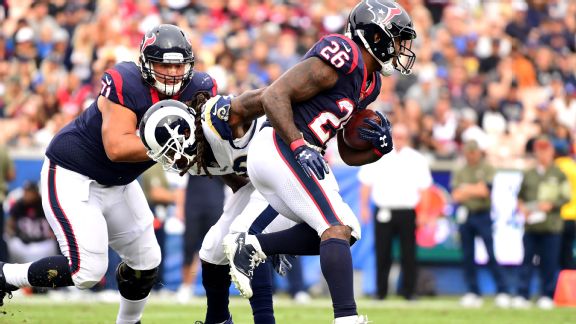 Harry How/Getty ImagesLamar Miller ran for 60 yards on 11 carries Sunday against the Rams.

"I just have to figure out how to do a better job in those situations and try to call some better plays," Texans coach Bill O'Brien says.

November, 14, 2017
Nov 14
7:00
AM ET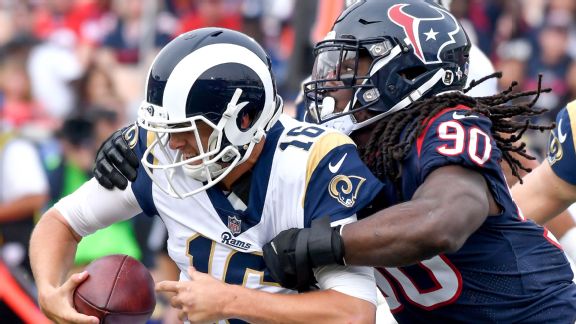 Robert Hanashiro/USA TODAY SportsAt 3-6, the Texans have little room for error, but any charge up the AFC South standing will need to be led by the likes of Jadeveon Clowney and the defense.

At 3-6, the Texans have little room for error, but any charge up the AFC South standings will need to be led by the defense.