March, 29, 2017
Mar 29
7:54
PM ET
MIAMI -- Houston Texans running back Lamar Miller said he is still surprised his team traded quarterback Brock Osweiler and isn't sure which player will hand the ball off to him this upcoming season.
The name that keeps coming up in Houston is Dallas Cowboys quarterback Tony Romo, who is expected to be traded or released this offseason. Miller spoke highly of Romo at Wednesday's pro day at the University of Miami, which is Miller's alma mater.
"He's a great quarterback," Miller said. "He took the Cowboys to the playoffs a couple times. But I never really watched him much."
Houston shipped Osweiler, a 2018 second-round pick and 2017 sixth-round pick to the Cleveland Browns for a fourth-round pick earlier this month in the most surprising move of the NFL offseason. The Browns, who have plenty of cap room, took on Osweiler's $72 million contract while adding valuable picks.
Osweiler was expected to be Houston's long-term solution at quarterback but lasted just one year after throwing for 2,957 yards, 15 touchdowns and 16 interceptions.
"It was kind of shocking for me. I really wasn't expecting anything to be honest," Miller said. "I'm pretty sure the front office, they have something in store and planned to help this organization win."
Romo, if healthy, would immediately make the Texans a viable Super Bowl contender. Houston already has the NFL's No. 1-ranked defense in 2016 and solid offensive skill players such as Miller, who rushed for 1,073 yards last season, and receiver DeAndre Hopkins.
"He's still on the Cowboys right now so I don't know what's going to happen with that situation," Miller said of Romo. "I'll leave that up to [Houston's front office]. But I'm pretty sure they'll find the right guy for the job."
Few observers believe the solution is in house. Currently Tom Savage is the No. 1 quarterback on the depth chart after replacing Osweiler late last season. Savage went 2-0 to end the regular season, but Osweiler was placed back into the starting lineup during the playoffs.
"I know right now it's Tom Savage, but I don't know what they're going to do with the draft and all that," Miller said. "But Tom, I think he took full advantage of the opportunity [last season]. He brought us back against Jacksonville. Right now it's Tom Savage so we should be good."
March, 29, 2017
Mar 29
7:00
AM ET
HOUSTON -- The Houston Texans are the only team in the NFL which has not signed a free agent from another team.
They have re-signed three free agents -- tight end Ryan Griffin, kicker Nick Novak and punter Shane Lechler -- and lost three defensive starters.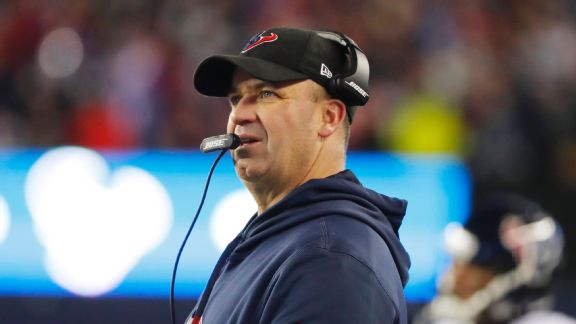 Winslow Townson-USA TODAY SportsTexans coach Bill O'Brien said he's not worried about how his team has been mostly silent during free agency. "We're a long way from what that 53-man roster is going to look like," he said.
But head coach Bill O'Brien said although the Texans haven't made many moves in free agency, they're still "doing things to improve [the] team."
"Maybe you don't see it, but we're doing a lot of things on the inside to improve our team," O'Brien said Tuesday at the NFL owners meetings. "There's still a lot of time left. It's kind of like I said, the one thing I've always said is it's a fluid process.
"It takes a lot of time to put a team together. We have a lot of time here. We have the draft, we have training camp. We're a long way from what that 53-man roster is going to look like. We know certain guys are going to be on our football team, no doubt about it, but we're a long way away from what that team is going to look like. So, we know what we need to do."
Of course, the Texans' quiet offseason could change if they are able to acquire quarterback Tony Romo, but he is still the property of the Cowboys, who are reportedly looking to trade him but might just have to release him if they can't strike a deal.
The Texans' light offseason has been especially notable given the activity around the AFC South, especially from the Jacksonville Jaguars, who spent more than $160 million in the first two weeks of free agency, including adding cornerback A.J. Bouye and defensive tackle Calais Campbell. The Jaguars certainly know that offseason moves don't equal success -- they "won" free agency last year as well and finished 3-13 and last in the division -- but they have definitely added talent.
The Texans have won the AFC South in back-to-back years, but finished just a tiebreaker ahead of the Tennessee Titans to make the playoffs in 2016. Tennessee's biggest move during free agency was adding a top cornerback in Logan Ryan; the Titans have additional first- and third-round picks in April's draft, which should help fill holes as well.
"Every team has their own way of doing things," O'Brien said. "Like you said, Tennessee, Jacksonville and [Indianapolis] to this point, they've added players. They've lost players [too]. Everybody's done some things to improve their team."
Although Houston has had three winning seasons since O'Brien took over as coach in 2014, he said he knows how tough the division will be next season, and that's why the Texans need to continue to improve.
"Our division is very tough," O'Brien said. "We have great coaches, great players in our division. So yeah, I think the AFC South is a very tough division.
"When we have to coach against Jacksonville, Tennessee and Indianapolis, I know for us that is a very, very challenging game, very challenging games to prepare for and very challenging games to play."
March, 29, 2017
Mar 29
7:00
AM ET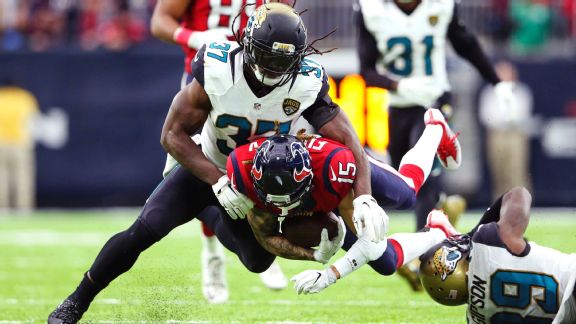 Kevin Jairaj/USA TODAY SportsSafety Johnathan Cyprien, who signed with the Titans as a free agent, struggled in coverage during his four seasons with the Jaguars, recording just two interceptions.
Which move in the division during free agency was most surprising? ESPN's AFC South reporters make their picks:
Sarah Barshop, Texans reporter: I wasn't surprised that the Texans passed on using the franchise tag on A.J. Bouye or upping their offer to keep him once the deadline passed, and I wasn't surprised that he stayed in the division. But I was surprised he didn't end up in Tennessee. The Titans improved their secondary with the addition of cornerback Logan Ryan, who was cheaper at three years, $30 million, but I thought Tennessee was where Bouye was headed. The Titans entered the offseason with more than $50 million in cap room. Taking a player such as Bouye from a division rival and adding him to their already potent defense would have been a difference-maker.
Michael DiRocco, Jaguars reporter: Maybe it's because I've seen every snap he has played, but I did find it curious that Tennessee gave safety Johnathan Cyprien a four-year, $25 million contract with $9 million guaranteed. I don't understand the attraction. The Jaguars' second-round pick in 2013 played in and started 60 games in his four seasons with the team but made few impact plays. He had just two interceptions, 15 pass breakups and four forced fumbles. Granted, the Jaguars drafted him to be a box safety in former coach Gus Bradley's defense (the spot Kam Chancellor plays), and he did make a lot of tackles (442), but he is a problem in coverage. Because of a lack of a quality free safety with the ability to play single high coverage, the Jaguars had to use Cyprien in coverage more than they wanted in his first three seasons, and he did not fare well. If the Titans are going to use him almost exclusively as a box safety, then the move makes sense. If they're going to give him more than just spot work in coverage -- especially against tight ends -- then they're going to have some trouble limiting big plays.
Paul Kuharsky, Titans reporter: Johnathan Cyprien's jump from the Jaguars to the Titans. He played better than most people know in his final season with the Jaguars. They preferred Barry Church, whom they signed from Dallas. The Titans like Cyprien better than Da'Norris Searcy, who was signed by the previous regime. Searcy has two seasons remaining on a deal with base salaries of $5.625 million and $6.125 million. Now Cyprien is in line for $6.25 million on average. That could mean the end of the line for Searcy, who is not due to be paid anything until Week 1. Or it could mean the Titans have a highly paid third safety, with the hard-hitting, sure-tackling Cyprien shifting to virtual linebacker in nickel and dime packages.
Mike Wells, Colts reporter: This doesn't go under the category of "free-agent move," but it can't be overlooked. Houston's decision to trade quarterback Brock Osweiler to Cleveland just a year after giving him a four-year, $72 million contract last spring. What Houston's decision proved is that it felt like it was pointless to keep him because the 15 games he appeared in last season showed that he wasn't worth the money they spent on him, and he doesn't have the traits it takes to be a franchise quarterback. Osweiler did lead the Texans past the Colts twice last season. But that doesn't carry the same weight as in years past because Indianapolis finished with an 8-8 record and missed the playoffs.
March, 28, 2017
Mar 28
6:21
PM ET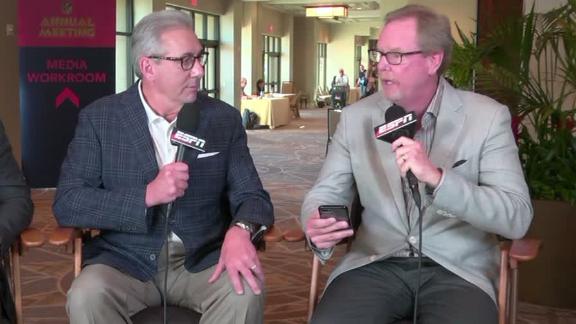 PHOENIX -- The Dallas Cowboys are "working through" their situation with quarterback Tony Romo, coach Jason Garrett said Tuesday. But in a meeting with reporters at the NFL owners meetings, Garrett said "nothing has really changed since the end of the season."
Romo, who will turn 37 in April, is not expected back with the Cowboys after losing his starting job to Dak Prescott. Dallas initially was expected to release him prior to the opening of the free-agent market but instead has kept him on the roster.
Garrett said Romo and owner Jerry Jones are "the principal people in working that situation through," but the coach offered no insight into an eventual resolution.
Jones said Tuesday that a decision on Romo's future might not be determined until training camp.
There have been indications that the Cowboys hope to trade Romo, perhaps to the Houston Texans, to get some compensation for the loss of their former franchise quarterback. Garrett said he "didn't want to get into the specifics" of that issue but acknowledged the obvious: There are league-wide concerns about how many games Romo's body can hold up for.
"He can play the game at a high level," Garrett said. "Durability has been an issue the past couple of years, so nobody really knows how he can handle the course of a 16-game season.
"But that's true for everybody. You take that risk with everyone on your roster. He's been a great football player for us for a long time."
March, 28, 2017
Mar 28
2:10
PM ET
HOUSTON -- Houston Texans head coach Bill O'Brien said that while there is a good group of quarterbacks available in this year's NFL draft, he thinks it would be hard to have a rookie begin the season as the Texans' starter.
"I think it's tough to play quarterback as a rookie in our league," O'Brien said Tuesday at the NFL owners meetings. "I think that's a tough task. I think there's no substitute for experience, so I think it's hard to ask a guy to come in straight from college and Day 1 he's a starter on your team."
The Texans have the No. 25 pick in the draft, and even if they acquire Dallas Cowboys quarterback Tony Romo, they would likely still look to take a quarterback early in the draft.
O'Brien reiterated Tuesday that the Texans are happy with the two quarterbacks on their roster -- Tom Savage and Brandon Weeden -- but acknowledged the team would need to add one or two more quarterbacks this offseason before the 90-man roster is set.
"Whether it's the draft or if someone was to be available in free agency we thought was a great fit for our team, we would do that," O'Brien said about adding more quarterbacks. "We know we need at least three or four when the 90-man roster is set. Right now, we have 65 guys that'll be there on April 17 [when offseason workouts begin]."
Because Romo is still under contract with the Cowboys, O'Brien could not address whether he wants the Texans to sign him, saying he's "not going to get into speculation about if he's released." But the Texans are expected to pursue Romo if he is released by Dallas.
Since O'Brien joined the Texans in 2014, eight different quarterbacks have started a game for Houston.
"Everybody's striving for stability at that position," O'Brien said. "Obviously we haven't had stability there. That hasn't been any one person's fault. I think that's just the way it's happened over the three years I've been here. We're always trying to do what's best for the team. We'll always think about what's best for the team."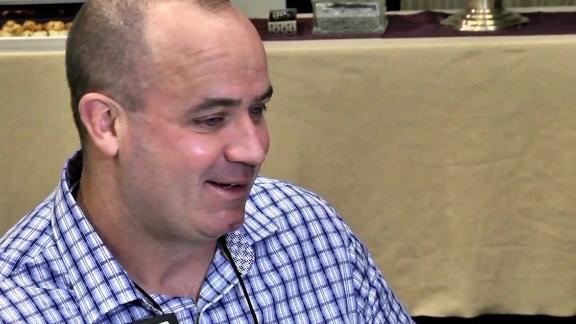 March, 28, 2017
Mar 28
7:00
AM ET
Which team in the division improved itself most through free agency? ESPN's AFC South reporters make their picks:
Sarah Barshop, Houston Texans reporter: The Jaguars certainly made the biggest moves to improve their defense, adding cornerback A.J. Bouye and defensive tackle Calais Campbell -- two of the top six of ESPN's 150 best free agents. The numbers alone are huge, as they spent more than $160 million in the first two weeks of free agency. But the Jaguars are perennial offseason winners -- this is the second straight offseason that Jacksonville has spent the most money in the NFL during free agency -- so it is up to them to make their spending finally translate into wins on the field. Jacksonville spent the money to shore their defense, but they still have questions on the other side of the ball.
Michael DiRocco, Jacksonville Jaguars reporter: On paper, it's the Jaguars. Adding Bouye and safety Barry Church to a secondary that already included Jalen Ramsey and Tashaun Gipson should make it very tough on opposing quarterbacks. Campbell gives them much-needed consistency and production in the pass rush to go along with interior stud Malik Jackson and young edge rushers Yannick Ngakoue and Dante Fowler Jr. The Jaguars had the No. 6 overall defense last season but still gave up 25 points per game and too often the defense couldn't make a critical stop or get off the field when it mattered most. The unit should be significantly better in 2017. Theoretically, anyway. Remember, the Jaguars "won" free agency and the draft last season and ended up with just three victories and a front-office overhaul. The team did little on offense in free agency other than trading for left tackle Branden Albert. The offensive line is still a big issue, and no one knows if Blake Bortles is the long-term answer at quarterback, so the additions on defense might not make much of a difference in the standings.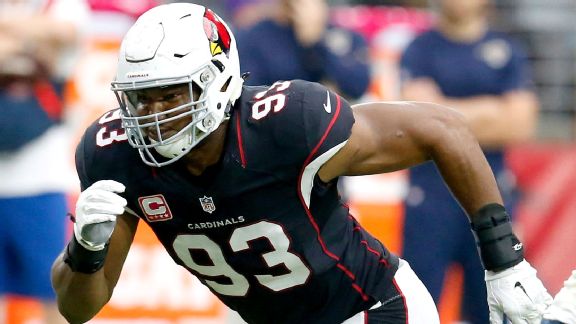 AP Photo/Rick ScuteriNew Jaguars DE Calais Campbell has had at least five sacks in each of the past eight seasons.
Paul Kuharsky, Tennessee Titans reporter: Probably Jacksonville. Campbell looks to be the highest-impact player on a line that should fare well rushing the quarterback and slowing the run. And Bouye is probably the second-most impactful guy coming in. He and Ramsey make for a strong starting combo in a division where DeAndre Hopkins and T.Y. Hilton loom large. Church is a starter, though he didn't outplay the guy he's replacing, Johnathan Cyprien, last season. Can a team now overseen by Tom Coughlin and coached by Doug Marrone get better results with another solid class of veterans in place?
Mike Wells, Indianapolis Colts reporter: Don't laugh, but I'm going to say the Jaguars as back-to-back offseason champions on paper. Of course I'll regret this decision by Week 3 next season, because I thought they improved themselves last offseason only to end up going 3-13 and firing head coach Gus Bradley before the season ended. You can't forget about the addition of Coughlin as Jacksonville's VP of football operations. That's a move that will help the Jaguars in the long run.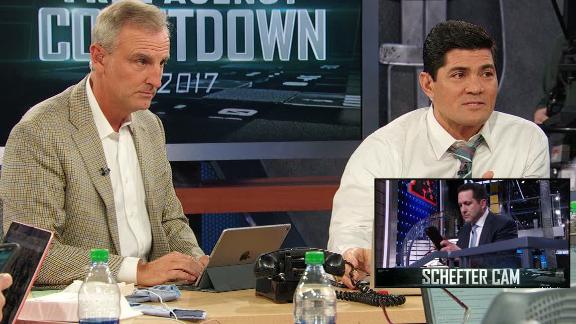 March, 27, 2017
Mar 27
10:35
PM ET
HOUSTON -- Houston Texans owner Bob McNair told reporters Monday that head coach Bill O'Brien will not get a contract extension this offseason.
"We'll talk to him about it at the end of this year," owner Bob McNair said Monday, according to the Houston Chronicle. "That's typically when we do that sort of thing.
"We'll sit down and see what he's (O'Brien) happy with and if he wants to be extended and see how we feel."
O'Brien is entering the fourth year of the five-year deal that he signed in 2014. There was speculation at the end of last season whether O'Brien would remain in Houston after the season, but after the Texans' first-round playoff victory over the Oakland Raiders, McNair said he was never going to fire O'Brien. After the team's loss to the New England Patriots in the next round, O'Brien said he would definitely be returning.
"I'll be back next season," O'Brien said in January. "I'll be the Texans' head coach. I'll be back next season. Like I said, I have a five-year contract. This is Year 3."
In three seasons, O'Brien has a 27-21 record and the Texans have won the AFC South in back-to-back seasons.
March, 27, 2017
Mar 27
9:20
PM ET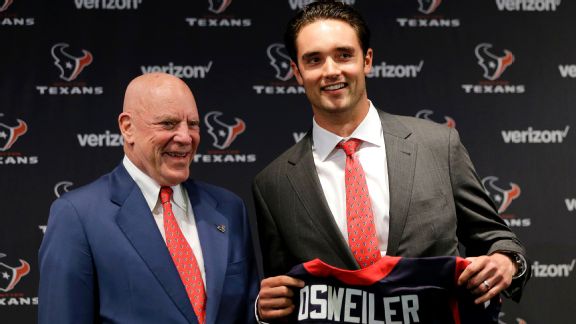 AP Photo/David J. Phillip"You can't talk to them before they become a free agent. You can't work them out. We didn't know him that well," said Texans owner Bob McNair of Brock Osweiler.
HOUSTON -- Houston Texans owner Bob McNair told reporters Monday that he was shocked general manager Rick Smith was able to pull off the trade that sent quarterback Brock Osweiler to the Cleveland Browns earlier in the month.
"It was a shocker for me," McNair said at the NFL owners meetings, according to the Houston Chronicle. "I couldn't believe that Rick was able to pull it off. ... It's unbelievable. Everybody around the league, their jaws are still hanging open.
"It's something no one thought [about], and I think other people have looked at that, and they've been trying to do the same thing without success."
The trade that sent Osweiler, a 2018 second-round pick and a 2017 sixth-round pick to Cleveland for a 2017 fourth-round pick will save the Texans $10 million in salary-cap space and $16 million cash.
The Texans signed Osweiler to a four-year, $72 million contract on the first day of free agency a year ago, but in his first year in Houston, he struggled. In 15 regular-season games, Osweiler completed 59 percent of his passes for 2,957 yards, 15 touchdowns and 16 interceptions.
On Monday, McNair said looking back, because of how free agency works, the Texans and head coach Bill O'Brien didn't know Osweiler well enough before signing him to the huge contract.
"We didn't know Brock well enough," McNair told the Houston Chronicle. "Coach [Bill O'Brien] didn't have a chance to get to know him.
"That's one of the problems with free agency. In the draft, we're able to bring them to Houston, sit down with them, watch them interviewed by a bunch of coaches, and you have time to check them out.
"You can't talk to them before they become a free agent. You can't work them out. We didn't know him that well."
March, 27, 2017
Mar 27
7:15
PM ET
HOUSTON -- If and when the Dallas Cowboys release Tony Romo, it's become even more likely the Houston Texans will be his destination if he continues his playing career.
The other highly speculated destination for Romo was the Denver Broncos, but coach Vance Joseph and general manager John Elway emphasized Monday that they're comfortable with the two young quarterbacks they have on their roster.
On Monday, Texans head coach Bill O'Brien told NFL Network's Judy Battista that he couldn't talk about Romo because he's "under contract" with the Cowboys and that while he's happy with his roster, it is a "fluid situation" and things could change quickly.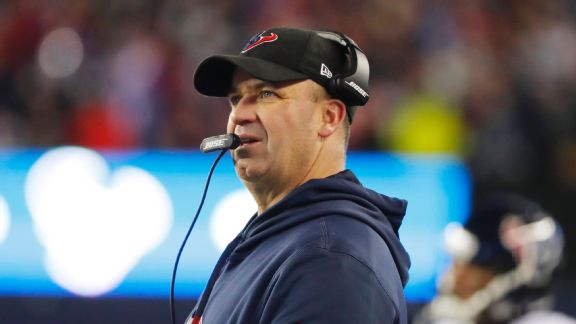 Winslow Townson-USA TODAY SportsTexans coach Bill O'Brien will move forward with a new starting quarterback in 2017.
"Every day in this league is a fluid situation," O'Brien told the NFL Network. "Every day, whether it's the draft or free agency or someone gets released or whatever that is. But today, as we sit here right now, we're excited and we will be excited about who we have in that room, and of course, over the next few weeks, maybe we add to that room, maybe we don't."
O'Brien told the NFL Network that he is pleased with the two quarterbacks the Texans have on their roster -- Tom Savage and Brandon Weeden -- and he's "really looking forward to working with them" in 2017.
Savage has had a few opportunities to win the starting job, but he has been injured for parts of his first three NFL seasons. He injured his knee in his first NFL game during his rookie season; in 2015, the Texans put Savage on injured reserve during the preseason after he sprained his shoulder. In 2016, Savage relieved Brock Osweiler after he was benched and played in three games before suffering a concussion in the 2016 regular season finale. Osweiler took over for Savage for the playoffs.
In three seasons, Savage has completed 60.9 percent of his passes for 588 yards with no touchdowns and one interception in five games.
O'Brien acknowledged that injuries are always a concern, but "if you look at the history of the league, there's a number of guys who have played that were injured early in their career."
"Tom is a smart guy, he can throw the ball really well, he knows our system and he's a guy that we're real excited about working with," O'Brien said.
March, 27, 2017
Mar 27
7:00
AM ET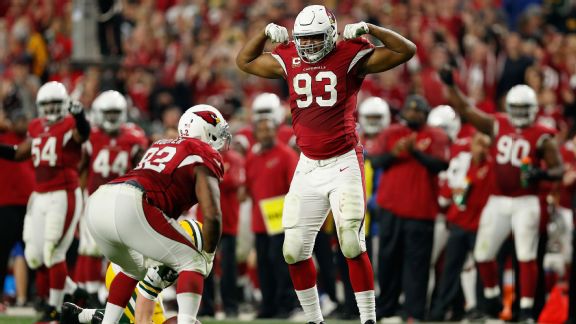 Christian Petersen/Getty ImagesCalais Campbell's ability to pressure quarterbacks should help the Jaguars force more turnovers, a problem area for the team in recent seasons.
Which free-agent signing will have the biggest impact in the division? ESPN's AFC South reporters give their picks:
Sarah Barshop, Texans reporter: A.J. Bouye will not only help solidify the Jacksonville Jaguars' defense, but he joins the 23-year-old Jalen Ramsey to form what could be the best cornerback duo in the NFL next season. Bouye was part of the second-ranked secondary with the Texans last season, and he finished the year as their top cornerback. The Jaguars gave Bouye a five-year, $67.5 million deal after his best season -- and the only one in which he was a starter -- but he will be a great addition to the Jaguars' secondary if he can match or improve upon the production he had in his final year in Houston.
Michael DiRocco, Jaguars reporter: Bouye leaving Houston for Jacksonville might have the most long-term impact because it gives the Jaguars one of the best corner duos in the NFL. But the signing that will have the biggest impact in 2017 is the Jaguars' addition of defensive end Calais Campbell. The Jaguars ranked sixth in total defense last season, but their weaknesses were the pass rush and a lack of turnovers. Campbell has 56.5 sacks in his nine seasons and has recorded at least five sacks in the past eight seasons, including a career-high nine in 2013 and eight last season. The Jaguars' pass rush was hit and miss and Campbell brings some much-needed consistency. A better pass rush usually means more chances to create turnovers, which is something the Jaguars have struggled to do. They have forced the fewest turnovers since 2014 (51) and Jacksonville defensive backs have intercepted just 11 passes in the past three seasons. That's by far the worst in the division (Houston DBs picked off 46).
Paul Kuharsky, Titans reporter: With no significant quarterback addition in the division (yet), the most impactful addition is a guy who will do plenty to disrupt quarterbacks. New Jacksonville defensive end Calais Campbell is a big addition to the Jaguars' front. On the same line with Malik Jackson, Dante Fowler and Abry Jones, he will give some tackles, quarterbacks and offenses real headaches. Campbell will also give the Jaguars a vocal leader they might have been lacking. Sure, we've seen the Jaguars add plenty of talent in recent years and not get improved results. But Campbell's arrival shouldn't be judged against previous free-agent production or the team's win-loss record before he was part of things. Campbell is No. 1 and his teammate, cornerback A.J. Bouye, may well rate as No. 2.
Mike Wells, Colts reporter: The Jaguars will need to rely on their defense if Blake Bortles doesn't show much improvement at quarterback. That's why signing defensive end Calais Campbell was a significant move for them. Campbell has 56.5 sacks in his nine-year career and he's had at least five sacks in a season eight straight years. Jacksonville was tied for 19th in the NFL in sacks with 33 last season. Campbell will join a defensive line that also features Yannick Ngakoue (eight sacks), Malik Jackson (6.5 sacks) and Dante Fowler (four sacks). That's a formidable group the Jaguars will put on the field to pursue quarterbacks Andrew Luck and Marcus Mariota in the AFC South.
March, 24, 2017
Mar 24
7:00
AM ET
HOUSTON -- The Houston Texans may have made the biggest move of the offseason when they traded Brock Osweiler to Cleveland, but now more than two weeks since the beginning of the free-agency period, they are the only team in the NFL not to add a free agent from another team.
Despite the new salary cap of $167 million cap -- a $47 million increase over 2011 -- the Texans have chosen not to add through free agency, the opposite of their approach last offseason, when they made a big splash by adding Osweiler and running back Lamar Miller.
Houston entered this offseason without many holes on the field, especially with its top-rated defense. But after losing three defensive starters -- cornerback A.J. Bouye, safety Quintin Demps and outside linebacker John Simon -- in free agency and trading Osweiler, they now have some positions of need. In addition to replacing those three players and finding a quarterback, the Texans need to upgrade their offensive line.
Houston could still be in the market for free-agent signings, but they may be waiting to see if Dallas Cowboys quarterback Tony Romo will become available. The Texans have around $30 million in cap space after adding punter Shane Lechler, kicker Nick Novak and tight end Ryan Griffin, so they do have space to add players. However, because they have been waiting on Romo, most of ESPN's top 150 free agents

are now under contract.
At the NFL combine in early March, general manager Rick Smith noted that the Texans prefer to build through draft and reward those players with long-term contracts.
"If you look at our team, I think nine of ten of our first-round picks are still on our football team, so we've had some success at keeping our guys. That's the way that we've decided to build our football team," Smith said. "That's through the draft. We've identified the good, young players. It's not only first-round picks, it's other players that have performed. Again, I will tell you that – and I don't say this lightly – about the job that [vice president of football administration] Chris Olsen does in managing our salary cap, putting us in a position to have the chance to keep those players.
"That's a big part of what we do and how we've decided to manage our football team. I'm confident in that. Listen, the reality is that you can't keep all your good, young players. But the balance of your football team is made up of players that you draft, and then that core group, hopefully, are players that you drafted and you've developed and they are arrow-up-type players and that you can get those players under contract long-term and continue to build your football team."
March, 22, 2017
Mar 22
1:00
PM ET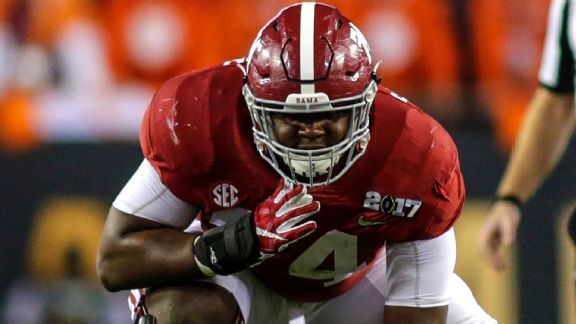 David Rosenblum/Icon SportswireOffensive tackle Cam Robinson was a three-year starter at Alabama and is one of the best offensive line prospects in the 2017 NFL draft.
HOUSTON -- Even after the Houston Texans traded their starting quarterback to the Cleveland Browns two weeks ago, ESPN Insider Mel Kiper Jr. still has the Texans taking an offensive tackle in his latest mock draft.
Kiper has Houston selecting offensive tackle Cam Robinson out of Alabama with the No. 25 pick.
The Texans dealt with inconsistency on the offensive line last season, primarily due to injury. Left tackle Duane Brown missed the first four games of the season while rehabbing from a quadriceps injury and right tackle Derek Newton missed the last nine games after he tore the patellar tendon in both of his knees. Chris Clark played in place of both tackles while they were injured but struggled as a starter. The Texans could use some depth on the line, especially since Newton is not expected to be healthy for next season.
Robinson, a three-year starter at Alabama, has had success as a run-blocker but needs to clean up his technique to reach his potential as a pass-blocker.
Kiper has just two quarterbacks going in the first round: North Carolina's Mitch Trubisky to the Browns at No. 12 and Clemson's Deshaun Watson to the Arizona Cardinals at No. 13. If the board falls this way, Notre Dame's DeShone Kizer and Texas Tech's Patrick Mahomes would be available when Houston picks.
Kiper also had the Texans selecting Robinson in his previous mock draft in mid-February.
March, 21, 2017
Mar 21
12:54
PM ET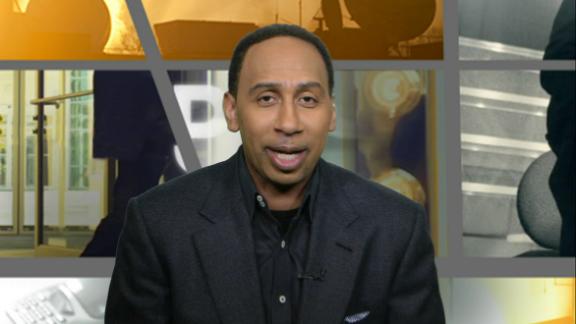 Nearly two weeks have passed since the Dallas Cowboys appeared set to release veteran Tony Romo, their former franchise quarterback who lost his starting job last season. Romo remains on the Cowboys' roster, even after posting a farewell video on social media, and the free-agent market has slowed considerably.
What's happening here? Let's update the situation as best we can, as of Wednesday.
Why haven't the Cowboys released Romo already, as multiple reports initially suggested they would?
Put simply, they don't need to.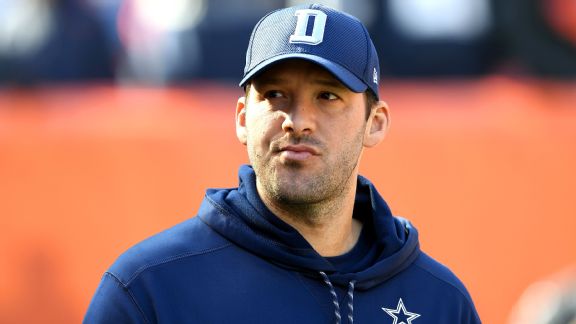 Jason Miller/Getty ImagesThere is no indication that Tony Romo is getting impatient being on Dallas' roster.
The Cowboys have enough salary-cap space, about $3 million at last check, and there aren't many high-priced options remaining on the market whom they would need to create room for. Their original plan to designate Romo a post-June 1 cut means they had already accepted that his $24.7 million cap number would remain on their books until then. They weren't going to get any immediate cap relief.

So, has Dallas changed its mind?
There is no indication of that. Cowboys general manager and owner Jerry Jones would no doubt prefer Romo as a backup to Dak Prescott, rather than Kellen Moore or some other lesser player. But that appears to be unrealistic, both financially -- Romo's contract calls for him to earn $14 million in 2017 -- and from a chemistry standpoint. If Romo is going to be on an NFL roster, he wants to play.

What's the point of Dallas holding on to him?
It's presumed that there are two leading contenders for Romo's services: The Houston Texans and Denver Broncos, probably in that order. Perhaps one of them will get antsy and offer a draft pick to secure him now. Other than Jay Cutler, there isn't a quarterback on the free-agent market who would project as a likely starter. And if either of those teams preferred Cutler, they probably would have signed him by now.

What's the downside to the Cowboys' approach here?
None, as long as Romo is fine with it. To this point, there is no indication he is getting impatient or that he would create a public spectacle to force the Cowboys' hands.

Really? No repercussions at all?
Well, one tangential issue arose this week when veteran Josh McCown signed with the Jets. McCown previously visited the Cowboys but held off on signing because Romo's situation was unsettled. So you could argue that this approach cost the Cowboys having McCown as Prescott's backup.

Are you sure Romo wants to play in 2017?
Not entirely, no. The informed guess is that Romo wants to play for a contender at what he considers a fair starting-level salary, but he isn't committed to playing anywhere for any price. At this point in his career, he has a right to be picky. Don't forget about Adam Schefter's report that Fox Sports wants to hire Romo as an analyst.

But assuming he is destined for the Texans or Broncos, wouldn't those teams want him on their roster and in their building now to begin the transition?
If it was important enough to them, they would have pursued a trade. But in reality, NFL offseason programs won't start until next month. There isn't much of substance that Romo could be doing with new coaches and teammates now, anyway, at least at the team facility.

Is there a flashpoint of any kind on the horizon?
To the best that can be ascertained, there is no imminent deadline or other timing factor that would force a decision anytime soon. Romo could get impatient or the Cowboys might simply give up on pulling off a trade. Absent that turn of events, the issue could remain in stasis for several more weeks. The Broncos can't start their offseason program until April 3 at the earliest. The Texans' earliest start date is April 17.
ESPN Cowboys reporter Todd Archer contributed to this report.
March, 20, 2017
Mar 20
7:00
AM ET
HOUSTON -- Even if the Houston Texans are able to acquire Tony Romo this offseason, they likely will draft a quarterback as well.
The Texans have quite a few needs in April's NFL draft, especially after losing three defensive starters during free agency, but finding their future starting quarterback is important for a franchise whose history shows a never-ending turnover at quarterback, especially over the past three seasons since the departure of former starter Matt Schaub.
Since 2005, the Texans have drafted three quarterbacks: Alex Brink, T.J. Yates and Tom Savage, none higher than in the fourth round. Over the past three seasons, they have started eight quarterbacks, two of whom they drafted.
In Todd McShay's mock draft

last week, he had North Carolina's Mitch Trubisky falling to the Texans with the No. 25 pick. Where the top quarterbacks in the draft -- Trubisky, Clemson's Deshaun Watson, Notre Dame's DeShone Kizer and Texas Tech's Patrick Mahomes -- will be chosen is obviously unknown, but the Texans are taking long, hard looks at all four, as well as others who will be available in the later rounds.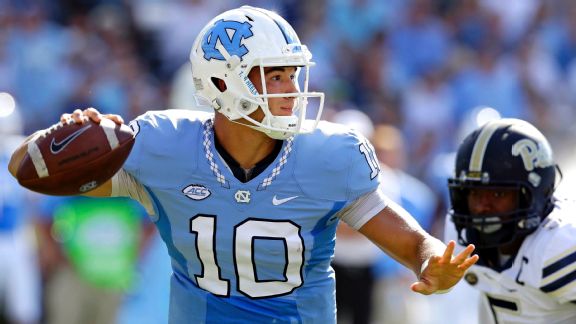 AP Photo/Gerry BroomeTodd McShay has North Carolina QB Mitch Trubisky falling to the Texans with the 25th pick in his latest mock draft.
Even if the Texans acquire Romo, he is not the long-term solution. Romo will be 37 when the 2017 season begins, and with his extensive injury history he may not have much time left as a starting NFL quarterback. Looking to the future, it is probably in Houston's best interests to draft a signal-caller this season.
Knowing his franchise's future at quarterback was foggy at best, Texans owner Bob McNair said in early February that the team would "probably be looking" at drafting a quarterback.
In the past, the Texans have opted to look for a starter through a trade or free agency. Since the Texans traded Schaub in 2014, they have added five quarterbacks in free agency -- Case Keenum, Ryan Fitzpatrick, Brian Hoyer, Brandon Weeden and Brock Osweiler -- and traded for Ryan Mallett.
As the Texans traded Osweiler to the Cleveland Browns this offseason, they will start a different quarterback in the season opener for the fifth straight year. According to ESPN Stats & Information, the Texans and Browns are the only teams since the 2009-13 Arizona Cardinals to do so.
The Texans may not take a quarterback in the first round, but regardless, if the Texans do acquire Romo it would be an ideal situation for a young quarterback to learn from him and from coach Bill O'Brien, whose responsibilities will include working more with the offense in 2017 after he shuffled the coaching staff.
Because most successful quarterbacks never hit the free-agent market, it is imperative that teams find a quarterback in the draft, for stability at the position. There may not be the next Tom Brady or Aaron Rodgers in this year's class, but with a year or two of learning, one of this year's quarterbacks could, finally, be the Texans' long-term answer at the position.