April, 23, 2017
Apr 23
7:00
AM ET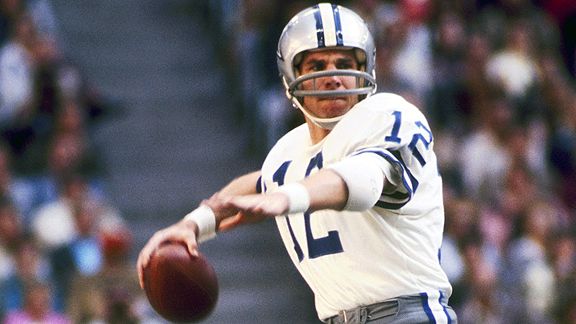 George Long/Getty ImagesThe Cowboys drafted Hall of Fame quarterback Roger Staubach out of Navy in the 10th round of the 1964 NFL draft.
The Dallas Cowboys have been drafting players since 1961. Here's a look at the best draft picks by position for the Cowboys:
OFFENSE
Quarterback: Roger Staubach, 10th round, 1964, Navy: The other obvious selection is Troy Aikman, the No. 1 overall pick in 1989 who won three Super Bowls in the 1990s. Staubach won two Super Bowls but the Cowboys showed tremendous foresight in taking him in the 10th round, knowing he had to fulfill Navy requirements before he would be eligible to play.
Running back: Emmitt Smith, first round, 1990, Florida: He's the NFL's all-time leading rusher, which is why he gets the nod over fellow Hall of Famer Tony Dorsett, the No. 2 overall pick in 1977. Jimmy Johnson preferred James Francis but had to settle for Smith, whose rushing record might never be broken.
Wide receiver: Michael Irvin, first round, 1988, Miami: The last of Tom Landry's first-round picks. He was the heart and soul of the Cowboys' 1990s dynasty. Picking Irving over Bob Hayes (seventh round, 1964) is a difficult decision. Both are in the Hall of Fame, and Hayes is credited with changing the game with his speed.
Tight end: Jason Witten, third round, 2003, Tennessee: He is the franchise's all-time leader in receptions and should pass Irvin in yards early this season. He has been selected for 10 Pro Bowls. He has missed one game in his career.
Tackle: Rayfield Wright, seventh round, 1967, Fort Valley State: He was a basketball player in college with one year of football experience when the Cowboys selected him. He played some defensive end and tight end before the Cowboys settled him in at tackle, where he became a Hall of Famer after earning All-Pro honors four times and Pro Bowl honors six times.
Guard: Larry Allen, second round, 1994, Sonoma State: Some put him in the conversation as the best offensive lineman to play. He was an 11-time Pro Bowl pick and seven-time Pro Bowler. He played every position on the line except center. In 2013 he was inducted into the Hall of Fame in his first year of eligibility.
Center: Mark Stepnoski, third round, 1989, Pittsburgh: In a few years Travis Frederick, who has been selected to the Pro Bowl the last three years and was named an All Pro in 2016, might occupy this spot, but Stepnoski helped anchor a line of two Super Bowl winners that opened holes for Smith and gave Aikman and Irvin time to connect in the passing game.
DEFENSE
End: DeMarcus Ware, first round, 2005, Troy: He was technically an outside linebacker but in reality his No. 1 task was to rush the passer, which qualifies him for this spot. He became the franchise's all-time leader with 117 sacks. He was named to the Pro Bowl each year from 2007-12 and should call the Ring of Honor and Hall of Fame home now that his career is over.
Tackle: Bob Lilly, first round, 1961, TCU; Randy White, first round, 1975, Maryland: How do you pick between Mr. Cowboy and the Manster? You don't. Lilly was the Cowboys' first draft pick and all he did was earn 11 Pro Bowl berths, seven All-Pro honors and help the Cowboys to their first Super Bowl. It took the Cowboys a little time to find White's home on the line but he was a nine-time Pro Bowler and eight-time All Pro. He was the co-MVP of Super Bowl XII.
Linebacker: Lee Roy Jordan, first round, 1963, Alabama: For 14 years he anchored the Cowboys' Doomsday defense. He did the dirty work for a defense that was among the NFL's best for years and was named to the Pro Bowl five times as well as earning All-Pro honors twice. He was added to the Ring of Honor in 1989.
Cornerback: Mel Renfro, second round, 1964, Oregon: He came to the Cowboy as a running back but moved to defensive back and made the Pro Bowl in each of his first 10 seasons. The first six came as a free safety, the last four at cornerback. He holds the team record with 52 interceptions and was named an All Pro four times. He was inducted into the Hall of Fame in 1996.
Safety: Darren Woodson, second round, 1992, Arizona State: A linebacker in college, Woodson made a seamless transition to safety and is the Cowboys' all-time leader in tackles. Because of the offensive success the Cowboys had in the 1990s, Woodson is overlooked but he was able to cover receivers, tight ends and running backs as effectively as any safety in his generation.
SPECIAL TEAMS
Kicker: Nick Folk, sixth round, 2007, Arizona: He was named to the Pro Bowl as a rookie in 2007 when he made 26 of 31 attempts. He was better in his second season (20 of 22) but injuries hurt him in 2009 and led to his release.
Punter: Danny White, third round, 1974, Arizona State: Talk about roster flexibility. He was a terrific quarterback, helping the Cowboys to three straight NFC title games, but he also averaged 40.2 yards per punt.
April, 21, 2017
Apr 21
1:33
PM ET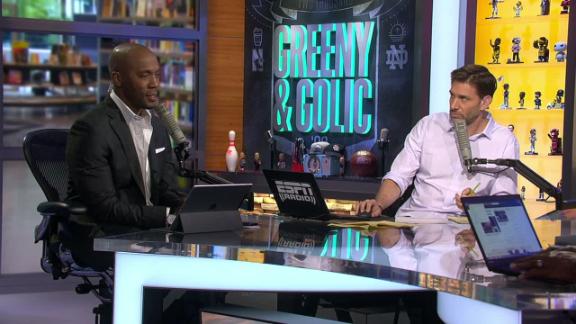 It's important to have dreams. It's especially important around the time of the NFL draft, an event that carries with it the highest of football-fan hopes. Teams and their fans spend the time leading into and out of the draft dreaming that all of the unproven young men whose names they'll call in one 48-hour period will be the answer to all of their problems and prayers.
Carl Sandburg wrote, "Nothing happens unless first we dream." He also wrote, "The moon is a friend for the lonesome to talk to." Neither of those quotes was about the NFL draft, but the first one could have been. Without first dreaming of what it might bring, who would watch the draft? Without first dreaming of their ideal scenarios, how would teams evaluate how they did?
With all of that in mind, we present our second "Draft Dreams" column -- a look at the dream scenario for each NFL team's first pick(s) in this year's draft. Last year's Draft Dreams column offered some pretty prescient stuff, if we do say so ourselves. So take your time with this. Some of these teams are going to wake up Sunday morning very happy. Some will spend another lonesome year talking to the moon. You never know which of your dreams may come true.
Come out of the first 12 picks with Myles Garrett and a quarterback.
Two picks in the first round? How can Cleveland miss?? (**doorbell rings**) Who's there? Oh, it's just 2012, 2013 and 2015, coming to remind us how they can blow two picks in the first round in the same year and whether we'd like to buy Girl Scout cookies. Whatever. Those are memories, these are dreams, and the Browns' big dreams include Garrett as a franchise pass-rusher and Mitchell Trubisky
April, 21, 2017
Apr 21
1:00
PM ET
The Cowboys have seven picks in next week's draft and more needs than selections. This week we will take a position-by-position look at the roster to determine which spots are more necessary to fill than others.
RUNNING BACK
What they have: Ezekiel Elliott, Darren McFadden, Alfred Morris, Keith Smith, Rod Smith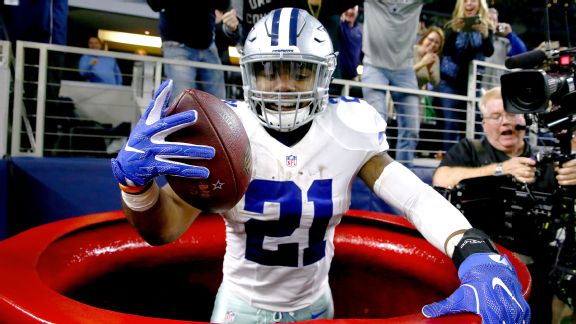 Tom Pennington/Getty ImagesEzekiel Elliott may get an even bigger workload for the Cowboys in 2017.
What they need: With Elliott, the Cowboys have a bellcow running back capable of handling 20-plus carries each week and being a force in the pass game as well. McFadden is the ultimate insurance policy and can also work as a third-down back. Two years ago he was fourth in the NFL in rushing with 1,089 yards.
Morris is a better back with the more carries he gets and that won't happen unless there is injury. He is not a reliable pass catcher either. He could become trade bait over the summer should another team need a veteran fit.
Keith Smith and Rod Smith split the fullback duties early last year before Keith Smith became the full-timer. He is a solid lead blocker. Rod Smith can do more with the ball in his hands. Both players can be core special-teamers.
What's missing? Not much, honestly. They lost Lance Dunbar in free agency and he is more of a change-of-pace back, which is what they lack right now. Do the Cowboys use draft capital on a runner who would not be a lock to make the roster or be third on the depth chart at best and a possible gameday inactive?
The Cowboys were not afraid to give Elliott a lot of work last year and his work this year could increase, especially as a third-down back. Too often he came off the field in favor of Dunbar. Let Elliott's 83-yard screen reception for a touchdown stand as a sign of the big-play element he can bring to the pass game.
Best fit: Joe Mixon, Oklahoma. To be clear, the Cowboys will not pick Mixon. I'm not sure he would be on their draft board at all, but skill-wise there is no doubt he fits what the Cowboys like to do with their runners. He can get to the second level in a hurry and he is skilled as a pass catcher as well. He scored 15 touchdowns last season. But again, to be clear, he will not be a Cowboy.
Late-round possibilities: San Diego State's Donnel Pumphrey, North Carolina's T.J. Logan, North Carolina A&T's Tarik Cohen. Pumphrey was productive over his career, breaking a lot of Marshall Faulk's records. He is small (180 pounds) but doesn't seem to take a lot of big hits. Logan can be an impactful return man, which is something the Cowboys want out of their backup runners. He is also pretty adept out of the backfield as a pass catcher. Cohen plays like he is in a video game. He can start and stop with ease. He makes people miss. It will take a vision from a coaching staff to find the right way to use him.
Feeling a draft: This is a deep running back group but the Cowboys won't take a look at a runner in the first two days of the draft and they might way until late in the third day. They had the perfect back to develop last year in Darius Jackson, a sixth-round pick, but they lost him to waivers when they made room for McFadden off the non-football injury list. It's a move they regret at the moment, but they can find a back to help them on the third day who can offer the same potential as Jackson.
April, 21, 2017
Apr 21
12:45
PM ET
FRISCO, Texas – By now you have read every morsel about the Dallas Cowboys' schedule and gone through the predictions sure to go wrong by me and countless others.
If you take any of these predictions seriously then you need to add some perspective. There hasn't been a draft. There hasn't been a training camp. There haven't been any preseason games. And even after we've been able to sort through the draft, camp and the preseason games, I would urge you not to take the prognostications that come out before Week 1 of the regular season too seriously either.
This just in: None of us knows how the season will play out whether it's April or September. Just view them as an exercise in fun and a way to poke us when we are completely wrong.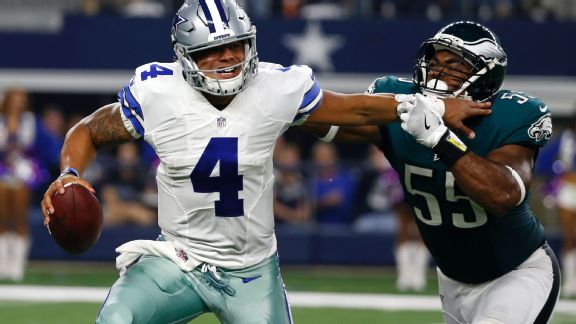 AP Photo/Michael AinsworthDak Prescott and the Cowboys went 3-3 in the NFC East in 2016.
About 30 minutes after the schedule was released Thursday, I went through each Cowboys game and came to the conclusion that they would finish 10-6. Some of you said I was spot on. Others said I was much too low. Others said I was too high.
So how do the other NFL Nation reporters see the Cowboys?
When you go through the pages of the 13 other opponents the Cowboys face this year, they magically came up with the same record as me: 10-6.
Four of the losses will come in the NFC East. Eagles reporter Tim McManus had Philadelphia pulling off the sweep. Giants reporter Jordan Ranaan and Redskins reporter John Keim predicted season splits, although Keim had Washington winning at AT&T Stadium and the Cowboys winning at FedEx Field.
The other two losses came at the Denver Broncos in Week 2 and at the Oakland Raiders in Week 15.
Vaughn McClure, who covers the Falcons, had the Cowboys winning at Atlanta, which was something of a surprise. Rob Demovsky, who covers the Packers, had the Cowboys winning the playoff rematch at AT&T Stadium in Week 5.
Our selections were made independent of each other, so the mathematics of picking all of these games doesn't work, but, again, it's all in fun.
Here is something to think about: Of the 13 opponents, the Cowboys will face only one with a losing record, according to our April predictions and that is the San Francisco 49ers, whom Nick Wagoner gave a 6-10 finish. Aldon Gonzalez had the Los Angeles Rams finishing with an 8-8 record. Every other team was 9-7 or better, including four teams with 11-5 records.
The Cowboys have a tough schedule and a rough close to the season. Maybe I should've gone 9-7 instead.
April, 21, 2017
Apr 21
11:05
AM ET
As if Dallas Cowboys vs. New York Giants in the opening week's Sunday night game didn't have enough juice, now it has more.
Dallas wide receiver Dez Bryant and Giants cornerback Janoris Jenkins threw gasoline on the fire Friday with some Twitter trash talk. Responding to a February story in which Jenkins explained how he limited Bryant to two catches for 18 yards and a fumble in two games last year -- both Cowboys losses -- the receiver said he will "embarrass him" this year.
The Giants and Cowboys meet in Week 1 at AT&T Stadium and in Week 13 in New Jersey.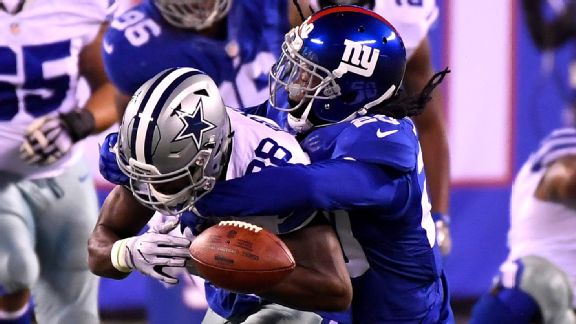 Robert Deutsch/USA TODAY SportsWith Janoris Jenkins blanketing him, Dez Bryant fumbles on his only reception during last season's Week 14 meeting between the Giants and Cowboys.
Bryant tweeted: "Bra they play cover 5 damn near the whole time... put his ass 1 on 1 the whole game.. I will embarrass him.. spagnuolo know"
Cover 5 is a zone defense. Steve Spagnuolo is the Giants defensive coordinator.
Bryant later removed the tweet and tried to reverse course.
I jumped the gun on my last tweet.. I thought it was recent & thought he kept going on about it ..I'm still looking forward to our battle

— Dez Bryant (@DezBryant) April 21, 2017
But that didn't stop the never-shy Jenkins from responding.
When you speaks facts everybody get mad =!, don't understand people.. 7 targets, 5 incomplete passes, 2 turnovers.. #Mr.Clampz

— JackRabbit2.0 (@JjenkzLockdown) April 21, 2017
It's all just Twitter fingers and means nothing at this point. The Giants and Cowboys were already an intense divisional rivalry.
That doesn't mean Bryant and Jenkins won't have a little extra motivation in the season opener. Both Pro Bowl players will want to prove their point by showing they're the better player on the field.
It should make for an interesting season. The NFC East is not short on rivalries, with Bryant and Odell Beckham Jr. having no love for Washington Redskins cornerback Josh Norman.
Jenkins now has his fair share of rivals as well. He has four games against Bryant and new Redskins wide receiver Terrelle Pryor. Jenkins also had a Twitter tiff with Pryor after they matched up last season, when Pryor was with the Cleveland Browns.
The Giants and Redskins play on Thanksgiving night and again in Week 17.
This should keep things interesting.
April, 21, 2017
Apr 21
10:00
AM ET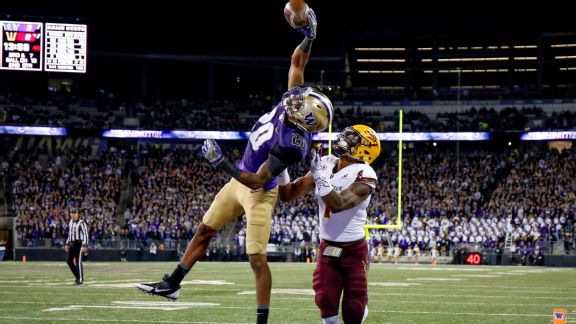 Otto Greule Jr/Getty ImagesWashington cornerback Kevin King picked off two passes last season.
The Dallas Cowboys have seven picks in next week's draft and more needs than selections. This week, we're taking a position-by-position look at the roster to determine which spots they needs are more necessary to fill than others.
CORNERBACK
What they have: Orlando Scandrick, Nolan Carroll, Anthony Brown, Leon McFadden, Jeremiah McKinnon, Duke Thomas, Sammy Seamster.
What they need: The Cowboys watched Brandon Carr and Morris Claiborne leave via free agency and signed Carroll to a three-year deal worth $10 million. He had his best season a year ago in Philadelphia, starting all 16 games for the first time in his career.
Scandrick should be better two years removed from tearing the anterior cruciate and medial collateral ligaments in his knee, an injury that cost him the 2015 season. Brown was a major find as a sixth-round pick last year. He showed he was unafraid of the moment.
But the Cowboys need more. Carroll and Scandrick are both 30.
In the lead-up to the draft, the Cowboys had 11 cornerbacks among their allotted 30 national visitors. The Cowboys do not use these visits as window dressing. From Kevin King to Fabian Moreau to Cordrea Tankersley, the Cowboys have looked at all kinds of corners.
Carr had just one interception in his final three seasons with the Cowboys, but his value was in his availability. He did not miss a game in his five-year run with the club. Claiborne never played a full season in his five years, but was having his best season last year before a groin injury kept him out for the final nine games.
Claiborne was the Cowboys' most recent first-round selection. They moved up to No. 6 overall to take him in 2012 and it just didn't pan out. It should shock nobody to see the Cowboys take a cornerback at No. 28 this year.
Best fit: Kevin King, Washington. At the start of the draft process his teammate, Sidney Jones, drew more attention than King, but as the process winds down, King is finding himself as a first-round lock. He has good size (6-3) and is aggressive. He can make tough plays and has good body control. He led Washington with 15 pass deflections and picked off two passes. He plays with an attitude, and that's something the secondary needs.
Late-round possibilities: UCF's Shaq Griffin and Oregon State's Treston Decoud were among the Cowboys' national visitors leading up to the draft. Griffin had four of his seven career interceptions last season. He is a gifted athlete, but does not seem to have the best instincts. Decoud had a well-traveled college career before ending up at Oregon State. He had two interceptions last year and is long, but needs to do a better job with his technique.
Feeling a draft: The question isn't whether the Cowboys will draft one cornerback, it's whether they will draft two cornerbacks. The last time they took two corners in the same year was 2009, but those selections came in the fifth and seventh rounds. In 2008, they selected Mike Jenkins in the first round and Scandrick in the fifth round.
April, 21, 2017
Apr 21
8:00
AM ET
FRISCO, Texas -- The game, more than anything else, is about the quarterback these days.
We saw that last season when Dak Prescott replaced an injured Tony Romo and was eventually named Rookie of the Year after leading the Dallas Cowboys to a 13-3 record. Just as we saw it in 2015, when the Cowboys used four quarterbacks -- none of them played well -- and went 4-12.
The Cowboys finished with the NFC's best record in 2016 because Prescott consistently played well against the league's top quarterbacks. He must do it again, especially late in the schedule, for Dallas to post double-digit wins in consecutive seasons for the first time since 1995 and '96.
When Prescott had a better single-game passer rating than the opposing quarterback last season, the Cowboys went 10-0. They were 3-2 when he didn't.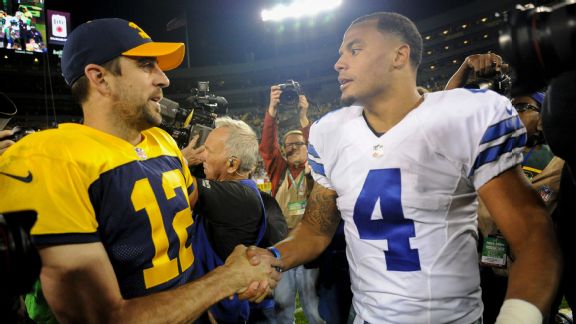 Benny Sieu-USA TODAY SportsDak Prescott, right, must repeat his regular-season effort against the Packers' Aaron Rodgers -- among others -- if the Cowboys hope to reach double-digit wins again.
During the regular season, Prescott played better than and beat Cincinnati's Andy Dalton, Green Bay's Aaron Rodgers, Pittsburgh's Ben Roethlisberger, Baltimore's Joe Flacco, Minnesota's Sam Bradford, Tampa Bay's Jameis Winston and Detroit's Matt Stafford.
Roethlisberger has won two Super Bowls, and Rodgers and Flacco each have one.
Not too bad for a rookie.
After the NFL released the 2017 schedule Thursday night, we know Prescott must play his best football in the second half of the season because that's when the Cowboys will face some of the league's best quarterbacks.
Good quarterback play determines so much of a team's success that you can tell a lot about a team's playoff hopes just by looking at how many good quarterbacks it'll face in a season. Prescott opens up against Eli Manning of the New York Giants, but doesn't get another upper-echelon quarterback until Week 5 when Rodgers and the Green Bay Packers travel to Dallas.
In the last eight games, though, Prescott will face Washington's Kirk Cousins twice, Kansas City's Alex Smith, reigning league MVP Matt Ryan of Atlanta, the Los Angeles Chargers' Philip Rivers, Manning, Oakland's Derek Carr and Seattle's Russell Wilson.
The pressure will be on Prescott to play well for a sustained period of time if the Cowboys are going to be an elite team again.
In December, when playoff positions are secured and games become more important, Prescott will face Manning, Carr and Wilson as Dallas finishes with three of four games on the road.
So Prescott can't have a so-called sophomore slump this year if Dallas is going to make the playoffs again. Tony Romo has moved to the CBS broadcast booth, so there's no one to take over if Prescott struggles.
The Cowboys decided Prescott was their ride-or-die quarterback last November, when they chose him over a healthy Romo.
The comparisons with Romo will start in the preseason and will continue until the season ends. Prescott passed for 3,667 yards with 23 touchdowns, four interceptions and an average per attempt of 7.99 yards, fourth in the league.
Still, some think he's a one-year wonder like former Philadelphia Eagles quarterback Nick Foles. Others believe he'll be unable to sustain his play, as happened with 2012 Rookie of the Year Robert Griffin III.
Those who believe that didn't pay attention to how the Cowboys used Prescott last season. They let Ezekiel Elliott and the running game protect Prescott and create favorable passing situations. They used run fakes and half-field reads with easy throws to the tight ends until Prescott became comfortable enough for the playbook to expand.
There was nothing fluky about Prescott's performance, but that doesn't mean he'll lead Dallas to 13 wins again. Hey, they've done that only four times in the franchise's 56 seasons.
On 11 occasions last season, Prescott had a passer rating of more than 100.0; the Cowboys went 9-2 in those games. After the Cowboys fell behind 21-3 against the Packers in the NFC divisional round, Prescott rallied Dallas to a 31-31 tie with 35 seconds left.
One incredible throw by Rodgers and an even better catch by Jared Cook set up the Packers' game-winning field goal.
It was the only game the Cowboys lost when Prescott had a better passer rating than the opposing quarterback.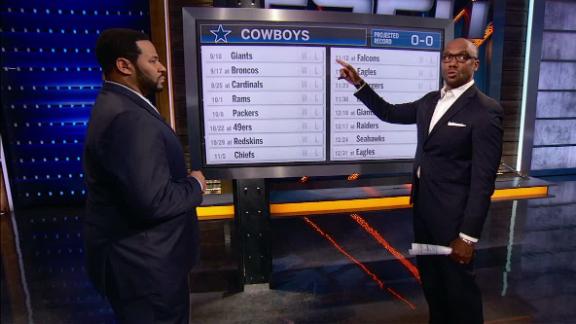 April, 20, 2017
Apr 20
8:50
PM ET
The Dallas Cowboys will look to become the first team to repeat as NFC East champion since the Philadelphia Eagles in 2003-04, but they will need to overcome a tough close to the season in order to do it, with three games away from home in the final four weeks and the lone home game coming against the Seattle Seahawks.
Week 1: Sunday, Sept. 10 vs. New York Giants, 8:30 p.m. ET
Dak Prescott lost both of his starts a year ago to the Giants and will be looking for some revenge. And he will get it, thanks to Ezekiel Elliott's 128 yards rushing and two scores and a defense that picks off Eli Manning twice. Record: 1-0
Week 2: Sunday, Sept. 17 at Denver Broncos, 4:25 p.m. ET
This would have been a much bigger game had Tony Romo signed with the Broncos, but there will be some intrigue anyway. Remember, the Cowboys wanted to trade back into the first round last year to take Paxton Lynch. They ended up getting lucky with Prescott. But they won't be lucky this day. Record: 1-1
Week 3: Monday, Sept. 25 at Arizona Cardinals, 8:30 p.m. ET
In their last three trips to University of Phoenix Stadium, the Cowboys have lost in overtime twice and once on a missed point-after attempt. Something strange will happen in this one as well, but this time it will lead to a win. Record: 2-1
Week 4: Sunday, Oct. 1 vs. Los Angeles Rams, 1 p.m. ET
Elliott grew up in St. Louis, the former home of the Rams. Perhaps he remembers the 253-yard and 175-yard efforts DeMarco Murray had against the Rams in 2011 and '13. Wade Phillips is the Rams' defensive coordinator, so surely he won't allow that to happen. Record: 3-1
Week 5: Sunday, Oct. 8 vs. Green Bay Packers, 4:25 p.m. ET
The talk leading into this game will be Dallas' divisional-round playoff loss to the Packers in January. The Cowboys feel like they let a playoff run slip away. Blame Aaron Rodgers and his third-and-long completion to Jared Cook. This time, the Cowboys make the late play to seal the win. Record: 4-1
Week 6: Bye
Week 7: Oct. 22 at San Francisco 49ers, 4:05 p.m. ET
A year ago, the Cowboys were down 14-0 to the Niners after two series, but they left with a 24-17 win. Kyle Shanahan has taken over for Chip Kelly and has Brian Hoyer and Matt Barkley as his quarterbacks at the moment. The San Francisco rebuild will take some time. Record: 5-1
Week 8: Oct. 29 at Washington Redskins, 4:25 p.m. ET
Elliott fumbled twice in his first game at FedEx Field and was replaced late in the fourth quarter. This time he doesn't fumble and he gets more than 100 yards as the Cowboys roll to a victory. Record: 6-1
Week 9: Nov. 5 vs. Kansas City Chiefs, 4:25 p.m. ET
You have to think Romo, the franchise leader in touchdown passes and passing yards, will be calling this game for CBS. With a five-game winning streak, the Cowboys will feel confident, but the Chiefs are a tough out and will present tough matchups on both sides of the ball. Record: 6-2
Week 10: Nov. 12 at Atlanta Falcons, 4:25 p.m. ET
Cowboys fans had hoped to see the Falcons in the NFC title game last January. They have to settle for this game at brand-new Mercedes-Benz Stadium. Julio Jones is a matchup nightmare for any defense, and given the Cowboys' lack of a pass rush and the unknowns in the secondary, he will have a big day. Record: 6-3
Week 11: Nov. 19 vs. Philadelphia Eagles, 8:30 p.m. ET
Prescott struggled in his one full game against the Eagles last year but figured it out in the fourth quarter and overtime to deliver the win. He won't struggle this time, but former Eagle Nolan Carroll will make the clinching play. Record: 7-3
Week 12: Nov. 23 vs. Los Angeles Chargers, 4:30 p.m. ET
Anthony Lynn was a Cowboys assistant coach under Bill Parcells. He has made quite a move up the ranks since his days coaching the running backs here. He earned the job as Chargers head coach the hard way. Unfortunately, the Celina, Texas, native won't have a happy homecoming. Oh, Romo will be on hand for this one too. Record: 8-3
Week 13: Nov. 30 vs. Washington Redskins, 8:25 p.m. ET
The Cowboys have back-to-back Thursday games for the second straight year. It worked for them last year with two victories. Dez Bryant and Josh Norman get to reacquaint themselves. Remember the last time these teams met and Bryant said Washington needed to get its money back? Norman said essentially the same thing about Bryant in 2015 while with Carolina. As Terrell Owens used to say, "Get ya popcorn ready." Record: 9-3
Week 14: Dec. 10 at New York Giants, 4:25 p.m. ET
The Cowboys will get a 10-day break leading up to a pivotal NFC East matchup. They don't fear playing at MetLife Stadium, but they have lost their last two games there. Make it three straight. The Giants' defense will be on point in the rematch. Record: 9-4
Week 15: Dec. 17 at Oakland Raiders, 7:30 p.m. ET
Maybe the Raiders' fans will take out their displeasure with Jerry Jones when these teams meet in the preseason, but that's doubtful. In what could be their last appearance in The Black Hole, the Cowboys won't be able to slow down Derek Carr. Record: 9-5
Week 16: Dec. 24 vs. Seattle Seahawks, 4:25 p.m. ET
This will be a must-win type game when you factor in tiebreakers. Prescott opened a lot of eyes with how he performed against the Seahawks in the preseason last season after Romo went down on the third play. He might like it if the Seahawks trade Richard Sherman. Record: 10-5
Week 17: Dec. 31 at Philadelphia Eagles, 1 p.m. ET
Could the division title be on the line? The Cowboys have won six of their last seven games at Lincoln Financial Field. The Eagles added big-play receivers in Alshon Jeffery and Torrey Smith to help Carson Wentz. At some point, Philly has to regain home-field advantage on Dallas. Record: 10-6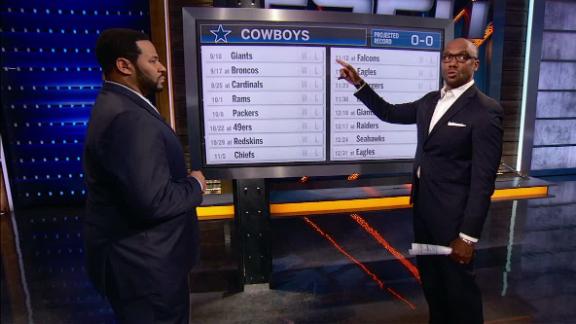 April, 20, 2017
Apr 20
8:35
PM ET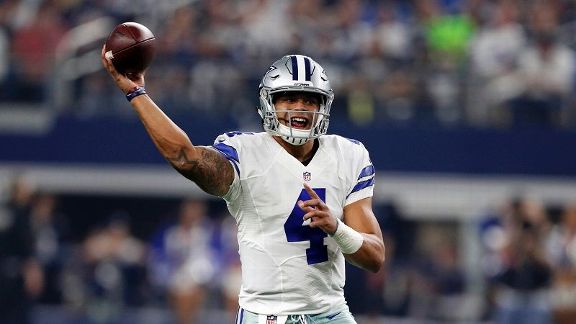 AP Photo/Brandon WadeDak Prescott was selected to the Pro Bowl after leading the Cowboys to a 13-3 record during his rookie season.
The NFL has released its 2017 regular-season schedule. Here's a look at what's in store for the Dallas Cowboys.
Breakdown: The Cowboys have been a solid road team under Jason Garrett the last few years. They were 6-2 away from home a year ago when they finished 13-3 and 8-0 in 2014 when they finished 12-4. Even in their 4-12 finish in 2015, three of the wins came on the road. Why does it matter? The Cowboys close this season with three of their final four games away from home, including a West Coast trip to Oakland in Week 15. And the only home game in the final month is against Seattle, a perennially strong team. So if the Cowboys can make the playoffs again, they will be battle tested. If you want a good omen, the Cowboys last played three of their final four games away from home in 2014 and won all three. In a strange twist, the Cowboys have three two-game road trips during the season: Weeks 2 and 3 at Denver and Arizona; Weeks 7 and 8 at San Francisco and Washington; and Weeks 14 and 15 at New York and Oakland.
Eye in the sky: The Kansas City Chiefs' visit to AT&T Stadium on Nov. 5 should be the first Cowboys game Tony Romo, the franchise leader in touchdown passes and passing yards, will call for CBS provided the network brings its No. 1 team to town. It will lead to an interesting pregame dynamic on the field with Romo watching his former teammates get ready for a game. There's this too: the Chiefs were one of the teams on Romo's short list had he decided to continue to play. Romo will be able to spend Thanksgiving Day at his home as well with the Los Angeles Chargers making their first holiday visit to AT&T Stadium.
Thursday night specials: For the second straight year the Cowboys will play on back-to-back Thursdays with the Washington Redskins visiting on Nov. 30 after Dallas hosts the Chargers. A year ago, the Cowboys beat the Redskins on Thanksgiving and won at Minnesota on their way to a 13-3 finish. In 2007, they had back-to-back Thursday games and swept both on their way to a 13-3 finish. If there is a bit of bad news it is that they play on NBC's "Sunday Night Football" prior to Thanksgiving against the Philadelphia Eagles, making a short week even shorter. On the bright side, at least they are playing at home before the holiday.
Strength of schedule: T-10th, .531

Cowboys Regular-Season Schedule (All times Eastern)
Week 1: Sunday, Sept. 10, NY Giants, 8:30 p.m.
Week 2: Sunday, Sept. 17, at Denver, 4:25 p.m.
Week 3: Monday, Sept. 25, at Arizona, 8:30 p.m.
Week 4: Sunday, Oct. 1, Los Angeles Rams, 1 p.m.
Week 5: Sunday, Oct. 8, Green Bay, 4:25 p.m.
Week 6: BYE
Week 7: Sunday, Oct. 22, at San Francisco, 4:05 p.m.
Week 8: Sunday, Oct. 29, at Washington, 4:25 p.m.
Week 9: Sunday, Nov. 5, Kansas City, 4:25 p.m.
Week 10: Sunday, Nov. 12, at Atlanta, 4:25 p.m.
Week 11: Sunday, Nov. 19, Philadelphia, 8:30 p.m.
Week 12: Thursday, Nov. 23, Los Angeles Chargers, 4:30 p.m.
Week 13: Thursday, Nov. 30, Washington, 8:25 p.m.
Week 14: Sunday, Dec. 10, at NY Giants, 4:25 p.m.
Week 15: Sunday, Dec. 17, at Oakland, 8:30 p.m.
Week 16: Sunday, Dec. 24, Seattle, 4:25 p.m.
Week 17: Sunday, Dec. 31, at Philadelphia, 1 p.m.
April, 20, 2017
Apr 20
1:00
PM ET
The Cowboys have seven picks in next week's draft and more needs than selections. This week we will take a position-by-position look at the roster to determine which spots the needs are more necessary to fill than others.
LINEBACKER
What they have: Sean Lee, Anthony Hitchens, Damien Wilson, Jaylon Smith, Kyle Wilber, Mark Nzeocha, Jeremiah George, John Lotulelei.
What they need: They don't really need anything. Lee had an All-Pro season in 2016 and led the Cowboys in tackles. Wilson became a starter and valuable contributor with the ability to play multiple spots. Hitchens is dependable.
The backups, like Wilber and Nzeocha, can play multiple spots and are core special-teamers.
All eyes will be on Smith, their second-round pick from a year ago who did not play as a rookie because of a knee injury. The Cowboys are confident he will be able to play this year even if he has to wear a brace on his foot as his nerve continues to re-generate.
In a way Smith will be a draft pick for the Cowboys this year, albeit one with the experience of knowing their scheme even if he has yet to take the field. If Smith is anywhere close to the player he was at Notre Dame, then the Cowboys will have a better front seven than in 2016. Without the injury, Smith was a top-five pick from a year ago. Expectations for him might need to be tempered, but he believes he will be a playmaker in 2017.
If there is a requirement for the Cowboys' linebackers, it's that they can run and hit. Speed is essential. They can work with an undersized linebacker if he can run. The defenses Rod Marinelli has been around from Tampa Bay to Detroit and Chicago relied on athletic linebackers at all three spots.
Best fit: Jarrad Davis, Florida. This would be an only-if pick at No. 28. In other words, the Cowboys wouldn't have a pass rusher or cornerback worth taking when they are on the clock. But he can run. He is productive. The Cowboys like to say, 'Keep your strengths strong,' so while Davis might not fill a need, he would fall in a best-player available category if everything is wiped out.
Late-round possibility: Blair Brown, Ohio. He's not big (5-foot-11, 238 pounds) but he can run. And he can make plays. He had 128 tackles, 15 tackles for loss, 4.5 sacks and a forced fumble in 2016. The Cowboys aren't shy from taking players in the Mid-American Conference. They did it twice last year. Brown could come in as a special-team ace from the beginning and develop into a starter down the road.
Feeling a draft: The Cowboys have drafted at least one linebacker every year since 2005, starting with DeMarcus Ware up to Jaylon Smith last year. Given the numbers they have on their roster right now, that streak looks like it will come to an end in 2017.
April, 20, 2017
Apr 20
12:30
PM ET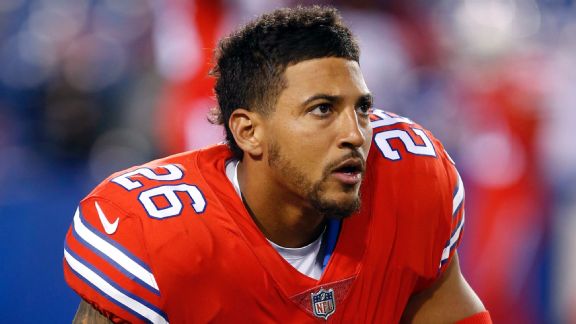 Timothy T. Ludwig/USA TODAY SportsThe Cowboys signed Robert Blanton to help with their depth at safety after losing Barry Church and J.J. Wilcox in free agency.
FRISCO, Texas -- After visiting with the team in March, free-agent safety Robert Blanton has signed a one-year deal with the Dallas Cowboys.
The Cowboys lost Barry Church (Jacksonville Jaguars) and J.J. Wilcox (Tampa Bay Buccaneers) in free agency, creating a need at the position, but the addition of Blanton will not alter the Cowboys' plans in next week's NFL draft.
Blanton started two of the 10 games he played for the Buffalo Bills in 2016 before a foot injury cut short his season. Blanton notably got into a pre-game scuffle last season against the New England Patriots.
A fifth-round pick of the Minnesota Vikings in 2012, Blanton, who turns 28 in September, had his best season in 2014, starting 13 games and finishing with 106 tackles and an interception.
The Cowboys have safeties Byron Jones and Jeff Heath atop the depth chart at the moment but have had a number of safeties in for pre-draft visits, like Texas A&M's Justin Evans, Utah's Marcus Williams, Connecticut's Obi Melifonwu and Louisiana Tech's Xavier Woods, who figure to be options in the second and third rounds.
April, 20, 2017
Apr 20
12:15
PM ET
FRISCO, Texas – A week ago, ESPN's Todd McShay offered up his three-round mock draft and had the Dallas Cowboys taking a cornerback, tight end and safety.
On Wednesday, Mel Kiper Jr. offered up his "Grade A" mock and had the Cowboys going with a defensive end, cornerback and tight end.
Of the two, Kiper's selections of Derek Barnett, Fabian Moreau and Gerald Everett would appear to be stronger for the Cowboys than McShay's Quincy Wilson, Adam Shaheen and Justin Evans trio.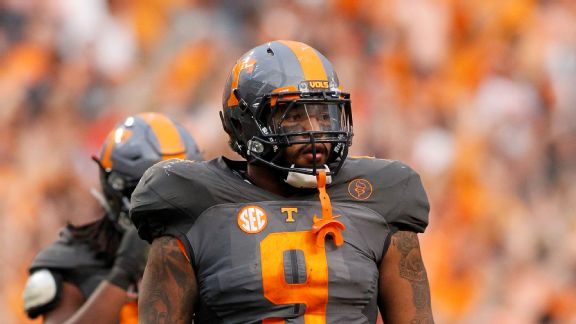 Charles Mitchell/Icon SportswireDerek Barnett broke Reggie White's sack record at Tennessee.
Barnett at No. 28 would be a very good thing for the Cowboys. He broke Reggie White's Tennessee record for sacks. He had big-time production in a big-time conference. He might not be as "twitched up" athletically as some of the other pass rushers in this draft, but he had at least 10 sacks in all three of his seasons and 13 as a junior in 2016. He plays bigger than his 259 pounds lets on because he has strong hands.
On a conference call with NFL Nation reporters, Kiper wondered if Barnett's skills can translate to the NFL level, but clearly he believes Barnett would be a great value at No. 28.
Moreau is coming off pectoral surgery and could open the season on the physically unable to perform list. Can the Cowboys take another injury risk in the second round the way they did Jaylon Smith in 2016? To me, it is necessary to look at these moves as four-year decisions and not six-week decisions. Yes, the Cowboys need help immediately from this draft, but if Moreau is the player many project then the Cowboys would be happy to take him.
Like with McShay's mock, my quibble with Kiper's mock is the selection of a tight end. Everett is not much of an in-line blocker. He is probably more of a receiver than tight end in some respects at 239 pounds.
To me, tight end is not a big need, certainly not a Day 2 need. The Cowboys have James Hanna coming back from a knee injury that cost him 2016. They have Geoff Swaim returning from offseason foot surgery. They drafted Rico Gathers last year in the sixth round and want to see what he can do with a full year of football experience.
Eventually the Cowboys will have to find a replacement for Jason Witten, but he will continue to play 95 percent of the snaps. Taking a tight end that high with what they have on the roster just doesn't make much sense.
In going over Kiper's mock, I would look at safety in the third round. He had seven safeties gone before the Cowboys picked in the third round, but two intriguing prospects remained. Texas A&M's =Evans, whom McShay mocked to the Cowboys in the third round, and Louisiana Tech's Xavier Woods.
Both players were among the Cowboys' pre-draft visitors.
If this were my "Grade A" mock, I'd go with Woods and his playmaking ability. Add him to Barnett and Moreau and the Cowboys' defense would be in good shape.