August, 21, 2017
Aug 21
3:31
PM ET
FRISCO, Texas -- Sixteen of the 21 members of the Dallas Cowboys' Ring of Honor and four family members of those deceased took part in a ceremony Monday at The Star unveiling monuments acknowledging the former Cowboys' careers.
Bob Lilly, Mel Renfro, Chuck Howley, Rayfield Wright, Cliff Harris, Roger Staubach, Don Perkins, Drew Pearson, Randy White, Lee Roy Jordan, Tony Dorsett, Michael Irvin, Troy Aikman, Emmitt Smith, Charles Haley and Darren Woodson were joined by the children of Don Meredith, Tom Landry, Bob Hayes and Tex Schramm: Michael Meredith, Tom Landry Jr., Adrienne Hayes Thomas and Kandy Court.
The only Ring of Honor member not in attendance or represented by a family member was Larry Allen.
In addition to the monuments, pictures of the players are hung along a concourse next to restaurants and shops.
Sixteen of the 21 members of the Cowboys Ring of Honor and four family members of those... https://t.co/xWNoZH0HCb pic.twitter.com/g2HwnWc5a7

— Todd Archer (@toddarcher) August 21, 2017
"This is a great way to be memorialized within the Cowboys facility and everything they're doing here around here in Texas," said Smith, the NFL's all-time leading rusher. "Those monuments will be there for a long time. If my kids ever forget what their daddy used to do, they can always have a place to go. So it's great. It's wonderful."
Said Aikman: "I think the meaningful thing for those of us that are in it is that it's a small number and you're talking about an organization that has won five world championships and a lot of great players. And so from that standpoint, it means a lot. On the other hand, as I said, I understand that there are some that are very deserving that aren't in, but I know when you go around to some of these other stadiums, there's a lot of names, sometimes it's a bit overwhelming with the number of names and I think that's been one of the neat things for Dallas' history or their Ring of Honor is that there aren't as many names."
After the ceremony, the players and families of those in attendance joined the current players for a lunch prior to practice at the Ford Center.
Coach Jason Garrett tries to get the current and former players to mingle as much as possible at different times during the year.
For Jason Witten, who is likely a Ring of Honor member whenever his career ends, the chance to interact with the franchise greats is meaningful.
"It's two different generations," Witten said. "Roger's always been a great resource for me over the years and amazing just how successful he is and how he just roots for us, always just genuinely pulling for us and a great man off the field. Michael is someone I've enjoyed being with. Just unbelievable passion, represented so much of what they were about. Emmitt's been somebody I looked up to as a kid and had the opportunity to be around. Those guys in the '90s are just great resources for all of us."
August, 21, 2017
Aug 21
10:00
AM ET
FRISCO, Texas -- The Dallas Cowboys have held training camp practices in Texas before. They have called San Antonio, Austin and Wichita Falls home, but they have not held training camp practices at their own facility.
Until today.
The Cowboys will hold their first of six practices at the Ford Center at The Star in Frisco, Texas, starting Monday after a three-plus-week run in Oxnard, California.
"This is a special thing we're doing here these next 10 days," owner and general manager Jerry Jones said after the Cowboys beat the Indianapolis Colts on Saturday in their third preseason game. "We've never done this before. Don't know how it's going to be. But we're going to really, I think, have an exciting time doing it, and it should be an exciting time for the Cowboys."
The Cowboys will unveil their Ring of Honor Walk at The Star in which the 21 members of the team's highest honor will be recognized with monuments. Nineteen of the players or their families will be represented. Perhaps fittingly, Roger Staubach and Drew Pearson will be separated by the length of their famous Hail Mary.
After an opening ceremony inside the Ford Center, the Cowboys will hold practice at 3:30 p.m. CT. All of the tickets to the six practices have been allocated, which means roughly 12,000 will see the Cowboys work out.
"It's going to be fun," said tight end Jason Witten, who has gone through training camp practices inside the Alamodome and in Oxnard in his career. "It's always going to be neat to get back home and get to work here. We got a great facility here to get to work in. And the fans will be there, so it'll bring excitement, add a little juice. But Coach (Jason) Garrett's message to use, and really it's a great message for our entire team: It's really just a different venue. The teams that want to compete here, you build on that camp when you go home. These are two big weeks for us getting into the season. I really believe our team will continue work on having that mindset of let's continue to improve. We've had a good start. We've got a long way to go."
The Cowboys have a multi-year agreement with the city of Oxnard to return for camp for at least two weeks. Executive vice president Stephen Jones said the Cowboys should practice more in Frisco next summer.
"Our fans, a lot don't get the opportunity to go see the Cowboys play at AT&T (Stadium), but they are going to have the opportunity to come out to The Star and be a part of what our team is all about this year," Jones said.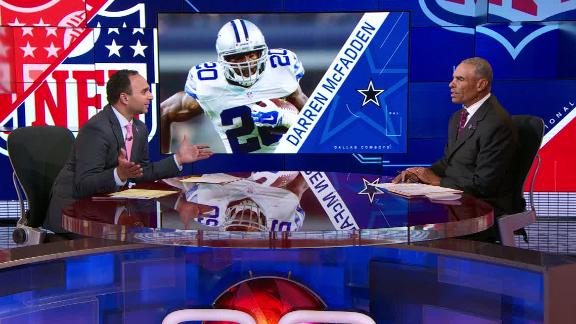 August, 21, 2017
Aug 21
8:00
AM ET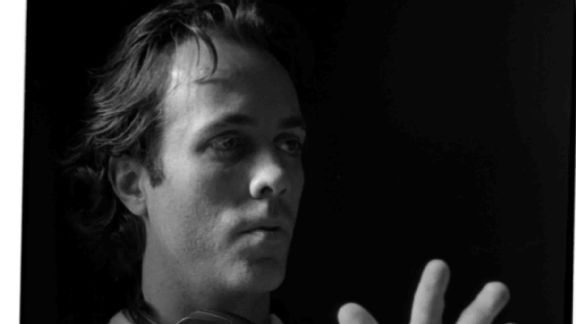 Courtesy of Michael Meredith Michael Meredith is working on a feature-length documentary on the 1960s Cowboys, called "First Cowboys," which he hopes will be released early in 2018.


FRISCO, Texas -- About five years ago, Michael Meredith was embedded with the 10th Mountain Division of the U.S. Army in Afghanistan doing research for a script.
The village elders were wary of the soldiers, who were offering cement to rebuild a community center that had been torn apart by the ongoing war.
"I hear through the translator they thought we were Russians," Meredith said. "They were so far off the grid that they didn't know the Russians left and the Americans were there. That's how up there we were. Right after I hear that, I'm going, 'Michael, this is the most unplugged place you've ever been.' "
Then out of the corner of his eye, he noticed a boy peeking around a mud hut. He sees a blue and silver jacket. Then he sees the star.
"Everybody else is wearing traditional garb or old rags," Meredith said, "and this kid has this Cowboys jacket."
For Meredith, the sight of a boy in the mountains of Afghanistan in a Dallas Cowboys jacket spoke to the ripple effect the franchise has had since they made his father, Don, the first Cowboy in 1960 to now being the most valued sports franchise in the world.
On Monday, the Cowboys will unveil the Ring of Honor Walk at The Star. Monuments will be dedicated to the 21 members of the Ring of Honor.
For Meredith, who is Don's son from his second wife, Cheryl King, it will be more of a chance to reconnect with his father's past and dig deeper into a feature-length documentary on the 1960s Cowboys, called "First Cowboys," which he hopes will be released in early 2018.
"I've had the idea for a while," Meredith said on a June day, sitting outside a Starbucks not far from The Star. "Growing up, the Ice Bowl was so fascinating to me because I would hear these stories about how crazy the game was and how cold it was, and it was just like kind of a myth. There's a mythology to it.
"As I grew older, became a filmmaker, I continued to talk to my dad about it and I had the idea of doing a film just on the game with actors and things. Through that process, I started researching it and the players basically told me that [the Ice Bowl] is an amazing chapter in a book that started before."
Michael was born 100 days before the Ice Bowl, Sept. 22, 1967. Don, who died in 2010, retired after the 1968 season. Michael remembers best the times in the Monday Night Football booth with his father, Howard Cosell and Keith Jackson.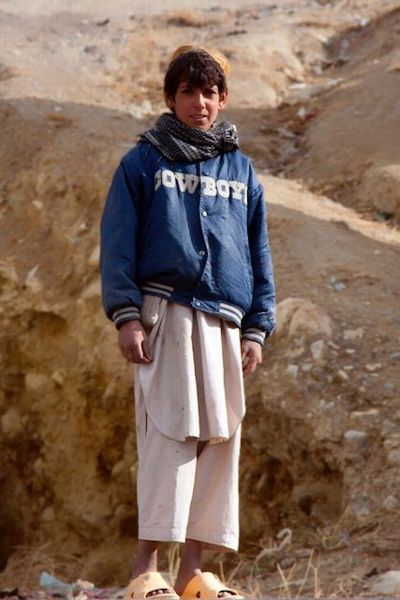 Courtesy of Michael MeredithThe sight of a boy in the mountains of Afghanistan wearing a Cowboys jacket spoke to the ripple effect the franchise has had, said Michael Meredith.
He knew his father was famous, but he did not know just how good a quarterback his father was until he was older.
"I'm learning a lot about stuff my dad never talked about," Michael said. "I feel like all the success in the booth and Monday Night Football he was proud of and happy with, and I was too. But I think he really wanted to win here. He was a football player and announcing just kind of happened. I was too young at the time, but I remember asking him, 'Daddy, what do you do?' and he said he was a football player. He didn't say an announcer or an actor or whatever.
"I remember going, 'Oh, wow, did you win the Super Bowl?' And he goes, 'No, I didn't,' and I remember seeing his pain, seeing his regret. ... I think it was for himself and his teammates and the city. He grew up down the road, played high school, college and pro all right here, so I think he was trying to win for a lot of reasons."
His father will play a central role in the documentary, including the story of how Clint Murchison signed him to a personal services contract out of SMU before Murchison was even granted a franchise. But also playing key roles will be Tom Landry, Tex Schramm, Gil Brandt, Dan Reeves, Pettis Norman, Don Perkins, Rayfield Wright and many other members of the '60s Cowboys.
But it's more than sports. Willie Nelson, a close friend of Don's, will be part of the documentary. The JFK assassination will be featured prominently, focusing on how the team carried the burden of the tragedy for years. The civil rights movement and Vietnam War will play a part. There was the "Summer of Love" and the cultural revolution. Don owned a music club in Dallas and one night Little Richard was crawling across a piano. One of the guitarists was Jimi Hendrix, before he changed his name and became world famous.
"Sometimes when you mix social and sport, it's a little bit forced," Michael said. "This is just what was happening culturally. It was literally spilling out on the field and vice versa. It was fascinating times."
The Ice Bowl might be the most fascinating because of its place in NFL history. Its 50th anniversary is Dec. 31.
"It's 1967, they had lost the first day of the year to the Packers and the last day of the year," Michael said. "It was one calendar year, so it was sort of a double whammy. I know my dad and a lot of players were surprised when they got off the plane at Love Field and the fans were there cheering and had signs that said, 'We Love You,' 'We'll get them next year.' For me, I didn't know about that.
"I've confirmed it with a bunch of first-hand accounts and I think it's symbolic. I think it's some kind of pivotal moment or a shift with the city and the team on pride, on moving from a place of shame into a place of pride. I'm not even entirely sure all the players really grasped that. Or how significant it was because it was the beginning of a new era."
From 1966 to 1985, the Cowboys posted a winning record every year. They won two Super Bowls and appeared in five. They became America's Team during that time, saw it rejuvenate in the early 1990s and maybe become even bigger, as can be attested by a boy in the Afghanistan mountains in a Cowboys jacket.
August, 20, 2017
Aug 20
11:00
AM ET
ARLINGTON, Texas -- The Dallas Cowboys aren't quite ready to let Cooper Rush into the mix to be Dak Prescott's backup.
The undrafted rookie quarterback completed 8 of 9 passes for 92 yards and threw touchdown passes to Noah Brown and Lance Lenoir in the Cowboys' 24-19 preseason victory against the Indianapolis Colts.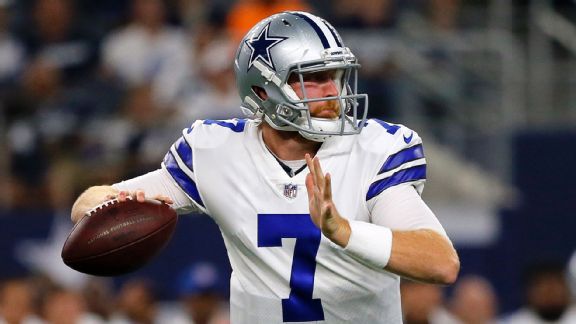 AP Photo/Sarah WarnockCooper Rush made the most of his snaps Saturday, completing 8 of 9 passes for 92 yards and two touchdowns in the Cowboys' win over the Colts.
Kellen Moore, who remains the Cowboys' backup to Prescott, completed 10 of 21 passes for 131 yards but saw a sack-fumble turned into an Indianapolis touchdown and directed only one scoring drive -- a field goal -- in six series.
"I'm just glad to see Rush taking advantage of his opportunities out there," owner and general manager Jerry Jones said. "Wouldn't want to get ahead of ourselves in any way here. And the other thing is that we ... have a lot of confidence in [Moore], his ability to be able to get in there when we would call on him with the personnel around him and get the ball in the right places. Make no mistake about it, that [with] Rush, it just gets slow when he gets out there, which that's a compliment. I think Dak's got it really slowed down."
In three preseason games, Rush has completed 26 of 38 passes for 283 yards and four touchdowns. After a solid showing in the Hall of Fame Game, Moore has struggled, completing 18 of 38 passes for 200 yards.
"We did move the ball with Kellen," coach Jason Garrett said. "Missed a couple of those scoring opportunities down in close. We had to settle for field goals. One of them got blocked. But he's a very smart player, makes good decisions. I though he threw the ball to the right guy a lot. I think the biggest thing if you look at his drives is we got behind the chains a little bit, had some holding penalties, and you're looking at some tough down and distances. It's hard to overcome that."
Rush needed just six plays to direct the Cowboys on a 76-yard drive that ended with a 19-yard touchdown pass to Brown. On his next drive, he converted one third-down chance and hit Lenoir for a 3-yard score.
"The No. 1 focus: just continue to improve, keep building," Rush said. "Every week is a new battle, and you've just got to keep building on last week's performance and practicing. Once you're out there, you're just playing football. You draw back on all the times you've played your whole life, and all those instincts come back. You just go through your reads and play football. All that kind of goes out the window once you step out there."
Rush spoke Saturday from a spot that was reserved earlier for Prescott and Jaylon Smith. He was surrounded by more cameras and notebooks Saturday than his entire career at Central Michigan.
The attention he got in college was "not on this scale," he said. "But I'm fine with it."
He is not even thinking about becoming No. 2 behind Prescott.
"Right now, I just want to be on this roster," Rush said. "It's really all I think about: building every day and every game on each other and keep improving."
August, 20, 2017
Aug 20
9:00
AM ET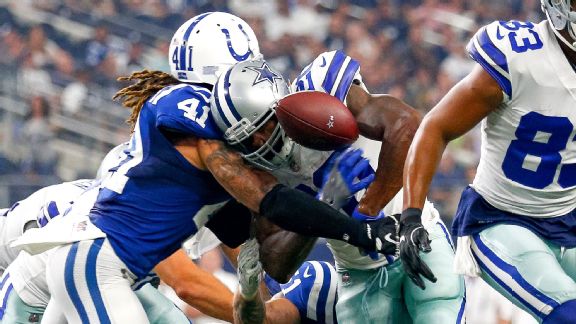 Andrew Dieb/Icon SportswireThe Cowboys were in control from the start on Saturday -- except when Darren McFadden fumbled away a scoring opportunity.
ARLINGTON, Texas -- Perhaps only in a preseason game in which the starters are playing for the first time would a coach not be mad about his team starting an opening drive at its own 5.
That's what the Dallas Cowboys' first-team offense faced Saturday against the Indianapolis Colts. Seven plays and 3 minutes 34 seconds later, Dez Bryant was on the receiving end of a 32-yard touchdown pass from Dak Prescott.
"That drive was great," Prescott said after the 24-19 victory. "We were all on the same page and communicating well. It definitely felt good to be out with the guys again in a game situation."
On the Cowboys' first offensive play, Prescott and Bryant connected on a 23-yard slant with Bryant shucking a Colts defender for extra yards.
Jason Witten caught two passes for first downs and a total of 24 yards.
The starting offensive line -- from left to right: Tyron Smith, Jonathan Cooper, Travis Frederick, Zack Martin and Tyron Smith -- opened holes big enough for Darren McFadden to pick up 16 yards on three carries.
The Cowboys did not have a play gain fewer than 5 yards on the drive as they ran their no-huddle offense.
On the touchdown pass, Prescott came back late to Bryant, who ran a double move on Colts cornerback Vontae Davis. Prescott's pass was perfect, reaching Bryant's back shoulder as Davis slipped. Bryant took a hit from safety Darius Butler but was able to spin into the end zone.
In the Dallas offense's first game action since the January playoff loss to the Green Bay Packers, it started as efficiently as could be.
The second Cowboys drive was on its way to being just as efficient. McFadden had three straight carries for 28 yards and, after Prescott's only incompletion of the night, took a fourth carry another 14 yards. The Cowboys finally faced a third down -- their first, on their 17th snap -- and Prescott connected with Cole Beasley for 10 yards and a first down.
On first and 10 from the Colts 15, however, McFadden fumbled to end the scoring threat.
After the game, McFadden wasn't sure how he fumbled. "Putting the ball on the ground is not me," he said. "It's definitely not up to my standards or the team standards. I'm definitely going to get that cleaned up. We're going to be a lot better moving forward."
Prescott's night was through after the turnover. He finished with 106 yards on 7-of-8 passing and the touchdown, with a perfect passer rating of 158.3. Smith played just one series as he works through a tight back. Witten showed he can move the chains. So did Beasley.
The Cowboys picked up 166 yards on 17 plays on the first two drives. And that came with Ezekiel Elliott, the leading rusher in the NFL last year, serving as a spectator.
"It felt good to get the band back together," Witten said. "Dak was spectacular. It was good. We were going on the ball; the fastball stuff was really good for us. It's good to see Dez in that form already. He's had a full offseason of work and worked really hard to be precise with his route running. He had a great day. It was good for our offense to get a good start there."
August, 20, 2017
Aug 20
12:19
AM ET
ARLINGTON, Texas -- Dallas Cowboys owner and general manager Jerry Jones remained silent regarding his thoughts on the six-game suspension running back Ezekiel Elliott is facing, but he explained why he is being quiet.
Elliott's appeal is scheduled for Aug. 29 with Harold Henderson, who was designated by NFL commissioner Roger Goodell to serve as the arbitrator after the league handed down its discipline for violating the personal-conduct policy.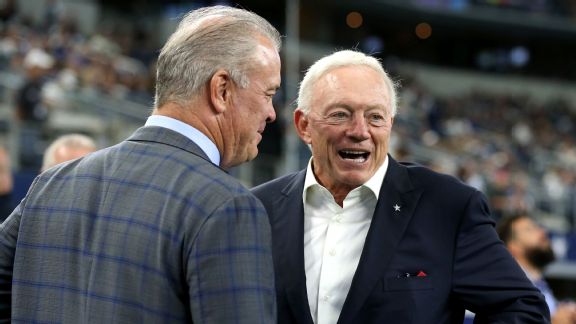 Matthew Emmons/USA TODAY SportsCowboys owner Jerry Jones, right, chats with son Stephen ahead of Saturday's preseason game.
While sources have said Jones was upset with the ruling, he has been quiet.
"Because I have said I just want to get my thoughts together, see some more cards played and just see kind of how this thing turns out," Jones said Saturday after the Cowboys beat the Indianapolis Colts in a preseason game. "I know that they've got a real important date set and want that to have every opportunity it can to have things in its best light. But we certainly are in support of Zeke."
Elliott did not play against the Colts and has yet to play in the preseason. The Cowboys have two more preseason games remaining, including an Aug. 26 meeting against the Oakland Raiders in which the starters are expected to get their most action.
Elliott played in only one preseason game last year and had seven carries. Coach Jason Garrett said no decision has been made as to whether Elliott would play against the Raiders.
"Wouldn't surprise me at all if he would get a few snaps," Jones said. "We don't want put 30 on him out there. No reason to do that."
On Saturday, the Cowboys ran 32 times for 160 yards, showing their ability to control the game with the run even without Elliott. Darren McFadden had nine carries for 59 yards but lost a fumble. Alfred Morris had nine carries for 49 yards. Rod Smith had seven carries for 53.
Jones has confidence the Cowboys will be able to run the ball if Elliott's suspension is upheld, but he wasn't ready to say he will be without Elliott.
"Of course I'm hopeful we'll have Zeke back in there pretty quick, too, as far as looking at it like you might an injury or something like that," Jones said. "We've got a lot of football to play under any circumstances regarding this suspension. So I like our running back depth, yes."
August, 19, 2017
Aug 19
11:54
PM ET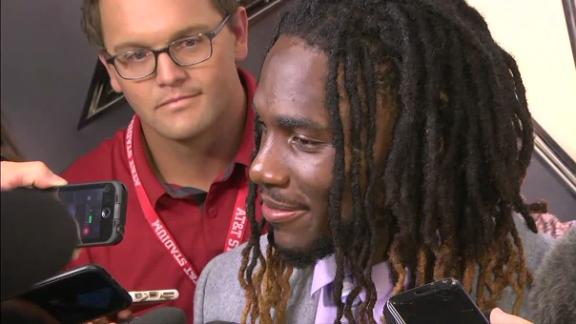 ARLINGTON, Texas -- Jaylon Smith wasn't sure how many days had passed since he last played in a game. He thought it was close to 700.
Actually, it was 596 days.
Smith played 12 snaps in the Dallas Cowboys' 24-19 preseason win against the Indianapolis Colts on Saturday night, his first action since the 2016 Fiesta Bowl while at Notre Dame.
In that New Year's Day game, Smith tore the ACL and LCL in his left knee and suffered nerve damage that affected his ability to lift his foot. Saturday, though, marked another crucial step in a comeback some never thought would come after he was hurt.
Smith, who did not play last season after he was picked by the Cowboys in the second round, never doubted.
"Not one moment," he said. "From the start, it's a been a long journey. Like I've told all of you guys, my clear-eye view, a focused vision, determined belief, earned dreams, it's got me here today and it's something where I really appreciate the Jones [family] and everybody with the Cowboys organization for believing in me. It's just the beginning. It's a great feeling."
Smith played in 12 snaps and was credited with one tackle, stopping Colts tight end Jack Doyle on a third-down play in the second series. So excited was Smith that he went through with a celebration he started in high school and carried to college -- The Swipe.
Smith started with Sean Lee
August, 19, 2017
Aug 19
10:06
PM ET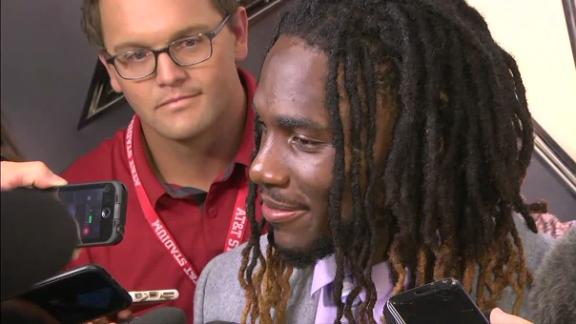 ARLINGTON, Texas -- For Jaylon Smith and the Dallas Cowboys, their 24-19 win against the Indianapolis Colts on Saturday meant little compared to what it meant to see Smith on the field -- even for 12 preseason snaps.
Smith played for the first time since suffering a serious knee injury in the Fiesta Bowl after the 2015 season, his junior year at Notre Dame. He started Saturday at middle linebacker for the Cowboys and was credited with one tackle.
Sean Lee was out with a hamstring strain, so Anthony Hitchens moved to weakside linebacker, allowing Smith to start at middle linebacker. Smith did not come off the field when the Cowboys went to their nickel defense. He stopped Colts tight end Jack Doyle short of a first down on the second series. He overran a couple of plays on the third series, but he was active.
He is hoping the narrative moves from his comeback to his play on the field.
"Do my job," he said. "Have a sense of urgency of getting lined up, going over my keys, and playing football."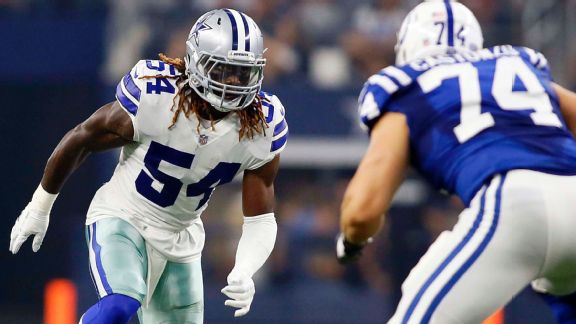 Tim Heitman/USA TODAY SportsJaylon Smith was active in his first game action since the 2015 college football season.
QB depth chart: Dak Prescott had his best practice of training camp on Wednesday when he completed all 18 of his passes in team and 7-on-7 drills. He was just as efficient in his opening action of the preseason Saturday. He finished two series, completing 7 of 8 passes for 106 yards and a touchdown pass of 32 yards to WR Dez Bryant. Prescott's only incompletion came on a batted-down pass at the line of scrimmage. He left after 17 plays.
When it was starters vs. starters, the Cowboys looked...: Would outstanding be too strong? Yes, RB Darren McFadden fumbled on the second drive, but the Cowboys faced third down just once on the first two drives and WR Cole Beasley converted that. McFadden ran for 59 yards on nine carries. TE Jason Witten had two first-down catches. The defense had two three-and-outs and did not allow a first down in the first quarter. That has to give the Cowboys confidence going into their next preseason game against the Oakland Raiders, when the starters could play into the third quarter.
One reason to be concerned: QB Kellen Moore did himself no favors with a sack-fumble that was returned by former Cowboy Lavar Edwards for a Colts touchdown. That came after an ineffective 8-of-17, 69-yard showing against the Los Angeles Rams in the first preseason game. In six series, Moore completed 10 of 21 passes for 131 yards and directed the Cowboys to one scoring drive. Meanwhile, rookie QB Cooper Rush needed just six plays to deliver a touchdown pass on his first series.
That guy could start: Jonathan Cooper started at left guard, but his work at center in the second quarter needs to draw some attention. While he may end up winning the left guard competition over Chaz Green and Byron Bell, Cooper's ability to play center could allow the Cowboys position flexibility when composing their 53-man roster. In the third quarter, Cooper moved back to left guard.
Rookie watch: It is always a good sign for a rookie when he is included on the first-team special-teams units. Wide receiver Noah Brown, a sixth-round pick, worked on the first kickoff return and punt coverage teams. His third-quarter unnecessary roughness penalty on a punt return won't make the coaches happy, but a 19-yard touchdown catch in the third quarter will. He should be penciled in on the final roster.
Ho-hum: Bryant spoke Thursday at how excited he was to play in the preseason. No, seriously. He caught Prescott's first pass and ended the first drive with a 32-yard touchdown on a stutter-go, back-shoulder throw; Bryant was able to spin away from Colts cornerback Vontae Davis and take a hit from safety Darius Butler before getting to the end zone.
In their last 10 games, counting preseason and playoffs, Prescott and Bryant have connected for nine touchdowns. Just something to keep in mind.
Get after the run: DE Benson Mayowa led the Cowboys in sacks last year with six, but his work Saturday against the run drew attention. He had a first-quarter tackle and a tackle for loss in the second quarter. A knee issue kept him out of the first two preseason games, but he started Saturday and was noticeable. The Cowboys need him to get after the quarterback more, but he helped keep the Colts without a first down in the first quarter.
Take a licking: Running backs coach Gary Brown last played in the NFL in 1999, so it's been a while since he took a hit. Brown was rolled on the sideline by Colts receiver Kamar Aiken, who was shoved by Dallas safety Jeff Heath. Brown was slow to get up. He was examined by the Cowboys' medical staff and soon was joking with his runners, including McFadden and Ezekiel Elliott.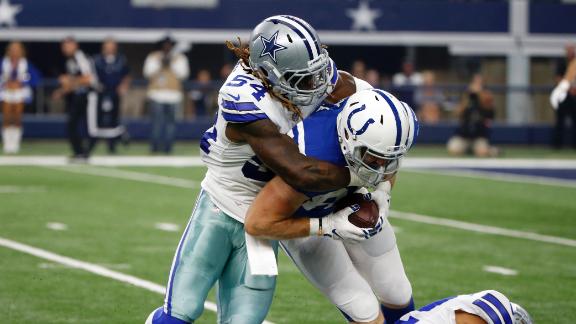 August, 19, 2017
Aug 19
7:43
PM ET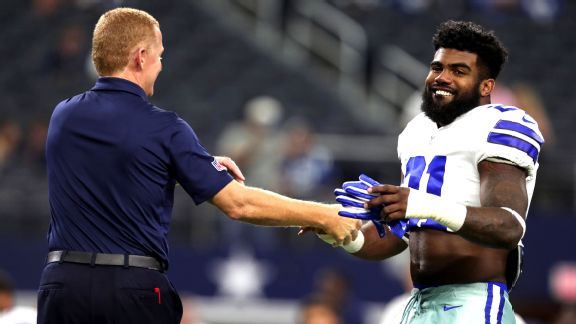 Tom Pennington/Getty ImagesCoach Jason Garrett had Ezekiel Elliott, right, warm up before the Cowboys hosted the Colts on Saturday, but the running back was not expected to see the field in the preseason game.


ARLINGTON, Texas -- Ezekiel Elliott and Jaylon Smith were the Dallas Cowboys' top two picks in the 2016 draft. One started Saturday's preseason game. One didn't.
Elliott, who is appealing a six-game suspension for violating the NFL's personal conduct policy, is sitting out his third preseason game as the Cowboys look to keep him healthy. Cowboys coach Jason Garrett said if Elliott plays at all in the preseason, it would be in a similar fashion to last year, when he played in one game with seven carries heading into the regular season.
Smith started at middle linebacker against the Indianapolis Colts, with Anthony Hitchens moving to the weak side because Sean Lee is not playing due to a hamstring strain. This is Smith's first game action since the 2016 Fiesta Bowl, when he was at Notre Dame.
Smith tore anterior cruciate and lateral collateral ligaments in his left knee and also suffered nerve damage that left him with drop foot. The Cowboys drafted Smith in the second round anyway, knowing he would miss his rookie season, if not more.
Smith took part in 10 of 14 padded practices while the Cowboys were in Oxnard, California, for training camp. With Lee bothered by the hamstring strain, Smith took the first-team work the final few days of camp.
With Elliott out, Darren McFadden got the start. In the Cowboys' first two drives, he had nine carries for 59 yards but also lost a fumble.
August, 19, 2017
Aug 19
12:45
PM ET
FRISCO, Texas -- Faced with shipping a king-size mattress home from Oxnard, California, Dallas Cowboys defensive end Tyrone Crawford came up with a better idea: donate it to a needy family from the area.
Using Instagram and Twitter to reach out to fans in need, Crawford gifted his barely used Lull Bed mattress that was sent to him at the start of training camp to Norma Ramirez, a single mother of three boys who lives in Santa Barbara.
When defensive tackle Maliek Collins got word of what Crawford was doing, he donated his mattress to Ramirez as well.
"We put out an Instagram post asking if anybody felt like they deserved a good night's rest, and we thought it was better to stay with someone locally than have to ship it somewhere," Crawford's marketing agent, Alex Guerrero of Elite Sports Society, said.
"We received, conservatively, 40 emails or so. The couple we first chose, they were in Dallas, so we're going to send them one as well. This was something Tyrone thought would be a good way of giving back."
Ramirez's sister, Gaby Hidalgo, actually nominated her sister for the mattresses. Crawford was raised by a single mother in Canada, and his foundation helps single-parent homes, so he was touched by their story.
"I told them I think my sister would be a great candidate because she's a single mom to three boys, one who has autism," Hidalgo said. "She works very hard to make ends meet every month. The mattress would be perfect for us because at the end of the day she's tired, and she takes care of her boys.
"We weren't really disappointed [when she wasn't initially picked] because it was meant for someone who needed it more. Then we got called, and we're just blessed for him to do this."