September, 23, 2017
Sep 23
7:35
AM CT
MILWAUKEE -- Just how good was Chicago Cubs closer Wade Davis over seven days, ending Thursday?
"Amazing," one Cubs player said.
"So good, but I'm not sure he broke a sweat," another one chimed in with a smile.
Davis is shooting for perfection, as he's the only closer in the game who hasn't blown a save, but this last week added another layer to his great season. Davis pitched in five of six games, throwing a combined six innings while giving up two hits and a walk to go along with 10 strikeouts. Not one runner crossed the plate on him while he earned three saves plus a win. And the best news was his ability to pitch in more than one inning. It's the first time he has been called upon to attempt it. One time, he entered the game in the eighth, and another time in the ninth, and all he did the next inning was set down the opposition in order each time.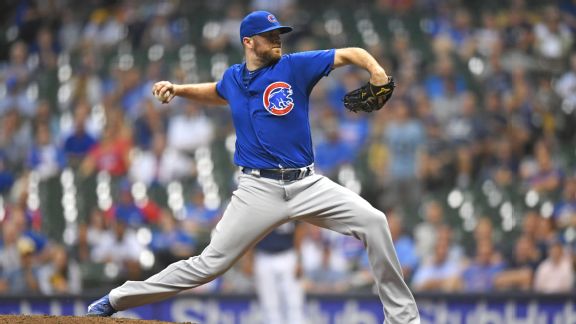 Patrick Gorski/Icon SportswireOver the course of a week, Wade Davis pitched in five of six games, giving up only two hits and a walk while striking out 10.
"He's got guts," first baseman Anthony Rizzo said Friday afternoon. "It's been fun to watch him pitch. He's pitching better and better every time out."
Those guts Rizzo is referring to were on display in the ninth inning Thursday when Davis entered a tie game with a runner on first and one out against the Milwaukee Brewers. He was supposed to come into the game with two outs, but manager Joe Maddon asked him to hurry up in order to face Ryan Braun.
"They made the phone call [to the bullpen], so I said, 'Sure,'" Davis calmly recalled. "Probably wasn't ready."
Davis hit Braun then gave up a hard hit single to Travis Shaw, loading the bases with the winning run 90 feet away. There was no margin for error. What happened next got everyone's attention.
"I was more nervous than he was," pitcher Rob Zastryzny said as he watched from the bullpen.
Reliever Justin Grimm added: "I put my head down, but this is a guy with a plan, always with a plan."
Davis struck out Domingo Santana on a high fastball then got behind Orlando Arcia 3-1 in the count before getting him to bounce one back to him on a 89 mph cutter on a 3-2 pitch. The drama-filled sequence was a thing of beauty.
"I got lucky Shaw's hit didn't score the run," the always understated Davis said. "It allowed me to take a deep breath. That 3-1 pitch to Santana was huge because he didn't swing at it. I threw it right down the middle. I took a chance. Then, he had seen enough straight fastballs, so I went to a cutter."
As for the multi-inning saves, Davis is all for it. He hasn't been overused, and besides, there's always Red Bull and hot sauce for his arm to keep his adrenaline going between innings. And coffee.
"I think I've been drinking too much caffeine," he said with a smile. "Self-induced jitters."
On one hand, it's easy for his teammates to describe Davis, but those that know him best couldn't find the exact words because he doesn't fit one mold. He doesn't say much; that much everyone agrees on, but there's something always going on inside him.
"He's quiet, but he's involved," Ben Zobrist said. "He listens. You can tell he knows what's going on. It's like he's analyzing things all the time. I don't think he takes breaks. He may not be the center of attention, but he knows exactly where his place is and what he wants to say."
When told Davis is kind of the pitching version of himself, Zobrist smiled: "No, I'm not that composed."
Zobrist has played with Davis on two different teams and sees the same person, just in a different role. His days as a starter are in the past, but he has never given up on that mentality. He pitches with a purpose. Thursday was a great example.
"I couldn't believe he threw a 3-2 cutter," Grimm said shaking his head. "Watching him, you just know he has a plan and he's going with it. ... He just has it figured out. He's always in control."
Davis is most certainly a lead-by-example type of guy. His process to get ready to pitch is an inspiration to his younger teammates.
"He's taught me more in the span that I've been here than I learned from a lot of my coaches growing up," Zastryzny said. "He goes out there with a purpose. It's not a fluke he's doing his job so well. He knows what he needs to do and how to get there. That's what I'm learning from him. Every now and then I'm walking around here trying to find something [to do]. He knows what he needs to do all the time."
Teammate after teammate spoke of the plan Davis follows. Told what they think of him, the 32-year-old free agent-to-be shrugged it off.
"If they want to believe that stuff, it's good," Davis said. "But I'm just doing my job."
Will he continue to do his job for the Cubs next season? It's not a topic which has come up much considering the Cubs have bigger things on their mind, but a closer who's 32-for-32 in save opportunities is sure to get a look from other teams.
"I love it here," Davis said. "It's great. The front office is great, so are the fans, but I'm anxious to get to the postseason, then anxious to get home and hunting. I'm not worried about next year as much as I am winning the World Series then shooting a big deer."
Some of Davis' hunting stories are legendary, and perhaps some of his pitching antics will be, as well. He had a good one Thursday, shutting the door on the Brewers when all looked lost. He has done the same a few times during the past week, earning a rare night off Friday. He won't get many nights off down the stretch as he could be this year's version of Aroldis Chapman for the Cubs -- a closer who is used a lot. Considering the way he's been pitching lately, it's not a bad strategy. He does most of his talking on the mound anyway.
"He doesn't say too much," Kris Bryant said. "He's all business, all the time. I guess that's what a closer is. You need a completely different mindset to do that. ... I'd love to see him back here. Would be cool."
Zastryzny added: "It's one of the most impressive things in the world. To see a guy do what we're all trying to do [be perfect], but he's out there doing it. It's amazing."
September, 23, 2017
Sep 23
12:50
AM CT
MILWAUKEE -- The Chicago Cubs are prepping for the postseason and using the second-place team in their division as a sparring partner. Or at least the Milwaukee Brewers were in second place before the Cubs won their second consecutive extra-inning road affair over them, 5-4, in 10 innings on Friday.
"We get behind, everything is going their way, but not one guy felt down about it," manager Joe Maddon said of the Cubs' early 3-0 deficit. "It was wonderful to watch all that."
Maddon loves extra-inning road victories because he feels as if they bring a team together, but when they happen in September and he uses nearly the entire roster to get the job done, they feel even better. Over the course of two nights, the Cubs' manager has stretched his bullpen to the limits while employing position players in every manner possible, from double switches to pinch hitters.
On Friday, Tommy La Stella was the hero when he drew a bases-loaded walk in the 10th inning from Brewers closer Corey Knebel. It was a classic La Stella at-bat, as he refuses to swing outside the strike zone despite not playing much. There's no anxiousness to his game.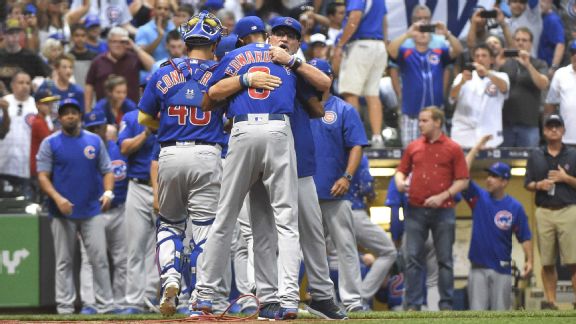 Benny Sieu/USA TODAY SportsAfter piecing together six innings from his bullpen, Cubs manager Joe Maddon hugs closer-for-the-night Carl Edwards Jr.
"He has not played in a bit and he goes out there, not too eager," Maddon said. "Slowed everything down. Accepted his walk. Young players today, many are not willing to accept their walk."
La Stella is one of those cheerleaders in the dugout who's into every pitch of every game. His teammates believe that's one reason he can be so ready with an at-bat like Friday's. His .383 on-base percentage speaks to his patience at the plate.
"It 100 percent helps that he's into it," Jason Heyward said. "If you're not doing that, it's much harder. It's already hard, but if you're into the game it helps.
"He's always going to give that same at-bat. He's always into every pitch doing what he has to to prepare."
La Stella's at-bat was just one of many little moments over the past two days to help propel the Cubs closer to the NL Central title. There was the throw by Willson Contreras and the tag by Addison Russell in the bottom of the 10th that killed any thought of a Brewers rally. Russell held the tag on Eric Sogard as he came off the bag while trying to advance to second on a ball that skipped away from Contreras.
"There's so many little things," Maddon said, acknowledging that play.
And how about Jon Jay's 15-pitch at-bat to lead off the fifth inning that included 11 foul balls before he got on base with a single to right. He's only the third player this year to foul off 11 pitches in one plate appearance. It helped cook Brewers starter Brandon Woodruff, who gave up a two-run single to Ben Zobrist later in the inning.
"That hurt their pitcher," Maddon said. "No question. This guy [Jay] lives for these moments, I believe."
We haven't even gotten to the bullpen yet. Maddon pulled John Lackey after a leadoff hit in the fifth, which meant he would need six innings of relief without the use of closer Wade Davis, who pitched more than an inning the night before. Up stepped Brian Duensing, Hector Rondon, Mike Montgomery and Carl Edwards Jr.. Two of them had pitched the night before, Rondon was throwing in his first game since early in the month and Montgomery started Tuesday's contest, throwing 81 pitches. But there he was, pitching 1 1/3 innings of scoreless baseball Friday.
Edwards was the closer for the night, going the final 1 2/3 innings. It reminded him of another late-inning performance last season after the closer was out in the game.
"It actually felt like last year's World Series when I came in the 10th inning," Edwards said with a smile. "This time I got out of it."
On Friday, Edwards relieved Montgomery. Montgomery had came in for Edwards in Game 7. It worked out then, as it did here. And so two total team efforts in two nights have put the Cubs on the brink of another trip to the playoffs.
"It's going to take everyone," Heyward said. "It doesn't get easier from here. It's commendable in this room, what they've done the last two nights. Finding a way to get it done."
That's a reminder of last year's postseason as well. And maybe it's a little foreshadowing because the Cubs are displaying their team-first mantra once again.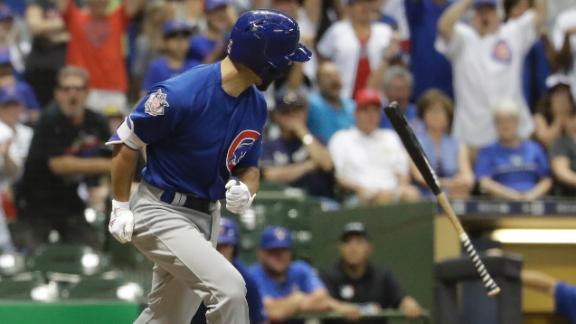 September, 22, 2017
Sep 22
10:55
PM CT
Associated Press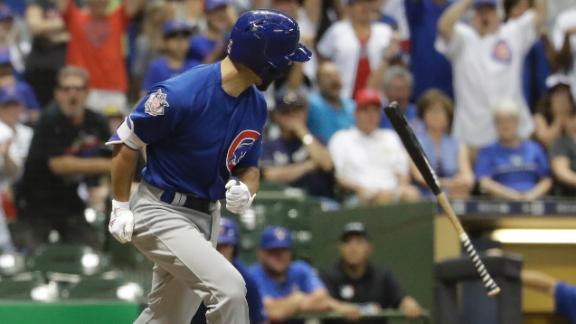 MILWAUKEE -- Pinch hitter Tommy La Stella drew a bases-loaded walk off All-Star closer Corey Knebel with one out in the 10th inning, helping the Chicago Cubs beat the Milwaukee Brewers 5-4 on Friday night to tighten their grip on the NL Central.
The Cubs hold a five-game lead with nine days left in the regular season after winning their second straight tense game over the Brewers. Milwaukee dropped into third in the division, 5 1/2 games behind Chicago, after St. Louis beat Pittsburgh earlier Friday.
The Brewers had the tying run at first with one out in the bottom of the 10th, but Eric Sogard was called out at second trying to advance on a ball in the dirt. Shortstop Addison Russell appeared to hold the tag as Sogard's foot lifted off second for a split-second, and the call was confirmed on review.
September, 22, 2017
Sep 22
7:00
AM CT


MILWAUKEE -- The Chicago Cubs' second-half turnaround began with a home run.
That isn't a shock, considering the record number of long balls hit this season, but nonetheless, Addison Russell's game-winning blast in the ninth inning of the first game after the All-Star break had a big impact. For a team that struggled through an up-and-down first half, Russell's shot against the Orioles set the tone for a second-half rise.
Thanks to their play in the two months since, the Cubs lead the Milwaukee Brewers by 4½ games as the teams play Game 2 of their four-game series at Miller Park on Friday. The standings are reversed from midseason, as the Cubs went into the break trailing by 5½ games.
How did the reversal happen?
In that game against the Orioles, the Cubs blew an 8-0 lead, and it was fair to wonder if the break did the world champions any good at all -- until Russell's home run cleared the Camden Yards wall.
At that time, the four days off seemed like a much-needed chance to start over, as very little the Cubs tried in the first half reminded anyone of what they did all of last season. They didn't hit, field or pitch to their capabilities.
"It's on us," team president Theo Epstein said at the time. "We have to wear the way we played in the first half knowing we can be better."
And then the Cubs were.
That first win snowballed into a six-game road winning streak, providing the Cubs the mojo that isn't always identifiable. They started having fun again, coming up with new hand gestures to acknowledge their teammates when they reached base. And they began to pitch again.
A second consecutive short offseason ruined any chance that the Cubs would be ready to throw the ball in April or May. In fact, the Cubs were still in spring mode when it came to their pitching early on. So manager Joe Maddon bided his time until the arms came around.
"I always say it starts with pitching," Maddon said. "We have to pitch better than good pitching."
They did just that. The starting staff's second-half ERA is down more than a full point, but it wasn't a meeting or a change in strategy that made the difference. It was time that became the Cubs' friend -- and then a sense of urgency set in.
"We know we're good," Kris Bryant said. "It just has to show up. No one is panicking in here."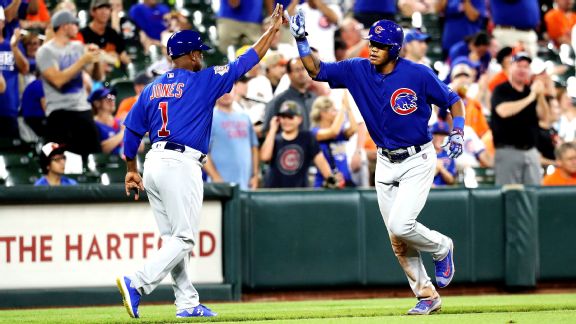 Rob Carr/Getty Images
But even their rise in the standings wasn't a straight line. It felt more like one or two steps up the ladder, followed by one down -- mostly because of a maddening offense. Double-digit run-scoring days followed by a fight to score at all. But time was on their side, and even the offense started to give off a 2016 feel.
"We have to move the ball more," Maddon often said during the inconsistent times.
He means contact -- making more contact in crucial situations was essential. In the first half, the Cubs were last in baseball at getting a runner home from third base with less than two outs, successful just 45 percent of the time. That has slowly changed, to the point that they score in that situation about half the time, which is about league average.
Depth played a role as well. Epstein built the Cubs so they would not fall apart with a handful of injuries or underachieving performances. When Russell went down with a foot ailment, Javier Baez stepped right in. When Jake Arrieta or Jon Lester went down, lefty Mike Montgomery and newcomer Jose Quintana picked up the slack. Slowly but surely, the Cubs made their move.
"Their mental energy is at a season high right now, and it's fun to watch," Maddon said during the seven-game win streak that ended Wednesday.
It's said that teams can't turn it on and off in baseball, but the Cubs might be the exception. A sleepy first half has turned into a dynamic march to the postseason, despite the rough patches. They'll attempt to finish the job by putting away the upstart Brewers once and for all this weekend.
"Nothing is given to you," Maddon said. "You have to take it."
The Brewers are attempting to take what the Cubs own right now: the division title. The next few days might be Milwaukee's last stand. The Cubs hope it's a steppingstone to even bigger things to come.
September, 22, 2017
Sep 22
7:50
AM CT
By ESPN.com
ESPNChicago.com

It's almost time for the postseason to start, so the most important question is: Who is going to win it all?
One month ago, most people would have answered the Los Angeles Dodgers.
One week ago, the odds were soaring for the Cleveland Indians.
The Boston Red Sox, Houston Astros and Washington Nationals have also been in the conversation all season. And you can't forget about the defending champion Chicago Cubs.
So, which team is going to win the World Series?
Make your pick now! Jessica Mendoza, Aaron Boone and Buster Olney will reveal their votes during ESPN's Sunday Night Baseball broadcast featuring the Los Angeles Angels and Houston Astros (ESPN, 8 p.m. ET).
September, 22, 2017
Sep 22
1:39
AM CT


MILWAUKEE -- From the jaws of defeat, the Chicago Cubs stole a victory from the Milwaukee Brewers on Thursday after the Brewers almost stole it from them first. If Game 1 of the four-game weekend showdown between the two teams is any indication, we're in for a heck of a ride as the Cubs are inching their way to another National League Central title -- thanks in part to Thursday's 5-3, 10-inning victory.
"Just an incredible baseball game," Cubs starter Jake Arrieta said after the Cubs stretched their lead over the second-place Brewers to 4½ games with 10 to play. "Two teams battling for a division. ... This is really an awesome time to be in an organization like this and a division like the NL Central where there are a couple teams who have playoff aspirations in mind. Just a tremendous start to the series.
"There were so many plays tonight that could have been the turning point -- it's hard to pinpoint one."
Arrieta went five innings in his return from a hamstring injury, throwing 71 pitches and looking as sharp as could be expected. His return could be huge considering the (negative) results teammate Jon Lester has been getting lately. If Arrieta picks up where he left off before he got hurt, he would have to be strongly considered for a Game 1 start in the postseason.
"The only unknown was getting out the box or covering first base," Arrieta said of testing the hamstring.
He did just fine covering first on a nifty 3-6-1 double play, just one of the eye-popping moments in a game full of them. But not all went as planned. With Arrieta able to go only five innings due to pitch-count limitations, Cubs manager Joe Maddon needed perfection out of his top four relievers to claim victory at Miller Park.
But a 2-1 lead turned into a 3-2 deficit as once again walks from his relief staff came back to haunt, and Maddon was forced to turn to struggling lefty Justin Wilson, who gave up the go-ahead run in the eighth. But that's when the fun began.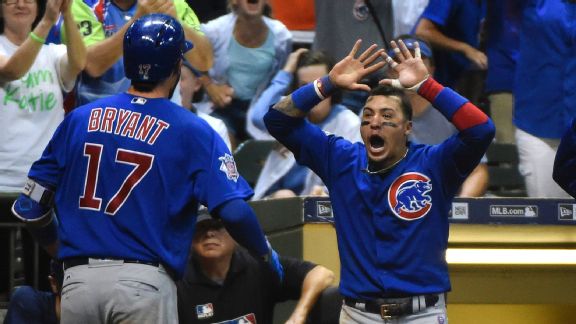 Benny Sieu/USA TODAY SportsJavier Baez was among the many enthused over Kris Bryant's winning blast Thursday.
Ian Happ beat out an infield hit to lead off the Cubs' ninth, and the tying run was aboard.
"You just put your head down and go as hard as you can, and thankfully I beat him to the bag," the rookie outfielder said. "I think that's the fastest I've run in the biggest situation."
A few batters later, Happ was on second with two out and Javier Baez was the plate. If there is one advantage the Cubs have over the Brewers, it's experience. They said as much before and after the game. Baez has been in this situation several times, and he came through with a two-strike single up the middle to tie the game. The second baseman put away his big swing and opted to take what was given to him.
"Javy has been there before," Maddon said. "The two strikes. Almost the same hit he had up the middle in the playoff game."
The hit Thursday looked very much like the one he produced last fall in the ninth inning against the San Francisco Giants. It led to the Cubs popping champagne after winning a playoff round, just as it might lead to more bubbly if Chicago can close out the division.
After tying the game, the Cubs still had some work to do. Closer Wade Davis was called upon in the ninth inning and eventually needed to get out of a one-out, bases-loaded jam. He struck out Domingo Santana, then got Orlando Arcia to ground one back to him.
"Watching Wade Davis pitch was awesome," Happ said. "Watching Wade compete there. Man, that's really impressive. He never panics. He has such an unbelievable presence on the mound."
Davis would strike out the side in the 10th to earn the win, completing an incredible seven days during which he's pitched in five games -- with two outings of more than three outs. The right-hander has been amazing.
"I actually felt better when I went out for the second inning so that's a good sign," Davis said. "I feel great. I've always gotten a little bit stronger as the season's gone on."
Davis wasn't afraid to throw a breaking pitch on a 3-2 count with the bases loaded and the winning run at third. That says everything you need to know about his makeup.
"That was a lot to lay on him today," Maddon said. "To lose that game with him still in the bullpen would have been wrong on my part."
Maddon pulled out all the stops, using several double switches to get his relievers into the right spots in the batting order. At least he had his top arms available, whereas the Brewers were short a couple because of recent workloads. The Cubs took advantage, with Baez coming through in the ninth against Jeremy Jeffress instead of regular closer Corey Knebel, before Kris Bryant hit the go-ahead, two-run homer off Oliver Drake, who has a 4.62 ERA.
"Part of it was their 'A' bullpen was unavailable," Maddon admitted.
To lose the game without Milwaukee pitching its top guys while the Cubs had theirs on the mound could have been devastating. But talent, experience and poise took over, leading to a heart-stopping victory that could have nailed down the division. The final two innings that turned things in the Cubs' favor began with a rookie running his heart out. It represented what the Cubs were on this night.
"Respect 90," Maddon said, repeating the mantra about running hard for the 90 feet between bases. "That's what it's all about."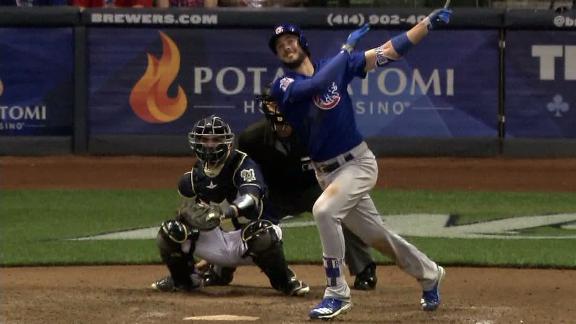 September, 22, 2017
Sep 22
2:31
AM CT

By David Schoenfield
ESPNChicago.com
Archive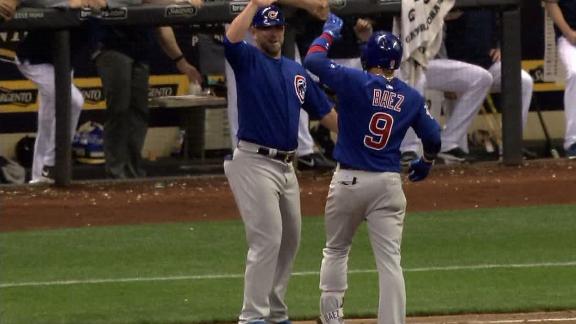 If the Milwaukee Brewers end up missing the playoffs by one game, their fans are going to spend all winter having nightmares about Thursday's ninth inning.
It was a great game at Miller Park against the Chicago Cubs, a game that had that postseason feel, with tension and deeper breaths between pitches and players hanging over the dugout railing and Brewers fans cheering loudly -- half enthusiastically, half nervous energy.
With a slim chance at chasing down the Cubs in the NL Central -- a four-game series sweep would mean the Brewers move into first place -- the series opener was essentially a must-win game for Milwaukee. Win and they would be 2.5 games back with nine left and have a puncher's chance; lose and they're 4.5 back.
With an overworked bullpen, the Brewers needed a strong effort from Zach Davies, and he delivered, departing after seven innings with a 2-2 tie. The Brewers scored the go-ahead run in the eighth as Domingo Santana doubled, swiped third against a sleepy Justin Wilson, and then scored as Eric Thames lined a single over the drawn-in second baseman.
Morry Gash/AP PhotoMilwaukee Brewers reliever Jeremy Jeffress couldn't bear to watch after giving up a game-tying single in the ninth inning.
Then came the ninth inning.
Corey Knebel and Anthony Swarzak were unavailable after pitching three days in a row. Josh Hader had pitched twice in three days and thrown 42 pitches. So Craig Counsell had to dig deep into his bullpen. He called on Jeremy Jeffress, the former Brewers closer reacquired at the trade deadline, who had thrown 30 pitches Wednesday.
The inning started with Ian Happ beating out an infield hit. Here's the play. Note what went wrong:
1. Neil Walker -- who had played 64 innings at first in his career -- ranged well off first base to field the ball. But look at second baseman Eric Sogard. He was in position to make the play.
2. Jeffress hesitated just a bit coming off the mound. If he gets to first a blink quicker, Happ is out.
3. Happ chugged it down the line. This kid is a terrific athlete.
Still, you have to get the out there. Javier Baez would later tie the game with a two-out, two-strike little grounder up the middle. Just like Knebel's errant toss to first hurt them in Wednesday's loss to the Pirates, infield defense was once again painful.
In the bottom of the ninth, the Brewers loaded the bases with one out against Wade Davis. Joe Maddon went to five infielders. Santana struck out on a fastball up and out of the strike zone. Orlando Arcia worked the count to 3-1, took a cutter down the middle and then bounced back to the mound. The Brewers would strand 12 runners. They fanned 11 times (they have the second-most 10-strikeout games in the majors with 78).
You knew what was coming next. Hello, Kris Bryant:
A little kiss from the MVP. pic.twitter.com/UTJCwbr755

— Chicago Cubs (@Cubs) September 22, 2017
Bryant had actually been terrible in the big moments all season, hitting .162 in late & close situations before this game. I guess he was due. The Brewers fell to 4-10 in extra-inning games. How many similar moments were there in some of those losses? We don't talk enough about the little things that can decide a baseball game. On this night, they did.
One final note. I'm not going to pound Counsell for not using his best relievers. Nobody pitches four days in a row anymore -- it has happened only nine times all season (Edwin Diaz and Jerry Blevins did it twice, plus Jose Alvarez, Peter Moylan, Hansel Robles, Fernando Salas and Nick Vincent). Knebel had thrown 44 pitches over his three outings. Here's how many those others had thrown in their first three outings:
Alvarez: 26
Blevins: 22
Blevins: 22
Diaz: 42
Diaz: 51
Moylan: 34
Robles: 36
Salas: 15
Vincent: 37
Mariners manager Scott Servais used Diaz twice for a fourth day despite similar pitch totals to Knebel. He's also the most comparable pitcher to Knebel, a hard-throwing closer. If there was ever a game to use Knebel for a fourth straight game, this would have been it. (To be fair, Jeffress wasn't hit.)
Anyway, the NL Central race is just about over, but the wild card is still in the play. The Brewers remain a game behind the Rockies. I predict Knebel, Swarzak and Hader will be available if needed Friday.
Wild-card winner of the night. You know how this is going to end, America. Baseball writers, you might as well reserve your World Series hotel rooms in St. Louis right now. The Rockies lost 3-0 to the Padres, the Brewers lost, and the Cardinals are now just 1.5 behind the Rockies for the second wild card.
Wild-card loser of the night. The Angels lost 4-1 to the Indians in an afternoon game, and then the Twins pounded the hapless Tigers 12-1. So the Angels dropped 2.5 behind the Twins and have actually been caught by the Rangers, who completed a three-game sweep of the Mariners. Hmm. Cardinals-Rangers World Series?
Indians win again. I just mentioned that. Francisco Lindor hit a three-run homer in the game, his 32nd, and they've won 27 of 28 games, which is an incredible thing to type. Here's another to look at it:
Ballgame. Tribe 4, Halos 1.

WWWWWWWWWWWWWWWWWWWWWWLWWWWW

Decent.

— Jordan Bastian (@MLBastian) September 21, 2017
Lindor's surge during this streak -- he has hit .349 with 11 home runs and 27 RBIs -- is earning him some MVP talk. I'm going to disagree. The entire season counts. Jose Ramirez has an OBP 30 points higher and slugging percentage 64 points higher with good defensive metrics while playing two positions. Ramirez is still the best MVP candidate on the Indians, although Lindor has maybe climbed into the top five or six overall.
Jose Bautista's Blue Jays career might be winding down. The Royals beat the Jays 1-0 as Jason Vargas and four relievers combined on a two-hitter. Bautista hit cleanup, as he has been doing since late August but went 0-for-4.
At one point, the fans in right field starting chanting his name, as if their collective will alone could summon some greatness from Bautista. Back in spring training, the popular story was Bautista was poised for a big season, ready to prove everyone who ignored him in free agency had made a mistake. He was forced to take a one-year deal from Toronto.
Instead, he has had a miserable season, hitting .203/.309/.369. Injuries aren't an excuse, as he has played 148 of the Jays' 153 games. Manager John Gibbons moved him from second or third in the lineup to leadoff back in late June in an attempt to get going, and then to cleanup. Bautista never did get going. Of 148 qualified hitters, Bautista ranks 139th in wOBA. Once one of the most feared hitters in the game, he has been one of the worst in 2017.
As Dave Cameron wrote a couple days ago on FanGraphs, this could be it for Bautista. He turns 37 in October, will be coming off a bad season and has limited defensive value, and nobody wanted him last offseason. There's certainly the sense that at the minimum his Blue Jays career is coming to an end:
Gibbons says #BlueJays dugout would love to see another memorable Jose Bautista moment this weekend. "I know everybody's rooting for him"

— Ben Nicholson-Smith (@bnicholsonsmith) September 22, 2017
The Blue Jays wrap up their home schedule this weekend against the Yankees before finishing with a road trip to Boston and New York. Let's hope he gives Blue Jays fans one final home run.
September, 21, 2017
Sep 21
11:12
PM CT
Associated Press
MILWAUKEE -- Javier Baez grounded a tying single with two outs in the ninth inning, Kris Bryant hit a two-run homer in the 10th and the Chicago Cubs widened their NL Central lead over Milwaukee, beating the Brewers 5-3 Thursday night.
The Cubs now are 4 1/2 games ahead of the Brewers after winning the opener of a four-game series.
Milwaukee was in position to win it in the bottom of the ninth, loading the bases with one out. But Wade Davis (4-1) struck out Domingo Santana and then, after falling behind 3-1 in the count to Orlando Arcia, came back to retire him on an easy comebacker on a full-count pitch.
The Cubs trailed 3-2 when Ian Happ led off the ninth by hitting a grounder that first baseman Neil Walker fielded wide of the bag. Reliever Jeremy Jeffress covered first and Happ was called safe in a close play, a ruling upheld on replay.
Happ moved to second on a one-out grounder and scored when Baez, down to his last strike, singled up the middle.
Bryant hit his 28th homer, connecting off Oliver Drake (3-5).