June, 22, 2017
Jun 22
11:58
PM CT

By Jesse Rogers
ESPNChicago.com
Archive
MIAMI -- Before Thursday's game against the Miami Marlins, Chicago Cubs manager Joe Maddon admitted it would be a mistake to "anticipate scoring a ton of runs" without some main pieces from his championship team of a year ago. Ben Zobrist (wrist), Jason Heyward (hand) and Kyle Schwarber (minors) aren't contributing for various reasons meaning the onus was on a group of very young and inexperienced hitters.
"It's a bad assumption on my part [to think high scoring] so you probably have to take more chances defensively," Maddon said of a potential low-scoring game.
Maddon also stressed the need to lean on his veteran pitching staff -- and that's what he focused on after an 11-1 blowout win over the Miami Marlins as Jake Arrieta was magnificent over seven innings. As for that unexpected run scoring? Youth was served as eight hitters from ages 22 through 27 broke out their lumber.
Eric Espada/Getty ImagesAddison Russell had a homer, two doubles and a single in the Cubs' win over the Miami Marlins on Thursday night.
"We really had good at-bats," Maddon stated. "Addison [Russell] looks really comfortable. [Willson] Contreras, Russell, [Ian] Happ have kind of been ascending as of late."
The latter two players produced four hit games as the Cubs had 16 hits overall -- with none coming from Heyward, Zobrist or Schwarber, of course. The craziness of the Cubs 2017 season keeps finding its twists and turns, the latest of which involves World Series hero Schwarber being sent to the minors. Injuries are starting to pile up, as well, and the Cubs just began the toughest road trip of the season. Yet they are still squarely in the playoff race in the NL Central.
It's a lot like 2015 when Maddon took a young team to the brink of the Fall Classic when no one expected it. At this moment he's dealing with just as much youth -- and inexperience -- but with much higher expectations. Happ is an example of a player maturing in front of our eyes. Four hits and his first career stolen base is a pretty good night, and though his batting average (.246) is rising, that's not his focus.
"It's not something I think about," Happ said. "It's not something that's even in my mind. I'm just up there trying to have good, quality at-bats."
Spoken like a true veteran, which he kind of is right now when you consider the rest of the outfield. Albert Almora Jr was in center on Thursday but he's a part time player while Mark Zagunis was making his major league debut in right field. Happ for Schwarber, Zagunis for Heyward. Where has 2016 gone?
"I did focus on that before the game," Maddon said of the youth on the team. "It's a really young group.
"It's young [and] eager. It's a great group."
And it's the group the Cubs will have to rely on during a semi-critical part of the schedule. It's unlikely they would fall completely out of the race, but even trailing the first place Brewers by three or four games can cause a lot of stress. The Cubs need to keep up to have a shot at getting past Milwaukee once all their pieces are back. But that time may not be now, not with 10 more games to come on a tough road trip. Thursday was a great start as the team quickly put the Schwarber drama behind them and went to work on Marlins starter Jeff Locke. He never made it to the fifth.
"We're seeing a nice trend of at-bats," Maddon said. "When these guys come back [the lineup] gets longer and better."
In the meantime, Maddon might be able to lean on his pitching as the Cubs only needed two runs -- not 11 -- to win on Thursday. Arrieta may not the same pitcher he was in winning the Cy Young in 2015 but he can still toss a good game when things play in his favor. Arrieta got a buzz cut as the team headed for Miami to cut down on some sweat -- that was a problem last start -- while staking him to a lead didn't hurt either. He left after seven up 8-1 as Day 1 without Schwarber and Heyward was pretty good.
"It's a matter of building off a night like tonight," Arrieta said.
Maddon stressed the same. It's just one game but it's one less on the road trip and one more in the victory column. The Cubs needed it.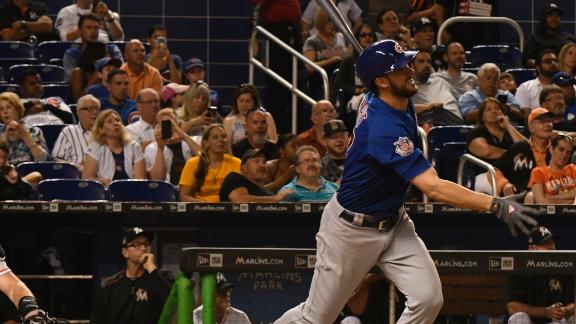 June, 22, 2017
Jun 22
9:20
PM CT
Associated Press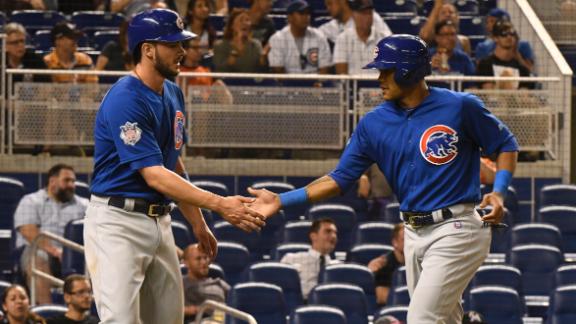 MIAMI -- Addison Russell had four hits, including a home run, to pace the Chicago Cubs to an 11-1 victory over the Miami Marlins on Thursday night.
Kris Bryant had a three-run homer, Willson Contreras added a two-run shot and Ian Happ also had four hits and drove in a pair for the Cubs, who have won four of five. Russell had two RBI.
Jake Arrieta (7-5) pitched seven innings, allowing one run and six hits. He struck out three and also picked up two of the Cubs' 16 hits.
It was the first of an 11-game, 11-day trip for the Cubs, who entered having won six of their previous 22 road games.
Jeff Locke (0-3) allowed five runs and seven hits in four innings for the Marlins.
June, 22, 2017
Jun 22
9:18
PM CT
June, 22, 2017
Jun 22
3:48
PM CT
By John Fisher, ESPN Stats & Information
ESPNChicago.com

Jimmy Simmons/Icon SportwireBad luck and shift-induced changes might be behind Kyle Schwarber's poor statistics.
Kyle Schwarber's demotion from the Chicago Cubs to the minor leagues might prompt one to wonder what's wrong with him. There appear to be two very obvious answers.
Possibility No. 1: He is just unlucky
Could it just be bad luck? Schwarber has a .193 batting average on balls in play, last among 162 qualified hitters. His struggles all seem to be batting-average related.


Consider these facts:

• He has a higher slugging percentage than Victor Martínez and Carlos González.

• He has a higher on-base percentage than Trea Turner and Manny Machado.

• His at-bat per home run rate is the same as Carlos Correa's and better than Nolan Arenado's.
His peripherals this season look similar to those from the previous two seasons, as the chart indicates.
Possibility No. 2: The shift is hurting him
Schwarber is in the top 15 in hitters facing a defensive shift. He's batting .207 on ground balls and short line drives against the shift (he hit .426 on those balls against the shift in 2015-16).
His efforts to combat the shift have changed his batted-ball profile. The results (all including playoffs):

• He's trying to go the other way more often: 27 percent of his balls in play are hit to the opposite field (23 percent the previous two years).

• He's hitting fewer line drives: 14 percent of his balls in play are line drives (19 percent the previous two years).

• He's not hitting the ball as hard: 16 percent of his balls in play are hit hard (19 percent the previous two years).

• His average exit velocity is 87.3 mph this season (92.0 the previous two years).
June, 22, 2017
Jun 22
1:35
PM CT

By Jesse Rogers
ESPNChicago.com
Archive
MIAMI -- From World Series hero to minor league player. That's now the journey of Chicago Cubs outfielder Kyle Schwarber.
His demotion to Triple-A Iowa -- shocking to even think about in April -- can't come as a surprise to anyone who has watched him at the plate most of this season. He ranked last in baseball among qualified hitters with a .171 batting average before being sent down on Thursday.
"We reached a point recently where the fundamental side, it was really tough," Cubs president Theo Epstein told the team's flagship radio station Thursday afternoon. "You reach a point where you're just trying to survive.
"It's not atypical for players to change their environment to rediscover who they are."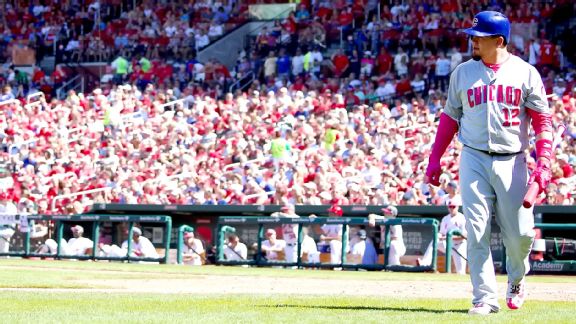 Jimmy Simmons/Icon SportwireKyle Schwarber is hitting just .171 this season.
Only in baseball can a player nearly win World Series MVP honors in the fall and then get sent to the minors the next season. Schwarber hit .412 with a .500 on-base percentage during the Fall Classic and became a hero for his quick return from knee surgery, but that production never showed up this year.
Some may think asking him to lead off was the beginning of his downfall --and Epstein didn't rule that out -- but even after being moved down in the order Schwarber could not get in a groove. His 12 home runs accounted for almost one-third of his 38 total hits, which Epstein recognized as numbers a pure slugger would put up. The Cubs have never viewed Schwarber as just that though, hence his leadoff role -- and so the criteria for his return is simple:
"Come back as a hitter, not just as a slugger," Epstein said.
Being able to combine the two traits is what made Schwarber so dangerous before this season. He worked the count like a leadoff hitter but could slug with the best cleanup men. His World Series at-bats against tough lefty Andrew Miller were Schwarber at his best. Pick many of his at-bats this season -- especially against lefties -- for evidence of him at his worst. He hit .143 against lefties but did manage a .311 on-base percentage.
There were some signs of progress but they usually came only via walks. Uncharacteristically, Schwarber began chasing pitches -- at a 25.9 percent clip that ranks 72nd in the majors, which is no place for a leadoff hitter.
As Schwarber heads to the minors to fix these issues, Epstein stressed that many big-name players return better for it. Last year, New York Mets outfielder Michael Conforto had a .727 OPS before being sent down. Since coming back he has produced a .929 mark. Seattle Mariners catcher Mike Zunino had a minuscule .486 OPS before an early-May demotion but has produced a 1.065 mark since returning. The Cubs will see Marcell Ozuna of the Miami Marlins this week, another player who benefited from a demotion. The Marlins outfielder posted just a .313 OPS before being sent down in early July 2015. After returning in August, he finished the season with a .789 OPS.
The bottom line? A demotion can actually help a player find himself again. Epstein indicated to the flagship station that the same qualities that enabled Schwarber to return early from a devastating knee injury are the same ones that will pull him out of his season-long slump. The Cubs figure they're helping him by allowing him to do it away from the limelight of the major league club.
The Cubs may end up needing the old Schwarber just as badly this season as they did when he became a World Series hero in Chicago last fall. With injuries to veterans Jason Heyward, Ben Zobrist and Kyle Hendricks, combined with a .500-ish record, they could use all the help they can get.
But first Schwarber has to help himself.
June, 22, 2017
Jun 22
11:02
AM CT
MIAMI -- The Chicago Cubs are sending struggling outfielder Kyle Schwarber to Triple-A Iowa as the team embarks on an 11-game road trip.
Schwarber, 24, is hitting .171 just seven months after helping the Cubs to a World Series victory. Chicago is in second place in the National League Central.
"He took it really well. We're doing to hopefully reset him," Cubs manager Joe Maddon said. "Get him back up here with a fresh start. He was very professional about it. Understood it, entirely."
The Cubs' upcoming schedule also factored into Schwarber's assignment. The team faces three left-handed pitchers as well as Washington Nationals ace Stephen Strasburg over the next week.
"At some point it felt like the right thing to do was give him a chance to hit the reset button," Cubs general manager Jed Hoyer said. "We got to the point mentally we thought he needs a mental break before he could come out of it."
As part of a series of moves, the Cubs will also put outfielder Jason Heyward on the disabled list with a cut on his hand. They are calling up outfielder Mark Zagunis from Iowa for his first taste of the majors. Pitcher Dylan Floro is also rejoining the team.
Heyward's stint on the DL is retroactive to June 19.
Heyward suffered the injury in the second inning of Sunday's game against the Pirates when he attempted to make a sliding catch on the warning track in foul territory.
There is no actual timetable," Maddon said regarding how long Schwarber will be with Iowa. "I don't anticipate it to be long. We'll see how it plays out."
After losing Dexter Fowler
June, 21, 2017
Jun 21
5:14
PM CT
Associated Press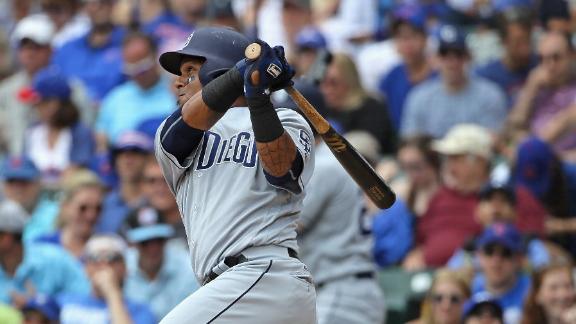 CHICAGO -- Erick Aybar hit a tying shot home run in the sixth inning, Luis Torrens walked with the bases loaded against Koji Uehara in the eighth and the San Diego Padres stopped a three-game losing streak by beating the Chicago Cubs 3-2 on Wednesday.
Chicago rookie Ian Happ hit a two-run homer in the fourth against reliever Craig Stammen, going deep for the second straight game and third time in four.
Jose Pirella started the comeback with an RBI single in the fifth off Eddie Butler, and Aybar tied the score against Brian Duensing.
Uehara (2-4), the fifth of six Cubs relievers, replaced Pedro Strop starting the eighth and allowed singles to Wil Myers leading off and Cory Spangenberg with one out. Erick Aybar was intentionally walked, loading the bases, Matt Szczur fouled out and Torrens took a 3-1 fastball that sailed inside.
June, 21, 2017
Jun 21
4:47
PM CT