May, 25, 2017
May 25
12:15
AM CT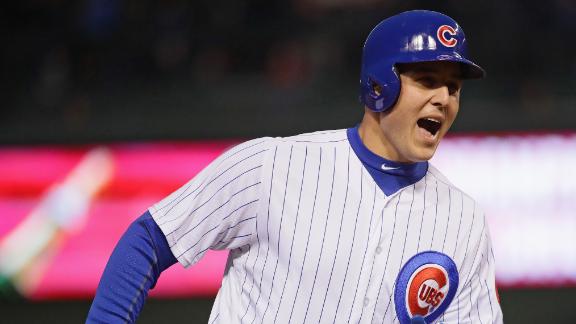 CHICAGO -- Slowly but surely, the Chicago Cubs are climbing the ladder that is the home run standings in the National League. Thanks to Anthony Rizzo's two bombs off San Francisco Giants lefty Matt Moore on Wednesday night, his team now ranks sixth in homers, having caught the Cincinnati Reds, who have led Chicago all season. The Cubs are trailing the National League lead by just 11 home runs, in fact.
"It's nice to see, as opposed to the rollover ground ball," manager Joe Maddon said after the Cubs' 5-4 win. "Balls in the air. That's the big thing right there. I think you're going to see that out of more guys."
Maddon went on to praise Jason Heyward, who homered the night before. In this one, Heyward hit a long foul to right that the wind blew away from the playing field, then tripled off the wall and scored to provide the Cubs with a huge insurance run in the eighth inning. But it was Rizzo who impressed the most, hitting two of the first three pitches he saw from Moore out to right field.
"I get on some streaks sometimes," Rizzo said. "I want to be as consistent as possible. But you take it. You ride it out. You enjoy it."
What does this mean in the big picture? Well, if Maddon is right, a power surge could coincide with a return to normalcy for a starting staff that was so dominant last season. Kyle Hendricks went seven innings Wednesday, one day after Jon Lester threw a complete game. If both the big bats -- Kyle Schwarber hit a 460-foot home run on Tuesday -- and the starting pitching come around at the same time, watch out: The Cubs could be the Cubs again.
Jonathan Daniel/Getty ImagesAnthony Rizzo homered in the second inning Wednesday and again in the fourth, giving him 11 on the year.
Rizzo was asked if this could be the start of something special. The 24-21 Cubs are 6-2 on their homestand with one game to play.
"Why not?" Rizzo responded. "You have to put your head down. You can't say, 'We're going to go on a streak.' You put your head down and win one game at a time. ... You pick your head up, and next thing you know, you are where you are."
The Cubs are hoping that's looking down at their opposition in the division. It has been a while since they could do that, but they're slowly creeping closer to getting there. Rizzo made sure of that Wednesday, when he hit his 10th and 11th home runs of the season. It was the 14th multi-homer game of his career, and it came on a night when the wind was blowing hard from left to right.
"It's tricky," Rizzo said. "You have to focus on taking a good swing and not worry about what that wind [is] doing."
May, 24, 2017
May 24
10:22
PM CT
Associated Press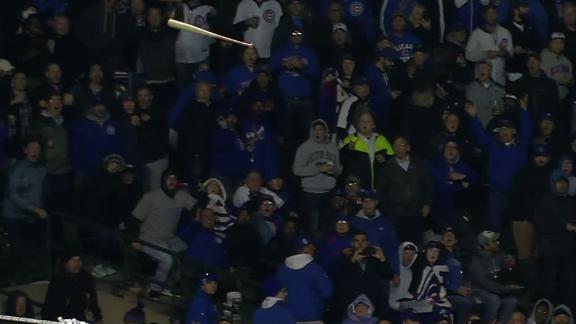 CHICAGO -- Anthony Rizzo hit two home runs, Kyle Hendricks tossed seven strong innings and the Chicago Cubs hung on to beat the San Francisco Giants 5-4 on Wednesday night.
Rizzo hit solo homers off Matt Moore (2-5) in the second and fourth innings for his 14th career multi-home run game. He has four homers over his last four games and 11 on the season.
Javier Baez made it 3-2 with a sacrifice fly in the fifth. Miguel Montero doubled and scored in the seventh. Jason Heyward tripled and came around on Jon Jay's sacrifice fly in the eighth after the Giants left the bases loaded.
Wade Davis gave up a two-run homer to Mac Williamson with one out in the ninth to make it 5-4. He then walked Michael Morse before second baseman Baez raced back to catch Denard Span's bloop and caught Joe Panik looking at a 3-2 pitch on the outside corner. That gave Davis 10 saves in as many chances, and the Cubs improved to 6-2 on their nine-game home stand.
May, 24, 2017
May 24
7:44
PM CT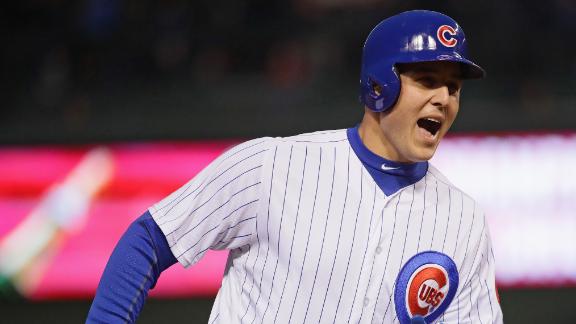 CHICAGO -- If you see a Cubs player wearing bell-bottoms or a large collar while walking down Sunset Boulevard in Los Angeles this weekend or in the Gaslamp Quarter in San Diego next week, don't be alarmed.
Manager Joe Maddon has finally pulled the trigger on one of his patented themed road trips. The 1970s will be featured when the team heads to the West Coast on Thursday night.
"It's the Ron Burgundy/Brick Tamland -- and I also wanted to include Tommy La Stella -- tribute road trip where 60 percent of the time it works every time sponsored by Sex Panther cologne," Maddon joked on Wednesday.
Burgundy and Tamland refer to characters in the 1970s-based movie "Anchorman" played by Will Ferrell and Steve Carrell, while La Stella is a Cubs infielder who Maddon thinks resembles Tamland.
"They're like two interchangeable guys," Maddon said. "I see Brick, I see Tommy. I see Tommy, I see Brick. Put some glasses on Tommy, some sideburns, I got Brick."
La Stella, who plays Triple-A ball, responded via text: "Ha, he and I were talking about that in Colorado when he brought it up. Love it."
To top off the '70s theme, Maddon referenced on several occasions the movie's Sex Panther cologne, which boasts the motto: "Sixty percent of the time it works every time."
"I always liked the idea when we go to San Diego we do the 'Anchorman' thing," Maddon explained. "The timing was right this time."
"Anchorman," released in 2004, was set in San Diego.
Maddon would have preferred the Cubs went to San Diego first, then to Los Angeles; instead, they'll play three games at Dodger Stadium before heading to Petco Park early next week.
May, 23, 2017
May 23
11:56
PM CT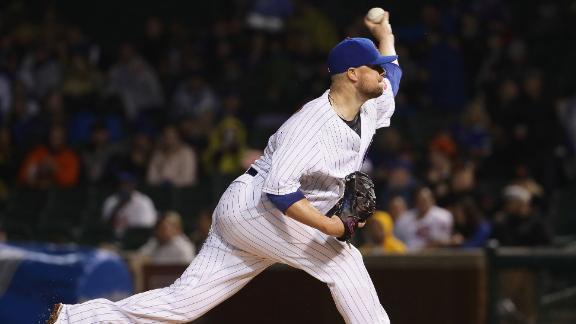 CHICAGO -- Chicago Cubs ace Jon Lester said he didn't mind sharing the headlines with his good friend David Ross after Lester pitched a complete game against the San Francisco Giants on Tuesday, while Ross was waiting to hear if he won ABC's "Dancing with the Stars."
As it turned out, Ross came in second, but even if he'd won the competition, it would have been difficult for him to outshine Lester's performance. It was that good.
"A complete game is few and far between, especially in the National League," Lester said after the 4-1 win. "It's a hard thing to do now."
Consider his night:
Lester is the first pitcher in baseball this season to throw a complete game without going to three balls on any hitter. According to ESPN Stats & Information, it happened just once last season, by Ivan Nova in September.
Lester became the first Cubs pitcher to throw a complete game using less than 100 pitches since Carlos Zambrano in 2009. Lester needed 99 on Tuesday.
He struck out the side in the first and two more in the ninth, ending the night with 10 K's. It was his 28th career double-digit strikeout game.
Lester helped produce the quickest game in baseball this season, lasting just 2 hours, 5 minutes. It was the quickest Cubs game since May 9, 2012.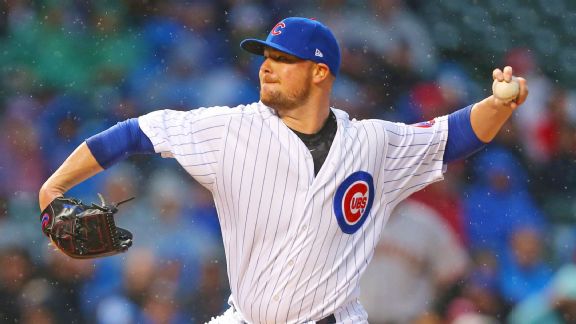 Dennis Wierzbicki/USA TODAY SportsJon Lester pitched a complete game for the Cubs against the Giants on Tuesday with just 99 pitches.
And the whole performance came after a 1:05 rain delay, which included a few minutes of waiting even after he warmed up. The umpires were watching the radar, as this game could have started and stopped all night. A lot could have gone wrong, but nothing did.
"You better make sure you don't turn off," Lester said of the delays. "Once you get going [warmed up], there's really no turning back from there."
It doesn't hurt when you're facing an historically bad offense in the Giants, who are on pace for the lowest batting average in team history. Lester took advantage and was most pleased he gave up no free passes, let alone no three-ball counts. He was asked what it told him about his outing.
"It tells you a combination of things," he said. "They were aggressive. They were trying not to get to my off-speed pitches. We were able to disguise that a little bit. I'm glad the no-walks thing. There's been a few too many walks for me this year."
So what does this all mean besides a night off for the bullpen? Manager Joe Maddon said he wants to believe there are bigger implications.
"I think it impacts the rest of the starting pitchers," Maddon said. "It's contagious. They feed off one another. I'd like to believe something like that can really tweak the starters in a good way."
They could use a "tweak," considering the Cubs' rotation ranks 10th in ERA in the National League, and that's after Lester's brilliant performance. It remains to be seen if there can be a carryover effect, considering the inconsistency in that rotation. Perhaps the only one who has inspired real confidence is the guy who pitched Tuesday. The Cubs don't know what they'll get the other days of the week, but right now Lester is on his game.
"That's classic stuff," Maddon said. "He just kept on getting better."
At least Cubs nation can celebrate one win Tuesday -- although second place in a dancing competition isn't all that bad either.
May, 23, 2017
May 23
10:07
PM CT
ESPN.com news services
NFL running back Rashad Jennings and partner Emma Slater won the "Dancing with the Stars" finale on Tuesday night, beating former Chicago Cubs catcher and current ESPN analyst David Ross and Lindsay Arnold.
Fifth Harmony singer Normani Kordei and pro dancer Valentin Chmerkovskiy finished third in the wrap-up of the show's 24th season.
The 32-year-old Jennings, a free agent, spent the previous three seasons with the New York Giants.
The winner was chosen based on viewer votes and judges' points from last week and Monday, combined with judges' points from Tuesday night's 24-hour challenge.
Jennings later tweeted that he never would have imagined he'd appear on the show, let alone win the whole thing. Ross wrote that he "couldn't be happier" for Jennings and Slater.
Jennings follows in the footsteps of previous DWTS winners who played in the NFL: Emmitt Smith, Hines Ward and Donald Driver. Also in past seasons, Jerry Rice finished second, Calvin Johnson took third and Lawrence Taylor placed seventh.
At Wrigley Field on Tuesday night, not long after the Cubs' victory, players gathered around clubhouse TVs waiting for the DWTS winner to be announced.
Ross has taken some ribbing for participating on the program, and as the final commercials aired, the locker room mindset had changed little, if at all. Even Ross' close friend Jon Lester -- who had just pitched a complete game -- couldn't help himself.
May, 23, 2017
May 23
9:23
PM CT
Associated Press
CHICAGO -- Jon Lester pitched a four-hitter for Chicago's first complete game of the season, and the Cubs beat Johnny Cueto and the San Francisco Giants 4-1 on Tuesday night in a rainy rematch of last year's playoff opener.
Anthony Rizzo hit a two-run homer as Chicago improved to 5-2 on its nine-game home stand. Kyle Schwarber and Jason Heyward also connected, helping the Cubs bounce back from their 6-4 loss to the Giants on Monday night.
Lester and Cueto hooked up in a memorable pitchers' duel in Game 1 of the NL Division Series last October, with Chicago winning 1-0 on Javier Baez's eighth-inning homer. The Cubs eliminated the Giants in four games and went on to their first World Series title in 108 years.
Lester (3-2) was sharp once again in the low-profile reunion. Cueto (4-4) was just OK, striking out eight in six innings, but surrendering each of Chicago's three homers.
May, 23, 2017
May 23
6:50
AM CT
Daniel Bartel/Icon SportswireWillson Contreras has already matched his pickoff total from last season while throwing out 37 percent of would-be base stealers.
CHICAGO -- Cincinnati Reds outfielder Scott Schebler had no chance.
It was the fourth inning at Wrigley Field, and he had just walked. He wanted to steal on Chicago Cubs pitcher John Lackey and catcher Willson Contreras, but he got a bad jump and stopped, caught in no man's land. Before he knew it, the ball was in first baseman Anthony Rizzo's glove, and Conteras had earned his fourth pickoff of the season.
"I would say he [Contreras] has a really good arm," Schebler said the next day. "The accuracy is more impressive than the arm strength. It kind of seems like he puts it right on the button. ... You take notice in your secondary [lead]. And you're a little more aware. You're heading back to the base a little quicker or at least turning your head."
It didn't work out for Schebler, but he shouldn't feel so bad. He isn't alone. Contreras already has matched his pickoff total from last season while throwing out 37 percent of would-be base stealers. That's about 10 points higher than the league average. And he's only getting better.
You won't be surprised to learn the biggest beneficiary of the strong-armed catcher. It's a certain lefty starter for the Cubs who gave up a major-league-high 44 stolen bases two seasons ago.
"His talent speaks for itself," Jon Lester said Monday. "Right now, you're seeing the raw version. You're going to have some mistakes and some over-aggressiveness to show off that arm. Kind of like a young Pudge [Ivan Rodriguez] back in the day. Just throw to throw.
"What's impressive is how accurate he is. He has a longer arm swing than most catchers. He's able to make up for that with the accuracy and strength of his arm."
Contreras is only part of the reason Lester has been tougher to steal against. Last year, with David Ross behind the plate, the opposition swiped only 28 bases off Lester, down from that league high of 44. As he takes the mound Tuesday against the San Francisco Giants, he's on pace to give up just 21 steals, and he and Contreras have combined for a whopping 54 percent caught-stealing percentage. That's 26 points better than the league average.
"I think Jon is doing a better job stepping off and/or going faster to the plate," Rizzo said. "And then there is Willy."
"Willy" has no fear. He'll fire down to second even when it looks like the runner has the base stolen, or he'll laser one to Rizzo from his knees. Contreras loves to back pick and is always ready to take a shot, especially when Lester pitches.
Contreras was asked if he is the main reason for the fewer stolen bases against the Cubs lefty.
"I would not take credit for it," he said with a smile. "I tell him before the game, 'You know they're going to take a big lead on you, and you know they will start running, but if you have a good time to home plate, I'll throw him out.' He's been great stepping off the rubber. That's been huge for us."
It's driving the opposition crazy. Many prepare to play the Cubs by thinking that they can steal on Lester, but unlike a couple of seasons ago, few are figuring out how to do it right.
"Everyone is trying to crack the code," Schebler said. "You would think you would be able to steal a base off Lester, but obviously, it hasn't been very easy."
Think about that statement compared to what players were saying -- and doing -- in 2015. It's hard to steal on Lester?
"If I was a runner, I would take a secondary step without a huge lead because if you take a huge lead and then a secondary lead, you're going to get picked off," Contreras said. "Or Jon is going to step off and throw your timing off."
It's not always pretty with Contreras, as evidenced by his eight errors -- five of which have come via his strong arm. There was even one on a dropped third strike, which would have ended a game in St. Louis; luckily, the Cubs got the next batter. It's safe to say Lester isn't wrong in calling Conteras "raw."
"The difference between him and [David Ross] was maturity," Lester said. "Ross picked his spots. ... Willy is so young and eager that sometimes it gets him in trouble, but more times than not, it benefits us. It not only shortens those guys up on the bases, it doesn't allow them to get the jumps they normally get."
The trickle-down effect when Contreras shows up on the scouting report for the opposition even extends around the diamond, according to Lester.
"It gives our infielders that extra split-second to turn that double play or do whatever," he said. "It shortens guys up. ... When guys are second-guessing themselves, it's an advantage for us. It's little things like that that make us all better."
By now, Rizzo knows most of the moments when Contreras might throw to him. The two have a pre-pitch signal for when runners are inching toward bigger leads or secondary leads. But in Schebler's case, the play opened up for them only after a bad jump on a failed steal attempt. This is where Contreras is growing as a catcher. He saw Schebler hesitate and reacted.
"With a righty, I have the view and time to see if he's too far off," Contreras said. "Rizzo is going to be ready all the time. ... With Lester, I'll be ready to throw, and when Lester is pitching, I just ask him for a good pitch to the plate."
Lester's savvy on the mound combined with the emerging chemistry between Contreras and Rizzo is giving runners something to think about while also allowing the pitcher's pickoff issues to continue to fade into the background.
"With Lester on the mound, they do keep you honest," Schebler said. "That's why it's worked so well for them -- because you know you can get that big lead, and then you have to get back to the base.
"You can take that massive primary lead, but it kind of defeats the purpose of a secondary. You have nowhere to go, and you want your momentum going the right way. ... It's working."