July, 26, 2017
Jul 26
11:55
PM CT

By Jesse Rogers
ESPNChicago.com
Archive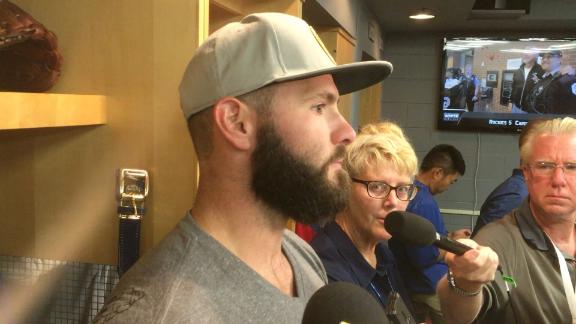 CHICAGO -- Another quality start by Chicago Cubs righty Jake Arrieta on Wednesday night, against the crosstown White Sox, further cements the notion that his team isn't in any desperate need of a trade-deadline hurler to complete its rotation.
Arrieta took a no-hit bid into the fifth inning and gave up just two hits overall before giving way to reliever Mike Montgomery in the seventh. The Cubs rolled into first place in the National League Central with a 8-3 victory over the White Sox.
In Arrieta's previous four starts, opponents were hitting just .174 off him, and that number took another dive as he gave up very little hard contact in this one. A one-out double in the fifth and a solo home run to uber-prospect Yoan Moncada in the seventh were all he surrendered. Arrieta looks closer to the 2015 version of himself who won the Cy Young Award than he has in a long time. At the very least, he's pitching as well as he did during portions of 2016, when he won 18 games.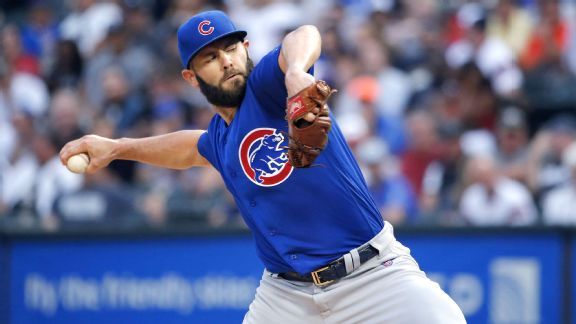 Charles Rex Arbogast/AP PhotoJake Arrieta allowed just two hits in 6 2/3 innings Wednesday to keep up his fine July form.
Although the Cubs could still grab a starter such as Justin Verlander, who can help them in the coming years, they have enough in the rotation right now to win the division. With Wednesday's victory, they unseated Milwaukee to take sole possession of first place for the first time since May 26.
"We expect to remain in first place throughout the remainder of the way," Arrieta said.
But that doesn't mean the Cubs are finished dealing. Their needs continue to center on the bullpen, which has shown cracks at the time when the rotation has carried them. Montgomery gave up a home run and was in trouble in several innings Wednesday.
Monday's trade deadline is fast approaching, but right now, the Cubs can celebrate their return to first place, as they've made up six games on the now-second-place Brewers since the All-Star break. A series in Milwaukee looms this weekend. The Brewers will miss Arrieta, and that might be the best news they receive.
July, 26, 2017
Jul 26
11:10
PM CT
Associated Press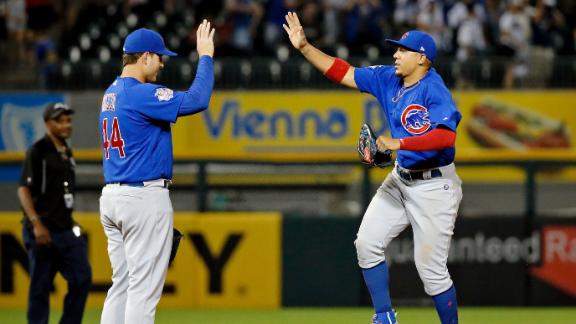 CHICAGO -- Jake Arrieta pitched two-hit ball into the seventh inning, and the Chicago Cubs beat the Chicago White Sox 8-3 on Wednesday night to move into first in the NL Central.
After a disappointing start to the season, the Cubs (53-47) are roaring again. The reigning World Series champions moved a season-high six games over .500 and a half-game ahead of Milwaukee after trailing the Brewers by 5 1/2 games just two weeks ago.
Anthony Rizzo had three hits and four RBI, helping the Cubs improve to 10-2 since the All-Star break. Addison Russell hit a solo homer in the ninth, and Kyle Schwarber, Ben Zobrist and Jon Jay each drove in a run.
After finishing their series against the last-place White Sox on Thursday night, the Cubs visit Milwaukee for a three-game set this weekend.
Top prospect Yoan Moncada hit his first career homer and Alen Hanson also went deep, but the White Sox lost for the 11th time in 12 games. Third baseman Yolmer Sanchez committed a costly error and James Shields (2-3) lasted just four-plus innings.
July, 26, 2017
Jul 26
2:47
PM CT
ESPN.com news services
Jon Durr/Getty ImagesBrett Anderson has a history of injuries, including two back surgeries.
The Chicago Cubs activated left-hander Brett Anderson from the 60-day disabled list and designated him for assignment on Wednesday.
Anderson had been placed on the disabled list in May with a back strain and then transferred to the 60-day disabled list a month later.
The 29-year-old veteran was 2-2 with a 8.18 ERA in six starts this season, his first with the Cubs.
He is 40-45 with a 3.99 ERA in 133 career appearances (121 starts) for the Oakland Athletics, Colorado Rockies, Los Angeles Dodgers and Cubs.
He had signed a one-year, $3.5 million contract with the Cubs in January.
July, 26, 2017
Jul 26
2:35
PM CT
By ESPN.com
ESPNChicago.com

Rich Graessle/Icon SportswireThe Cubs are reportedly among the teams who've shown interest in Seth Lugo.
The Chicago Cubs are among several teams that have inquired about New York Mets right-hander Seth Lugo, according to ESPN's Jerry Crasnick. The Mets aren't motivated to deal Lugo yet though, Crasnick reports, as the 27-year-old starter is one of New York's few healthy arms and has pitched well lately.
In eight starts this season, Lugo is 5-2 with a 4.10 ERA. He is coming off three straight quality starts in games against the Colorado Rockies, St. Louis Cardinals and San Diego Padres. Noah Syndergaard, Matt Harvey, Zack Wheeler and Robert Gsellman all remain on the disabled list for New York.
The Cubs love Lugo's spin rate and think he has breakout potential, notes Crasnick. Chicago's 41 quality starts this season are tied for 21st in the majors.



-- John Wilmhoff
July, 26, 2017
Jul 26
10:34
AM CT
By ESPN.com
ESPNChicago.com

Dave Reginek/Getty ImagesRene Rivera has spent the last two seasons with the Mets and is hitting .245 in 46 games in 2017.
The Chicago Cubs are among the teams that have called the New York Mets about catcher Rene Rivera, reports Mike Puma of the New York Post.
The 33-year-old Rivera, a free agent after the season, owns a .245/.291/.395 slash line with six homers and 20 RBIs in 46 games this season.
The Cubs are believed to be in the market for a veteran catcher behind Willson Contreras following the messy departure of Miguel Montero earlier this month.
Rivera is among a host of veterans being shopped by the Mets in advance of this Monday's non-waiver trade deadline, a list that includes -- among others -- reliever Addison Reed, outfielders Curtis Granderson and Jay Bruce and infielder Asdrubal Cabrera.
-- Doug Mittler
July, 25, 2017
Jul 25
6:19
PM CT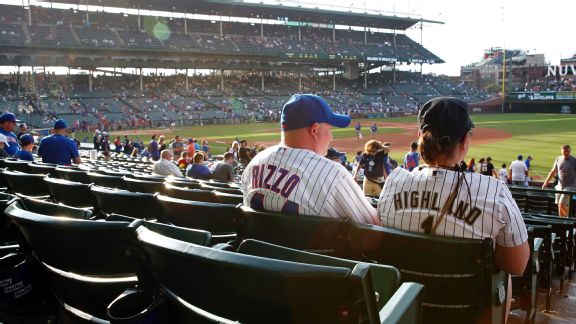 Caylor Arnold/USA TODAY SportsIf the White Sox can rebuild as quickly as the Cubs did, we could see an all-Chicago World Series as soon as 2020 or 2021.
White Sox fans had 11 years to hold their 2005 World Series title over the heads of their Cubs fan friends, but that ended with the North Siders' curse-breaking championship last fall. Maybe you had to be in Chicago to sense it, but I definitely got the impression that was the worst part of the 2016 season for the Sox fan base.
There is one bit of bragging rights that the White Sox have held for much longer. In fact, it will be 111 years and counting by the time this season draws to a close. That is, the franchises have met in the World Series exactly one time, in 1906, and it was the White Sox who won that championship. Strange how you never hear that mic-dropped into friendly bar spats in Chicago. Where is the sense of history?
The avalanche of adoration that has showered the Cubs the past couple of years has left a lot of Sox fans feeling left out, kind of like Jan from "The Brady Bunch." It didn't help that the South Siders were one of the less interesting teams in baseball last season: not terrible, not contenders, with a long-term prospectus of paddling right down the middle for the foreseeable future.
However, White Sox general manager Rick Hahn flipped the script last winter, when he embarked on a rapid-fire rebuilding project that has given his organization one of the top farm systems in baseball. It has been a stunningly fast turnaround that plenty are comparing to the pivot the Cubs made a few years ago when Theo Epstein and Jed Hoyer arrived in town. The White Sox version feels like it is unfolding even faster than the Epstein rebuild, which included not just an overhaul of talent but also a complete rewriting of every baseball-related system in the Cubs organization, from Mesa to Wrigleyville. Before the 2016 season, ESPN's Keith Law ranked the ChiSox system at No. 22
July, 25, 2017
Jul 25
8:32
PM CT

By Jesse Rogers
ESPNChicago.com
Archive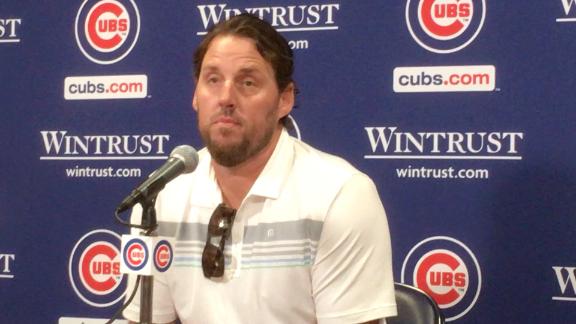 CHICAGO -- If Chicago Cubs president of baseball operations Theo Epstein and general manager Jed Hoyer plan to add one more starting pitcher before next Monday's non-waiver trade deadline, it sounds like it would be a surprise to manager Joe Maddon. Perhaps they would bring Maddon into the fold when things got close, but right now, Maddon isn't considering the possibility.
"I really think what we need is right here," Maddon said before Tuesday's 7-2 win over the White Sox. "I think the guys have been trending in the right direction. ... If you bring someone else in, a lot of moving parts would have to occur for something like that. That has not been part of my discussion with Theo and Jed at all."
Maddon is right in one respect: The Cubs have enough in their rotation right now to win their division. That includes John Lackey, who won his seventh game Tuesday while lowering his ERA under 5.00 for the first time in a month. You can view his four hit batters on Tuesday -- three of which came in one inning -- as a negative, but he gave up only two runs over five innings. He'll take the positives in that.
"Still have to make a pitch," Lackey said of loading the bases by hitting the three White Sox players. "Still one pitch away from getting out of it."
He made that pitch to Tim Anderson in the fifth inning, inducing a groundout to strand all three runners. Sure, Lackey is the first Cub to hit four batters in a game since 1957. But what's the difference if none of them scored?
"He's trying to be too fine sometimes," Maddon said. "He's the guy that normally challenges anybody and everybody. John knows what he's doing out there. I always trust what he's doing out there. I think he got a little too fine."
Lackey added: "It's a pretty extreme swinging team. You have to go to some extreme zones. Just trying to get the ball in deep on a couple guys."
The White Sox responded in kind when Cubs rookie Ian Happ was hit by a pitch to lead off the next inning. But that was OK with all parties involved, as only warnings were issued. There were no ejections or injuries incurred.
"That's the way the game used to be played," Lackey said. "I wasn't trying to hit anybody, but I totally get the other side too."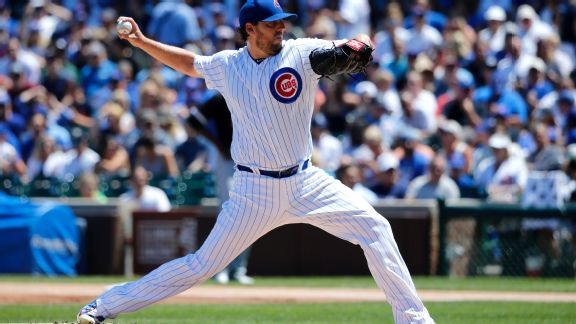 AP Photo/Charles Rex ArbogastIt was a weird outing Tuesday -- five innings, two runs, five strikeouts, four hit batsmen -- but one that still lowered John Lackey's ERA.
Lackey left after allowing the first two batters on base in the sixth, but his pitching line was saved when reliever Carl Edwards Jr. escaped the jam unscathed. And that's the bottom line with Lackey right now: It isn't going to be pretty, but he can still get the job done as the No. 5 pitcher in the rotation.
With two months left in the season -- and reinforcements coming with expanded rosters in one month -- the Cubs are in a fine position, even if they don't trade for another starter. If they do, it would be about next year as much as this one, just like with the Jose Quintana deal. Don't think the Cubs will be renting anyone this time around.
"We have not even discussed that," Maddon said.
Not only did the Cubs survive Lackey's hitting four batters, but they also made it without Kris Bryant, who was ejected for the first time in his career. Meanwhile, infielder Javier Baez became the first Cubs player since 2008 to strike out five times in one game. Even so, the Cubs won by five runs.
Perhaps that's the best sign that the Cubs have turned things around. It can go badly for a few guys, but they still came out on top. As for adding a sixth man to the rotation, Maddon just moved one starter back to the bullpen, so the Cubs have some depth there. Maddon thinks the Cubs have plenty for the stretch run.
"I still consider [Mike] Montgomery a highly viable person for that particular role," Maddon said. "That's [trading for a starter] not been strongly circulated right now, so it's hard for me to create conjecture."
July, 25, 2017
Jul 25
5:09
PM CT
Associated Press
CHICAGO -- Willson Contreras drove in four runs and Carl Edwards Jr. provided some timely relief, helping the Chicago Cubs beat the Chicago White Sox 7-2 on Tuesday.
Ben Zobrist reached four times from the leadoff spot as the Cubs won for the ninth time in 11 games since the All-Star break. John Lackey (7-9) became the first major leaguer to hit four batters in two years, but managed to get into the sixth inning for his second straight victory.
The last-place White Sox were unable to overcome a strange performance by Carlos Rodon (1-4) in their 10th loss in 11 games. The left-hander matched a career high with 11 strikeouts and smacked a two-run double for his first career hit, but lasted just four innings in his third straight loss.
July, 25, 2017
Jul 25
3:46
PM CT
Caylor Arnold/USA TODAY SportsKris Bryant argued a strike three call from umpire Lance Barksdale in the bottom of the fourth inning as the 2-2 pitch from Carlos Rodon looked inside.
CHICAGO -- Reigning National League MVP Kris Bryant was ejected from a game for the first time in his career, and both benches were warned after a series of hit-by-pitches between the Chicago Cubs and Chicago White Sox on Tuesday.
The Cubs defeated the White Sox 7-2 despite striking out 17 times.
Bryant argued a strike three call from umpire Lance Barksdale in the bottom of the fourth inning as the 2-2 pitch from Carlos Rodon looked inside. It was Bryant's third strikeout of the day, all coming with runners in scoring position. He argued for a moment, then began to walk away before saying something that got him kicked out.
After the game, Bryant said he was surprised by the ejection.
"It was a disagreement but I don't think it was too animated," he said. "I know [Barksdale] is trying to do the best job he can. I'm trying to do the best job I can. I feel like I only want to say something when I know for a fact [the call was bad].
"I had to do it. I had to stick up for myself."