May, 24, 2017
May 24
5:55
PM ET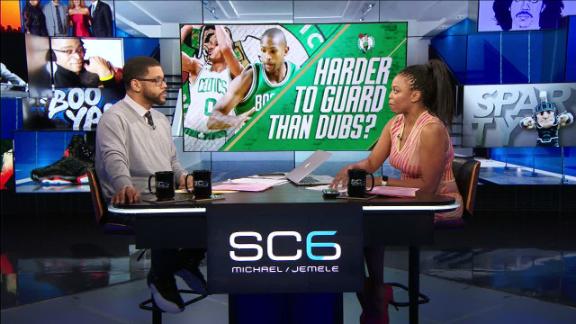 BOSTON -- The Cleveland Cavaliers might be one win away from facing the Golden State Warriors in the NBA Finals for the third straight season, but Cavs coach Tyronn Lue said his team's current opponent in the Celtics is enough of a handful.
"I don't even think about them," Lue said of the Warriors to a small group of traveling Cleveland beat writers following the Cavs' Game 4 win Tuesday. "We're just focused on Boston. The stuff they're running, it's harder to defend than Golden State's [offense] for me, as far as the actions and all the running around and all the guys who are making all the plays, so it's a totally different thing."
Wait, the Isaiah Thomas-less 53-win Celtics are harder to defend than the Kevin Durant-supercharged 67-win Warriors? Come again, Coach?
"Like, they hit the post, Golden State runs splits and all that stuff, but these guys are running all kinds of s---," Lue said of Boston coach Brad Stevens' schemes. "I'll be like, 'F---.' They're running all kinds of s---, man. And Brad's got them moving and cutting and playing with pace, and everybody is a threat. It's tough, you know, it's tough."
Despite the challenge, the Cavs lead the Eastern Conference finals 3-1 and can close out the series with a Game 5 win at TD Garden on Thursday.
On the surface, Lue's claim sounds ridiculous, what with the Warriors trotting out two former MVPs in Durant and Stephen Curry