March, 30, 2017
Mar 30
12:11
AM ET
BOSTON -- Malcolm Brogdon gave heavy consideration to Butler University before committing to Virginia in 2011. There was one thing that left him leery about playing for the Bulldogs: Brogdon was concerned that then-Butler coach Brad Stevens might not be around for his entire college career.
"I knew he was a terrific coach," Brogdon said. "The problem is I didn't know how long he was going to be there for. That was really one of my deciding factors why I didn't go to Butler. A year or two later, he left for the NBA. So maybe it was a good decision."
As certain as Brogdon was that Stevens would ultimately ascend to a higher level, Stevens said he believed Brogdon had an extremely bright future as well. Six years removed from those recruiting trips, their paths crossed again Wednesday night in Boston and it was Brogdon, the 24-year-old rookie, who made a series of key fourth-quarter shots to lift the surging Milwaukee Bucks to a 103-100 victory over the East-leading Boston Celtics at TD Garden.
"He's not a rookie," Stevens said after Brogdon scored six of his 16 points in the final quarter, including a huge jumper over Avery Bradley with 3.9 seconds left. "And I say that with complete respect to him. Like that guy, he knows how to play. He's known how to play for a long time. He was a tremendous college player who was an ultimate winner and he's just picked right up where he left off."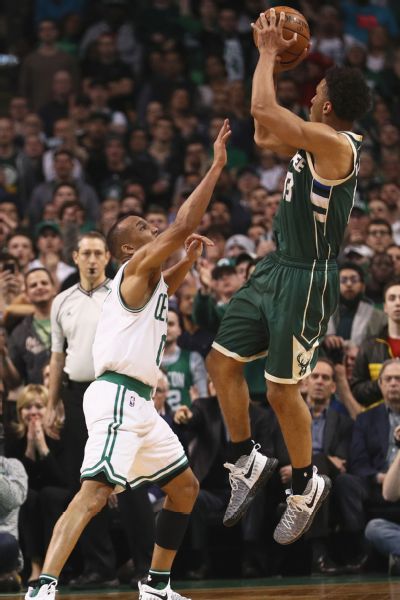 Maddie Meyer/Getty ImagesMalcolm Brogdon hit a key shot with seconds left, allowing the Bucks to steal a key road win over Boston.
Just two days after elevating to sole possession of first place in the Eastern Conference, the Celtics slipped back into a virtual tie with the Cleveland Cavaliers. Maybe the biggest silver lining for Boston is that Milwaukee's win makes it more unlikely that the Celtics and Bucks will cross paths in the playoffs, as Milwaukee's length created all sorts of problems for Boston on Wednesday.
After pulling to within one with 28 seconds to play, the Celtics elected to play for a final stop. Late in the clock, Brogdon tried to drive from the top of the arc but Bradley shuffled with him and bumped him outside the paint. Bradley then swarmed and tried to pry the ball free but Brogdon managed to elevate with under a second on the shot clock and splashed a 16-foot jumper while fading away.
The sequence at first looked a little bit like the Bradley vs. Kyrie Irving battle back at the start of the month, when Bradley's defense helped Boston emerge with a key victory over the Cavaliers.
Boston's final gasp fizzled when Marcus Smart's inbounds pass was tipped by Greg Monroe. Smart then was way off with a buzzer-beating heave after Isaiah Thomas managed to tap the ball to him. A frustrated Thomas, who Smart had been trying to work the ball to, wrestled off his headband in frustration after the Celtics missed an opportunity to assert themselves atop the East.
"It's frustrating, but we've got to move on to the next one," said Thomas, who scored a game-high 32 points. "We've got six or seven games left. We can't dwell on this loss. We have to figure out the things we didn't do well tonight and get better at them."
Brogdon spent much of his night chasing Thomas and trying to make things as difficult as possible -- no easy task for a rookie. But it was Thomas who came away offering big praise.
"[Brogdon] made a few plays down the stretch that were big for them," Thomas said. "That [last] shot, I don't even think he thought it was going in. We played pretty good defense and it was a shot he had to shoot, so you've got to give credit to him and the Bucks."
Brogdon's heroics and Boston's inability to get the ball to Thomas for a final shot spoiled a night in which Thomas etched his name on a couple of more entries in Boston's record book.
With 20 first-half points, Thomas became only the sixth player in Celtics history to produce a 2,000-point season, joining Larry Bird (4), Paul Pierce (4), John Havlicek (2), Sam Jones (1), and Kevin McHale (1).
If Thomas plays in all seven of Boston's remaining regular-season games, he has a chance to finish in the top 5 for most points scored by a Celtic in a season. Havlicek holds the team record with 2,338 during the 1970-71 campaign, and Bird holds the next two spots (2,295 in 1984-85 and 2,275 in 1987-88).
Thomas is already on pace to finish with the second-highest scoring average in team history. He's averaging 29.2 points this season, trailing only Bird's 29.9 during the 1987-88 season.
Thomas also set a Boston record for 3-pointers in a season, connecting on five triples to push his season total to 223. That topped the previous record of 222 set by Antoine Walker during the 2001-02 campaign.
But on this night, Brogdon and his impossibly poised play was the story for a Bucks team that has won seven of its past 10 games and is now tied with the Atlanta Hawks for the fifth spot in the East with seven games left.
"That's a tough [last] shot; Avery was all over him," Boston forward Jae Crowder said. "It was very unfortunate, but [Brogdon] had got downhill a few times before, got a little confident, and made a tough shot.
"I think [Brogdon is] special. He's a good player. He's got great size on him, he's very smart, and very savvy."
Told of Stevens' praise and how adamant the coach was that Brogdon doesn't act like a rookie, Brogdon admitted his four years at Virginia put him in a position to contribute more than your average teenage rookie.
"I think college has helped me. Playing four years of college, you learn a lot, you learn more about yourself than anything," said Brogdon, who has muscled his way into the rookie of the year conversation. "You have an identity to lean on and a strong foundation coming into the NBA."
During the 2016 NCAA tournament, it was Brogdon who helped Virginia beat Stevens' beloved Butler to advance to the Sweet 16. But even that couldn't stop Stevens from gushing about Brogdon on Wednesday night.
"He has been a winner from Day 1," Stevens said. "I'm not surprised by Malcolm Brogdon at all. ... He's an impressive young man."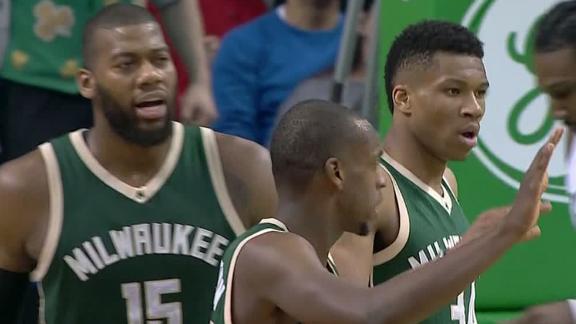 March, 29, 2017
Mar 29
10:26
PM ET
Associated Press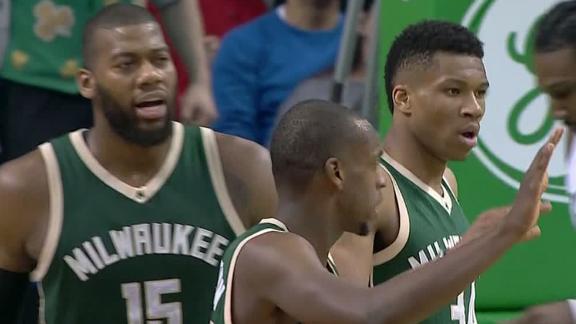 BOSTON -- Giannis Antetokounmpo had 22 points and nine rebounds, and the Milwaukee Bucks knocked the Boston Celtics out first place in the Eastern Conference with a 103-100 victory on Wednesday night.
Malcolm Brogdon, one of the leading contenders for NBA Rookie of the Year, finished with 16 points and nine assists. He had six key points in the final 2:46 to help Milwaukee fend off a late Boston charge.
The Bucks (39-36) have won five of six, including four straight on the road.
March, 29, 2017
Mar 29
7:00
AM ET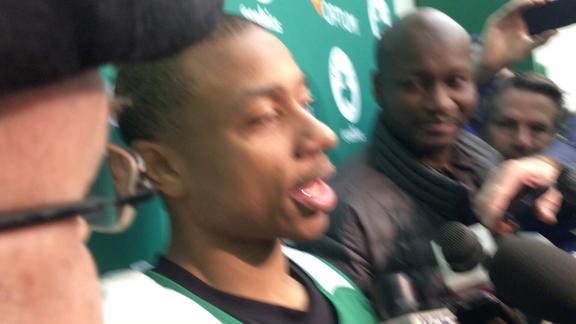 WALTHAM, Mass. -- The Boston Celtics seem fueled at times by disrespect and doubt. As such, it was fair to wonder how the team would respond to reaching the top spot in the Eastern Conference for the first time in six years.
Maybe not surprisingly, Boston continues to embrace an us-against-the-world mentality, even as it controls its destiny in a quest to finish the regular season as the East's No. 1 seed.
All-Star point guard Isaiah Thomas and his teammates downplayed Boston's top billing on Tuesday while noting the nebulous nature of their half-game lead over the defending champion Cleveland Cavaliers. Yet Thomas balanced that by stressing that the Celtics remain underappreciated by a national media that is more focused on star-heavy teams such as the Cavaliers and Golden State Warriors.
"Man, nobody respects us," Thomas noted near the end of his six-minute chat with reporters after Boston's off-day practice. "Except our peers, the guys you play against, respect us. But when it comes to, like, national media, that's just what it is.
"We don't have LeBron James on our team. We don't have the Steph Currys and those type of guys. Not to throw shade at any of those guys, but that's just what it is. We're a group of guys who have been counted out our whole careers. We like staying under the radar. That's just who we are."
Taking over the top spot in the East has done little to chisel at the chips on the shoulders of these perpetually motivated Celtics.
Do not misinterpret: Thomas said he believes that the Cavaliers will pull themselves from their late-season funk. He stressed that the road to the NBA Finals goes through Cleveland. He noted that the Celtics still have to prove they can win in the postseason after first-round exits the past two seasons and admitted that he hasn't yet proven that he can win in the playoffs.
But having finally ascended to the top of the East, with little more than two weeks remaining in the regular season, Thomas simply asserted that Boston has earned its lofty position.
"S---, the numbers don't lie," he said. "We're right there with all the tops teams in the NBA. I mean, we are a top team."
Thomas made sure to also stress that the Celtics are not celebrating this brief arrival at the peak of the East: "We're chasing something bigger."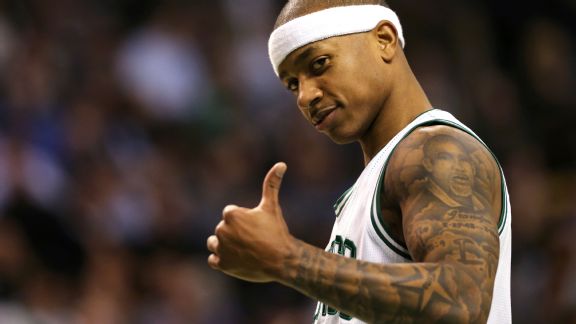 Maddie Meyer/Getty Images"We're a group of guys who have been counted out our whole careers," Isaiah Thomas said. "We like staying under the radar. That's just who we are."
As they have throughout their climb to the top spot, the Celtics remained on-message when asked Tuesday about finally leapfrogging Cleveland. Coach Brad Stevens and his players said the team's focus is on making the necessary strides to be playing their best basketball when the postseason arrives.
"We're showing flashes of what we can be as a team," Avery Bradley said. "We just need to continue playing the right way, moving the ball around, defending with purpose. And that's the most important thing for us: worrying about what we can control.
"Every team in the NBA should want to be the best team in the NBA. We're showing that we can be if we're playing the right way, if we're playing the right kind of basketball. That's an accomplishment, to be the first team in the East. We understand that. But at the same time, we understand we could lose it tomorrow. So we just have to focus and worry about [Wednesday's] game, and everything will take care of itself."
Thomas noted that, until quizzed by reporters, players hadn't discussed taking over sole possession of the No. 1 seed in the East following Cleveland's lopsided loss Monday in San Antonio.
That's music to the Stevens' ears.
"[Being the No. 1 seed] doesn't mean a whole lot right now," he said. "Hey, the whole idea is to make progress and get better every day and try to stay in the moment. ... Ultimately, we've been able to grow and get a little better, but I still think we can play a lot better, and that's where my focus is, and I think we have to keep it there."
Even as the Cavaliers stumble through March, there's a lingering notion that the Cavaliers can crank it up in the postseason. If Cleveland elects to rest players over the final weeks of the regular season -- maybe even during the final head-to-head matchup with Boston on April 5 -- it might diminish Boston's achievement, as some will suggest the Cavaliers essentially ceded that top spot by choosing health over seeding.
That's just more fuel for these Celtics, more motivation to prove they are true contenders. But they can't answer those questions until the postseason. For now, they can only embrace their coach's message and try to finish the regular season as strong as possible.
Securing that top spot -- no matter the means -- gives Boston the best opportunity to achieve the postseason success it covets.
March, 28, 2017
Mar 28
9:29
AM ET
The Eastern Conference has a new leader after the Cleveland Cavaliers' 103-74 loss to the San Antonio Spurs on Monday night. The Cavs dropped to 7-10 in their past 17 games, surrendering the top spot in the East standings to the Boston Celtics, who've won seven of their past eight games.
The last time the Cavs didn't own at least a share of the best record in the East was November of 2015. For 129 straight days, the Cavs had held sole possession of the East's best record.
Whether you ask metrics or LeBron James himself, the Cavs could be in trouble. According to FiveThirtyEight, the Celtics have a 67 percent chance to finish with the East's top seed. "It's a delicate time right now for our team," James said after Monday's loss.
But what do you think about the Cavaliers and the Eastern Conference? How will it play out? Vote now!
The Cavs and Celtics will meet one more time in the regular season, in Cleveland, on Wednesday, April 5, at 8 p.m. ET on ESPN.
-- John Wilmhoff
March, 27, 2017
Mar 27
2:15
PM ET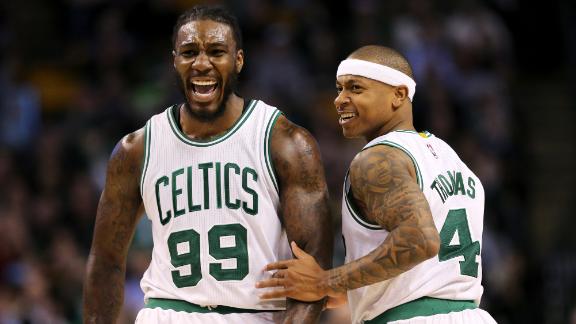 There are only 17 days left in the 2016-17 regular season, yet the muddled mess in the bottom half of the Eastern Conference playoff picture means there are still seven different potential opponents the Boston Celtics could see in the opening round.
While waiting for more clarity, Celtics fans are likely to immerse themselves in the race for the No. 1 seed, particularly in advance of the final head-to-head meeting with the Cleveland Cavaliers on April 5 in Boston.
Boston and Cleveland sat in a virtual tie atop the Eastern Conference entering Monday's action.
But which team should Boston be rooting for to line up with -- whether in the 1-8 or 2-7 matchup -- in the first round of the playoffs? Utilizing ESPN's Basketball Power Index to simulate all seven potential series, the results essentially suggested that Boston will be a heavy favorite against all possible opponents.
In fact, Boston's worst first-round odds, at least at the moment, are against the one team they are least likely to face (a Charlotte team that has just a 7.1 percent chance of grabbing one of the East's final seeds). Against the six other potential playoff foes -- Chicago, Atlanta, Detroit, Indiana, Miami, or Milwaukee -- Boston has no worse than a 74 percent chance at winning each series, based on BPI projections, with the Celtics emerging in five games as the most common result in each series.
A closer look at the odds of each series via BPI:
Who should Boston hope to match up with in the first round of the playoffs? BPI simulations suggest it really doesn't matter. pic.twitter.com/NmGOhU1Ylt

— Chris Forsberg (@ESPNForsberg) March 27, 2017
Maybe most surprising is that the Celtics' best odds are against the Hawks, a team that eliminated Boston from the opening round of the playoffs last season in six games. Atlanta's recent freefall likely contributes to those odds, but so does the fact that the Hawks lost a good deal of playoff experience from last season's team -- especially when Al Horford signed with the Celtics this past summer.
The Celtics have rarely made things easy on themselves this season, and it seems fair to assume Boston will not just breeze through the opening round. BPI's simulations merely suggest that there is no matchup that is overly daunting nor desirable based on the performance of these teams this season.
The Celtics are 17-4 against their possible first-round foes this season.
Though the Celtics, ousted in the first round of the playoffs the past two seasons, cannot simply assume a spot in the Eastern Conference semifinals, it is fair to wonder -- based on the first-round odds -- whether there is a preferred second-round opponent. There is something to be said for teams in the top half of the East jockeying for position such that -- if higher seeds advance -- they have a more ideal second-round foe.
According to BPI, the Celtics ought to desire to line up with the Washington Wizards over the Toronto Raptors, though these simulations also likely assume that Toronto would be at full strength. All-Star guard Kyle Lowry is currently sidelined with a wrist injury.
But BPI does think Boston should have a preference in Round 2 (especially if Toronto has a healthy Kyle Lowry) pic.twitter.com/hHxEfRhGKZ

— Chris Forsberg (@ESPNForsberg) March 27, 2017
About the only thing the Celtics can control over the next two-and-a-half weeks is their own playoff seeding. If Boston wins its final eight games, it will be the No. 1 seed. After Sunday's win against the Miami Heat, the Celtics pledged to stay focused on themselves and not how the Cavaliers or others are playing.
"Hopefully we can secure that spot and be No. 1, but we just have to control what we can control and take it game by game," said Celtics guard Isaiah Thomas. "We can't really worry about what Cleveland's doing and what other teams are doing if we control our own destiny at this point."
Added Amir Johnson: "Last year we were all into the standings and where we [were in the playoff picture]. Right now we're just on another level just focusing on the next game."
March, 26, 2017
Mar 26
11:19
PM ET
BOSTON -- There's an anticipation at the end of Boston Celtics games now, a suspense that builds as fans wonder how exactly Marcus Smart will find a way to overcome a poor shooting night to make the biggest play of the game.
It's happened so frequently this season that Celtics coach Brad Stevens has repeatedly stressed that he does not care if Smart ever scores because he's certain he will make big plays in key spots. The hashtag #winningplays is a familiar presence on social media and serves as an internet time stamp for Smart's game-changing moments.
It happened again Sunday night in a 112-108 win against the Miami Heat. The Celtics were clinging to a one-point lead with a little more than a minute to go when Jae Crowder front-rimmed a 3-pointer. The rebound shot up and ticked off the glass before starting its descent toward a pack of four players waiting near the charge circle.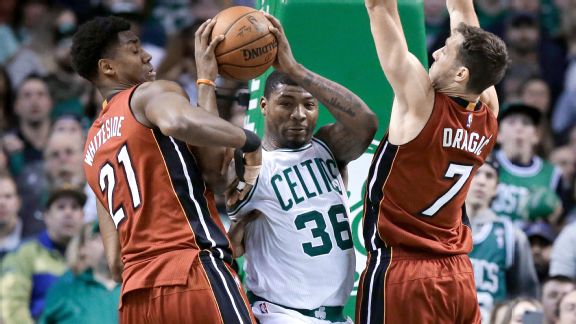 AP Photo/Steven SenneMarcus Smart has a knack for making the big plays when the game is on the line. Sunday's win against the Heat was no different.
There were three red shirts and one white jersey. That Smart, crashing the glass maybe even before Crowder's shot went up, was even able to corral the rebound was remarkable. Boston's 6-foot-4 linebacker of a guard fended off Goran Dragic with his right arm and, despite having 7-foot rebound magnet Hassan Whiteside on his other hip, reached up and snagged the rebound with his left arm.
Smart lost the ball trying to go back up with a shot and, after regaining control, turned to find himself swarmed by Dragic and Whiteside while falling backward on the baseline. Improbably, Smart side-armed a bounce pass that threaded four Heat defenders and found Isaiah Thomas at the top of the arc.
The 5-foot-9 Thomas pump faked then drove and muscled home a layup over Whiteside before flexing to the crowd as he made his way back up court. The Celtics held on from there and moved Boston into a virtual tie with the Cleveland Cavaliers atop the Eastern Conference standings.
"That's what Marcus does," Thomas said. "Especially when the game's on the line, he makes the biggest plays of the game. And that was a really big play.
"He got it out to me, I just wanted to be aggressive. Those are the times -- when you get and offensive rebound and you kick it out, those are the best times to be aggressive and to try to make another play. I tried to do the best I could."
Smart admitted he was pretty much blind while trying to launch the ball back out. He had an idea that Thomas and Crowder were open beyond the 3-point arc, but getting the ball there was a daunting proposition with Whiteside's long arms clogging most passing lanes.
"First I tried to go up with [the offensive rebound], but they're kinda big and they kinda swarmed me," Smart said. "I seen [Thomas and Crowder] at the top of the key and just had to make a pass. I really just threw it and was like, 'Whoever [can] get it, get it.' The right play was to kick it out, and that's what I did."
Smart finished 1-of-5 shooting with seven points. His only make was one of his typical end-of-the-quarter prayers (this time a running 26-foot 3-pointer to end the first quarter). Smart is far and away the team leader in taking low-percentage, end-of-quarter heaves when most other NBA players prefer to wait until after the horn in order to preserve their field goal percentages.
Smart was a minus-3 in 30 minutes of floor time on Sunday and yet had to be on the court in the final stretch when the Celtics went with a familiar small-ball lineup that pairs guards Thomas and Smart with Crowder, Avery Bradley and Al Horford.
Thomas scored a team-high 30 points and has now led the Celtics in scoring in the past 36 games he's appeared in. Crowder added 25 points while Horford flirted with a triple-double (7 points, 10 rebounds, 8 assists).
And then there was Smart, making all the little plays that won't always land in the highlights. Like with 20.6 seconds to play when Smart made sure to sell a push in the back while chasing a defensive rebound. Smart drew a whistle against Dragic for the sequence then made both free throws at the other end, albeit only after a video review confirmed that Whiteside goaltended the second attempt while trying to bring down the rebound before Smart's shot came off the rim.
Heat coach Erik Spoelstra's sideline reaction suggested he was downright pained when Smart got the foul call on the rebound. Smart has a propensity to embellish contact, though this was one of the less egregious cases. And Stevens doesn't let that flopping reputation take away from the gritty plays that Smart routinely makes.
"Marcus makes toughness plays all the time," Stevens said.
Smart is shooting just 29.8 percent from the floor and 17.6 percent from beyond the 3-point arc for the month of March. During Boston's current four-game winning streak, Smart is averaging 8.8 points on 23.5 percent shooting and is a minus-35 in his floor time.
But Stevens can't take him off the floor.
"You know what? I've said this before. Hey, Marcus could score 30 in a game and hit every shot, or he could score zero and not hit his shots, and his two biggest strengths are still his competitiveness and his brains," Stevens said. "He's really smart, and he's really tough. And those two things mean more than any points or no points that he could score.
"And so I don't even really think about [Smart's shooting struggles]. I just want him to continue to being a leader and being contagious and competing, and his savvy's really, really good, and we've talked about that since he's been here. He's got an understanding and instincts that are just really special."
Smart, who finished with a team-best nine assists Sunday night, said his focus is simply on making his teammates better.
"My thing is, I'm looking for guys. I'm passing really well," Smart said. "I try to make plays for guys. That's my main focus, to get other guys going.
"I can impact the game without scoring and things like that."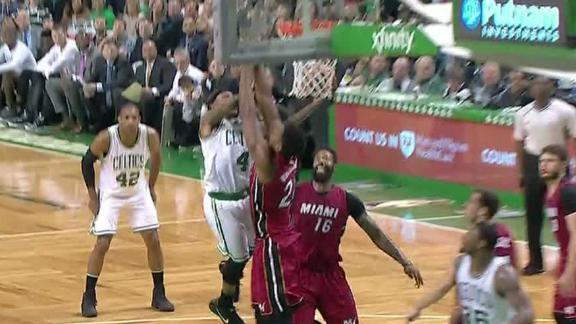 March, 26, 2017
Mar 26
9:08
PM ET
Associated Press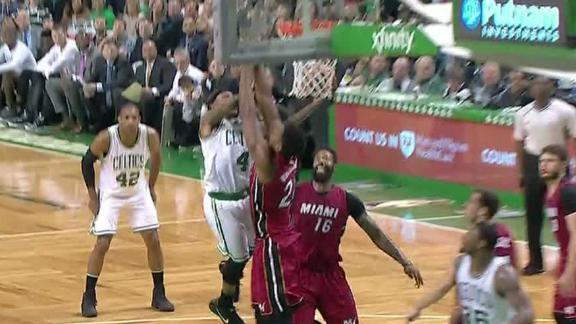 BOSTON -- Isaiah Thomas scored 30 points, including 20 in the second half, and the Boston Celtics beat the Miami Heat 112-108 on Sunday night for their fourth straight victory.
The win moved Boston within percentage points of Cleveland for the top spot in the Eastern Conference. The Celtics have one more victory than the Cavaliers, but also one more loss. Boston (48-26) also equaled its win total from last season.
Jae Crowder added 25 points and six rebounds for the Celtics.
Tyler Johnson had 24 points and James Johnson scored 20 for the Heat, who are a half-game ahead of the Bulls for the final playoff spot in the East. Chicago beat Milwaukee earlier in the day.