July, 20, 2017
Jul 20
5:22
PM ET
Mike Ehrmann/Getty ImagesShane Larkin, who last played in the NBA for the Brooklyn Nets during the 2015-16 season, will pass up a $6.3 million option in Europe in an effort to make the Celtics' roster.
The Boston Celtics will continue a feverish offseason roster overhaul by signing free-agent point guard Shane Larkin, according to a league source.
Larkin, the No. 18 pick in the 2013 NBA draft, played 72 games with Saski Baskonia in Spain last season and averaged 13.8 points and 5.4 assists. He elected to pass up a $6.3 million option to compete for a spot on a Boston roster that will now feature 16 guaranteed contracts.
Larkin, 24, last played in the NBA with the Brooklyn Nets during the 2015-16 season. His signing was first reported by David Pick.
The Celtics have already formally signed nine players this summer -- including All-Star Gordon Hayward and seven players on rookie deals -- revamping the roster of a 53-win team that advanced to the Eastern Conference finals.
July, 18, 2017
Jul 18
4:00
AM ET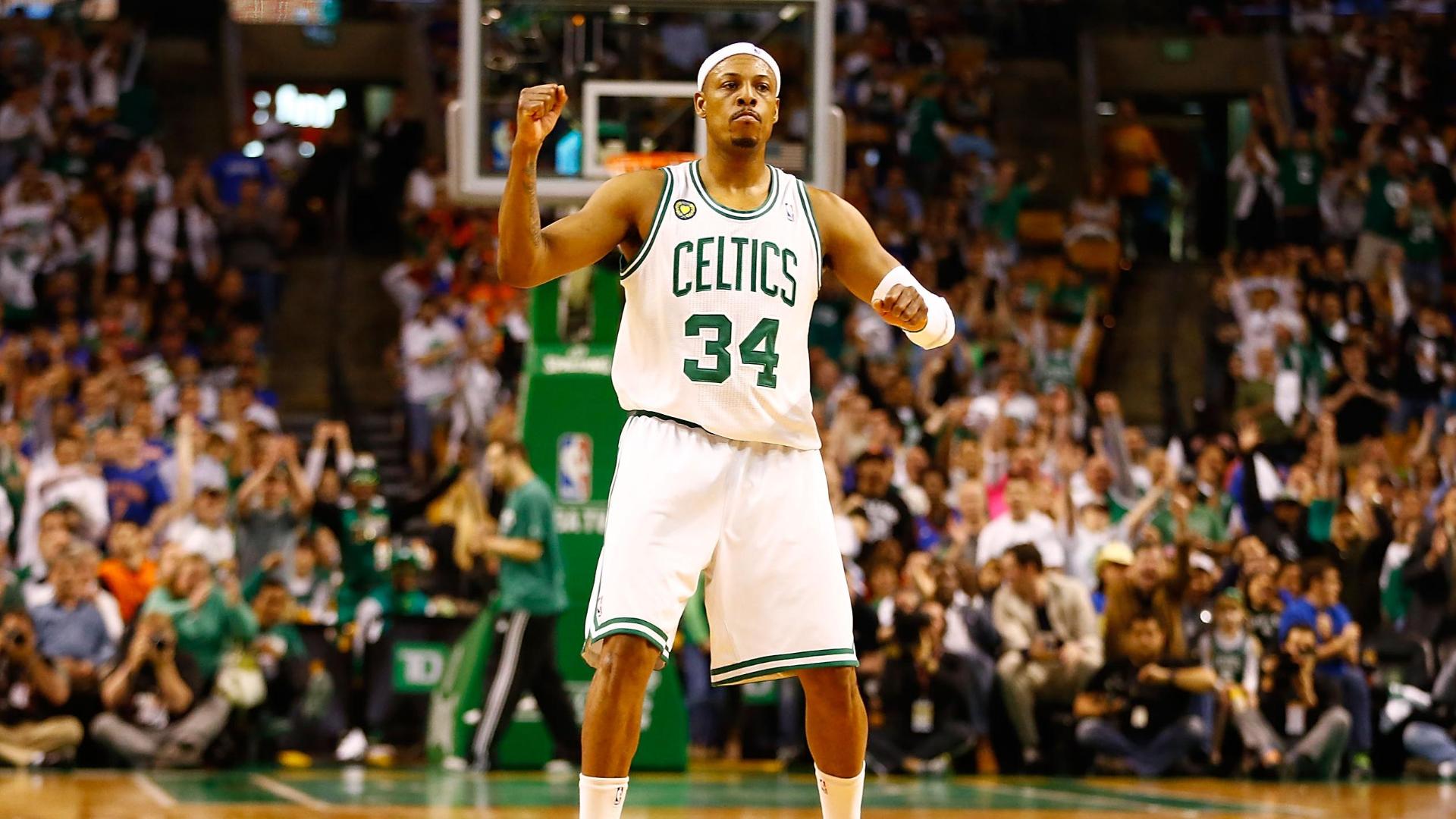 He showed up at his old haunt, the Boston Celtics practice facility in Waltham, Massachusetts, wearing a throwback Inglewood T-shirt and a pair of Brooklyn Nets basketball shorts.
"Hey Danny, see this?'' said Paul Pierce, tugging at the silver and black of the Nets. "This is where you sent me!"
Suffice to say, all is forgiven. Pierce followed Boston president of basketball operations Danny Ainge into his office, pulled on a Celtics green T-shirt and signed a one-day contract with the team that drafted him 19 seasons earlier. Then, once the paperwork was completed, Pierce officially retired.
"Like I said from the beginning,'' Pierce told ESPN on Monday night, "I always wanted to retire as a Celtic. We did it quietly. No need to make a spectacle out of it.''
So why the urgency to sign the one-day contract? Pierce said his East Coast jaunt will continue Tuesday morning as he drives to Bristol, Connecticut, to sign a deal with ESPN to begin his "second" career as a basketball analyst -- and, he hopes, a broadcaster.
"I'd like to do both,'' Pierce said. "That's why I signed the contract with Boston today. The minute I sign with ESPN, I'm officially retired.''
Pierce was greeted at the Celtics facility by some old familiar faces, including equipment manager John Connor, who rustled up an old pair of his signature Nike shoes and offered them to Pierce. He laced them up and hoisted a few 3-pointers for old time's sake. Pierce retires as Boston's all-time leader in 3-point field goals (1,823), free throws (6,434) and steals (1,583).
The 2008 NBA championship cemented his legacy in Boston and endeared him forever to a decidedly persnickety fan base.
July, 17, 2017
Jul 17
5:08
PM ET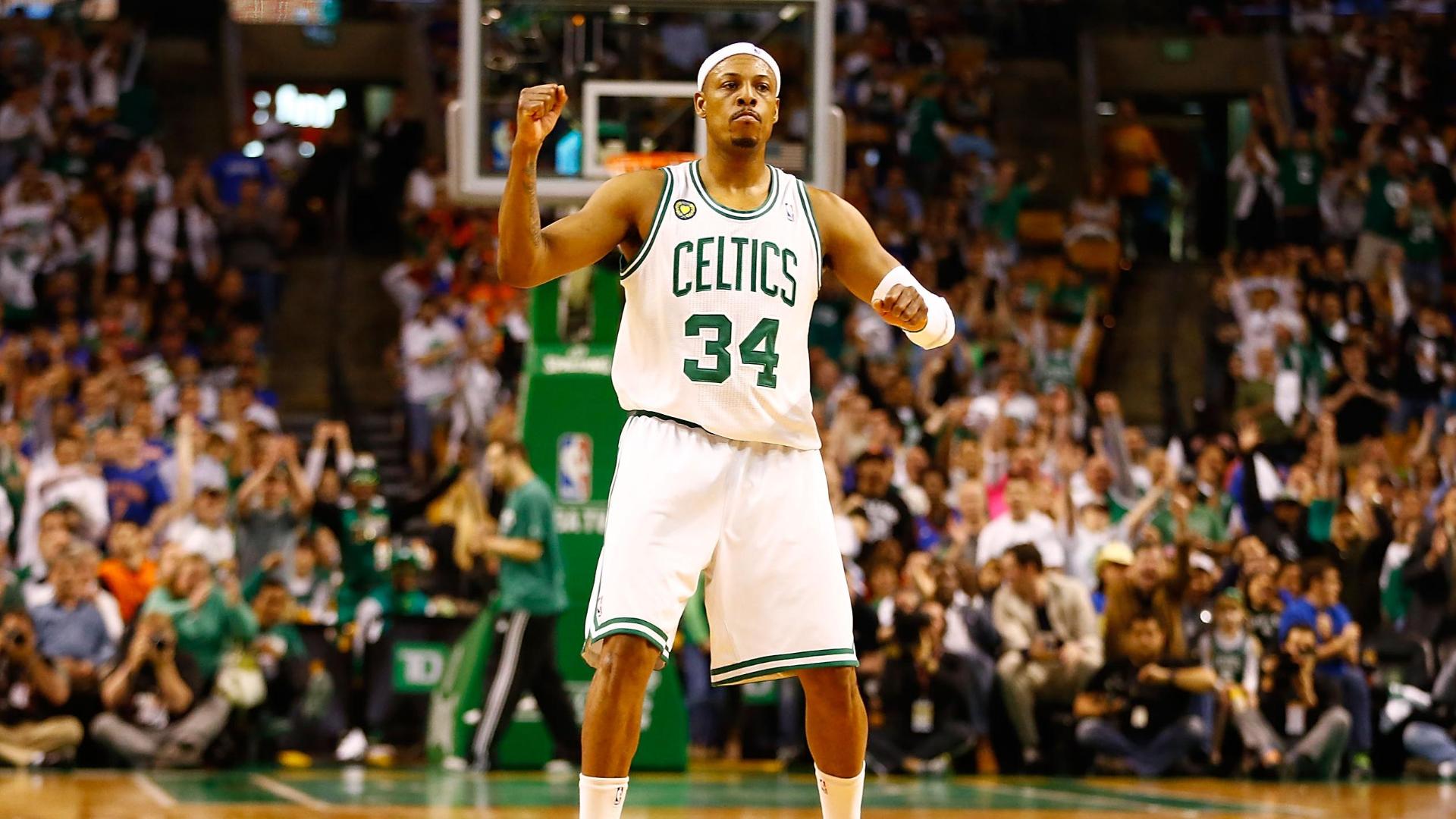 The Boston Celtics signed Paul Pierce on Monday so that he could retire as a member of the organization.
Pierce, a 10-time NBA All-Star, spent the first 15 years of his career with Boston, winning a title in 2008. In announcing Pierce's retirement, co-owner Wyc Grousbeck said Pierce's No. 34 will soon hang in the rafters at TD Garden.
"We're honored that Paul has chosen to retire as a Celtic. He is among the very best Celtics -- a champion on and off the court," Grousbeck said in a release. "We congratulate Paul on a Hall of Fame career, and look forward to seeing his number raised to the rafters of TD Garden."
The Celtics drafted Pierce with the 10th overall pick in 1998. He finished up his career playing for the Brooklyn Nets, Washington Wizards and Los Angeles Clippers.
"It's an honor to have this opportunity to once again call myself a Boston Celtic," Pierce said in the release. "The organization and city took me in and made me one of their own, and I couldn't imagine ending my career any other way. I'm a Celtic for life."
The Celtics have long planned to sign Pierce so that he could retire with the team and former coach Doc Rivers revealed those plans last summer as Pierce pondered his NBA future. Pierce elected to return for a 19th season and had an emotional final game at TD Garden in February, saying it felt like his true NBA sendoff.
The Celtics tweeted shots of Pierce signing his contract in Danny Ainge's office on Monday afternoon. They also showed Pierce suiting up in green practice gear and getting up shots at the team's practice facility.
July, 14, 2017
Jul 14
2:11
PM ET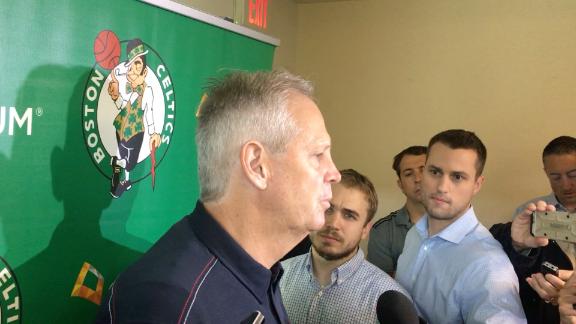 WALTHAM, Mass. -- Ten days after Gordon Hayward announced his decision to join the Boston Celtics, the team completed the necessary series of transactions that allowed Hayward to ink his four-year, $128 million maximum-salary contract on Friday.
Hayward announced his decision to sign with Boston on July 4 after visiting with the Celtics, Miami Heat and Utah Jazz at the start of free agency. The Celtics didn't enter the summer with enough cap space to sign Hayward to a max contract, so they worked recently to clear the space while trying to build the most competitive roster possible. The contract he signed Friday includes a $29.7 million first-year salary.
"The last couple weeks have been pretty crazy for me," Hayward said. "There was just something different about Boston and different about being a Celtic. It was just a special feeling when talking about being a Boston Celtic. And that ultimately won me over."
Joining Boston reunites Hayward with coach Brad Stevens, the former coach at Butler University who recruited Hayward and coached him at Butler. While Hayward acknowledged that his familiarity with Stevens made Boston feel that much more comfortable, Stevens said he focused on the future and not the past when pitching Hayward on joining the Celtics.
July, 14, 2017
Jul 14
2:06
AM ET
July, 12, 2017
Jul 12
5:09
PM ET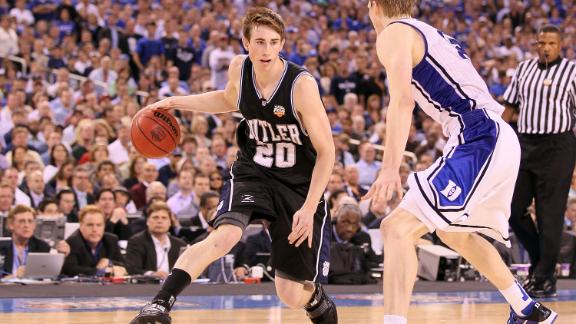 BOSTON -- Celtics president of basketball operations Danny Ainge heard it a million times over his first 13 years on the job: Big-name free agents won't come to Boston. So forgive Ainge if he has enjoyed watching his team take a sledgehammer to that narrative the past two summers.
But what changed? How exactly did the Celtics get to the point where Gordon Hayward and Al Horford uprooted to sign max deals in Boston? What was it about the Celtics that convinced Kevin Durant to invite members of the team to his exclusive Hamptons recruitment party in the summer of 2016?
The fact that Boston finally had the necessary cap space to chase top-tier free agents certainly helped. That the Celtics are positioned for sustained future success because of Ainge's relentless roster construction and asset accumulation didn't hurt, either.
But Ainge says he believes there's one reason above all else that the Celtics have managed to muscle their way into the living rooms of top available free agents the past two summers.
"Because of their fascination with Brad [Stevens]," Ainge said.
Ainge has constructed a roster with some of the league's most unique talent, but his biggest superstar is a 40-year-old head coach who prefers a quarter-zip pullover to complement his athletic shorts.
In less than four years, Stevens has morphed from the Butler Bulldogs' mid-major wunderkind into an NBA savant with the Gregg Popovich seal of approval.
When pitching Hayward this month, and Horford and Durant last summer, the Celtics put a heavy emphasis on the storied history of the franchise. They've called in favors from some of the region's biggest sports stars, like David Ortiz