September, 26, 2017
Sep 26
2:46
AM ET
ESPN.com news services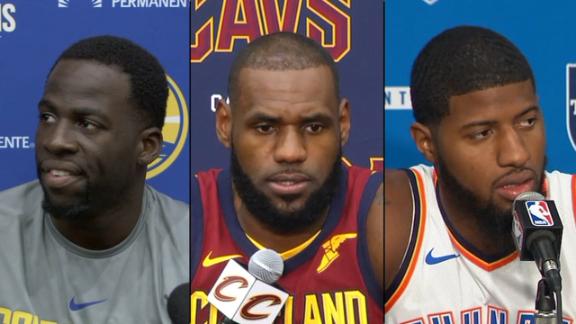 A tweeted photo of Bill Russell kneeling while wearing his Presidential Medal of Freedom surfaced Monday in an apparent gesture of solidarity to the sports world's reaction to President Donald Trump's recent comments regarding NFL players.
A solemn-faced Russell, bearing his trademark white goatee and crew cut, is shown bent to the floor in what appears to be the beige-carpeted room of a home, balanced on his right arm with his other arm resting on his thigh, looking intently into the camera in a light-blue T-shirt and khaki slacks.
"Proud to take a knee, and to stand tall against social injustice," the photo's caption reads, followed by the hashtags #takeaknee #medaloffreedom #NFL #BillRussell #MSNBC.
Dangling from his neck is the Presidential Medal of Freedom he was awarded by President Barack Obama in 2011. The Medal of Freedom is the nation's highest civilian honor.
The photo appeared on an unverified Twitter account, created earlier this month, that had no avatar and just one tweet.
Russell, 83, inducted into the Hall of Fame in 1975, was an 11-time NBA champion with the Boston Celtics and won five NBA MVP awards.
The first player to win an NBA championship, college title and Olympic gold medal, he went on to become the first African-American to coach a team in one of the major professional sports.
Scores of players, coaches and executives across the NFL showed similar gestures in games Sunday and Monday in response to Trump's controversial comments regarding players who kneel during the national anthem.
Many players and coaches in the NBA also spoke out in support of the NFL movement on Monday as training camps opened across the league.
Information from The Associated Press was used in this report.
September, 25, 2017
Sep 25
7:13
PM ET
September, 25, 2017
Sep 25
5:26
PM ET
Tim Fuller-USA TODAY SportsThe Celtics have kept in touch with Marcus Morris while he's on trial for aggravated assault in Arizona.
CANTON, Mass. - Boston Celtics forward Marcus Morris is expected to miss the start of training camp Tuesday while still on trial for an aggravated assault charge in Arizona.
Celtics president of basketball operations Danny Ainge said at Monday's media day that the organization has been in touch with Morris, including sending assistant general manager/team counsel Mike Zarren to Phoenix for the start of the trial last week, and are hopeful that Morris will be able to rejoin the Celtics when the trial concludes.
Morris; his twin brother, Markieff; and three others were indicted on felony aggravated assault after being accused of beating Erik Hood outside a Phoenix recreation center on Jan. 24, 2015.
Two of the other co-defendants pleaded guilty Sept. 13 to the same charges. The Morris brothers and the final defendant, Gerald Bowman, have pleaded not guilty.
The Celtics acquired Marcus Morris in July as part of a deal that sent Avery Bradley to the Detroit Pistons. Boston needed to trim salary to sign Gordon Hayward, but Morris was also expected to compete for a starting role in Boston's frontcourt.
September, 25, 2017
Sep 25
5:20
PM ET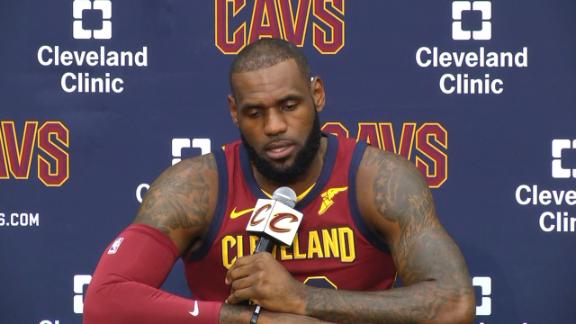 Speaking publicly for the first time since Kyrie Irving's trade request, LeBron James on Monday said he went through a range of emotions but ultimately understood Irving's request.
"I tried to do whatever I could do to help the kid out and so he could be the best player he could be," James said at the Cleveland Cavaliers' media day. "I tried to give him everything, give him as much of my DNA as I could. As I said throughout [last] season, at some point when he was ready to take over the keys, I was ready to give them to him."
James' words didn't take long to reach the Boston Celtics' media day, but Boston's new star guard still wouldn't offer any hints when asked to reply to James' reflections about if he could have done more to keep Irving in Cleveland.
"If we ever have that conversation -- I don't think it's for anybody else but me and him," Irving said Monday.
When James learned of Irving's trade request in early July, he reached out to Irving to try to understand his reasons. James and Irving still have not communicated since the trade with Boston was executed.
"I reached out to him because I just wanted to get a little insight on why he felt like he wanted to move on," James said. "He basically just let me know that that was the direction that he wanted to go in. And I was OK with that. And it's a business. I understand that. ... The kid wanted to do what was best for his career, and I give credit to our GM, Koby [Altman], and our ownership for granting that for him."
When pressed on the topic about James' comments, Irving still wouldn't bite.
"That's what I'm saying, even if there are things, it's not anybody else's business," said Irving. "It's really between two men. ... That's between two men."
James said he was pleased about the trade that brought the Cavs Isaiah Thomas
September, 25, 2017
Sep 25
4:51
PM ET
September, 21, 2017
Sep 21
11:33
PM ET
BOSTON -- Boston Celtics guard Kyrie Irving arrived 45 minutes late for a meeting with coach Brad Stevens earlier this week, but he had a decent excuse: His car broke down on the way to his first offseason workout with his new team.
Irving, acquired by Boston last month in a league-rattling blockbuster that sent Isaiah Thomas to Cleveland, said his car stalled out en route to Boston's suburban practice facility, leaving Irving stranded in the rain near an area college while trying to figure out why his Jeep wasn't working.
"I had no idea that my engine got changed. So I put regular gas in the Jeep and it stalled out," Irving said Thursday night as he joined Gordon Hayward and rookie Jayson Tatum to help the Celtics showcase their new Nike jerseys at a Boston restaurant.
"[The Jeep] stalled out right on the corner of Beaver and Forest, right in front of Bentley University. And I'm standing there and our equipment guy [John Connor] came and picked me up. So I was like 45 minutes late to meeting with Brad. That shows you how much time I was out there for. It was raining and I was wearing shorts and a T-shirt but the people out there that kept stopping, they were awesome."
Irving has been filming an "Uncle Drew" movie in Atlanta for much of the summer. He has made a couple of visits to Boston, including for his post-trade physical in August and his introductory news conference earlier this month, but ventured to Boston this week to get settled before the start of training camp.