June, 22, 2017
Jun 22
7:56
PM ET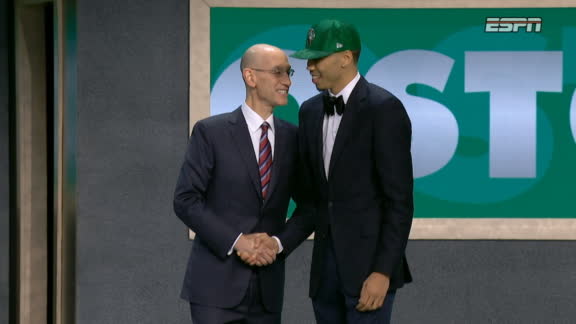 BOSTON -- The Celtics selected Jayson Tatum with the third pick in the 2017 NBA draft Thursday night, a selection made just days after they traded out of the No. 1 spot.
The 19-year-old Tatum averaged 16.8 points, 7.3 rebounds and 2.1 assists during his one season at Duke.
His coach with the Blue Devils, Mike Krzyzewski, called him after Boston traded the No. 1 pick to Philadelphia earlier in the week, and he suggested the Celtics might be a good destination.
"[Krzyzewski] called me and talked about how Boston wanted me to come up there for a workout, and he was just ranting about how great of a person [coach] Brad Stevens is, and that Coach K would love the opportunity if they would pick me, and he really wanted me to go up there and work out for them," Tatum said. "I was all for it. It worked out. I had a great time up there on my visit and obviously they enjoyed me."
The 6-foot-8 Tatum has the scoring potential that could eventually help defray some of the scoring load from All-Star point guard Isaiah Thomas.
After the Sixers deal, Celtics president of basketball operations Danny Ainge said he believed the team could get the player it would have selected with the top pick at No. 3. That quote was relayed to Tatum on Thursday night during his meeting with reporters at the Barclays Center.
"That's a great compliment, especially with all the great guys in this class," Tatum said. "The two guys that went ahead of me, they're great players. But I'm glad at how it worked out, so I'm happy."
Tatum might be known for his offensive talents, but he said that during his meeting with Stevens, they talked a lot about his defensive versatility.