April, 26, 2017
Apr 26
9:00
AM ET
The cut looked like so many others that had left defenders with figurative broken ankles and had Rutgers making grand plans for their most dynamic athlete for the rest of the season.
Janarion Grant had already even unleashed a couple jukes on the same play, slicing through Iowa's would-be tacklers for 76 yards before making one last move to turn the corner and give the Scarlet Knights a go-ahead touchdown. But the final turn instead ended with Grant on the ground, writhing in pain from a literal broken ankle while all those dreams for his final season were scrapped in an instant.
The Rutgers sideline was instantly deflated and the offense never found a replacement weapon even close to Grant's caliber. His NFL dreams after his senior campaign were put on hold, and now there was an appeal for a medical redshirt on his plate. And among all those thoughts running through Grant's mind last September was one wondering if one of the nation's most overlooked, undervalued playmakers would ever even be the same.
"I was thinking about a lot," Grant told ESPN.com. "I've never had a lower-body type injury like this before, so it kind of scared me. I didn't know what I was going to do.
"Of course, my teammates and coaches tried to keep my head up and they knew it was hard for me, but I appreciated them all doing that, and I think it will help me out in the long run. I just couldn't believe it, they couldn't believe it, nobody could believe it. But it was a freak accident. It happens, and you just have to move on and keep moving."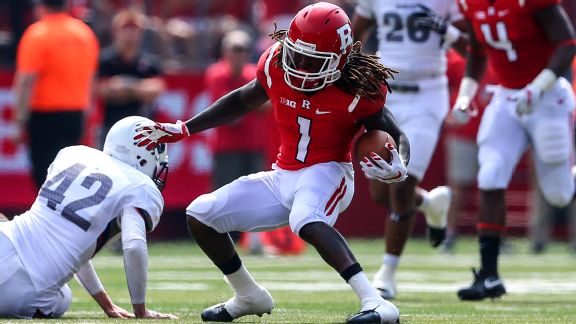 Rich Graessle/Icon SportswireWide receiver Jenarion Grant chose to play another season at Rutgers after injuring his ankle last year.
Grant isn't quite flying around yet with his high-end speed or the moves that have helped him tie an NCAA record with eight career touchdown returns on special teams. But despite sitting out last week's spring game, his rehabilitation is on track, he's running and gaining strength in his legs and "itching" to pick up where he left off during the impressive start to his first senior season.
Aside from his work in the return game that already included a pair of scores before the injury on Sept. 24 against the Hawkeyes, Grant was settling into his role as a wideout by averagingfive catches per game, was thriving as a rushing threat with three more touchdowns on the ground and also had thrown one with Rutgers looking to expand his package even more as a Wildcat quarterback. Chris Ash's first year with the program was effectively built around Grant's versatile skills, and the Scarlet Knights never recovered without him.
Rutgers didn't score on the drive after Grant was injured on the 3-yard line and wound up losing a one-possession game to the Hawkeyes, never won another game for the rest of the season -- and Grant's five touchdowns in just four outings still wound up tying for the team lead at the end of the year.
"It took away confidence," Ash said. "Janarion was our best player. He was our best playmaker, and we didn't have a lot of playmakers who could change a game on this team last year. He was the one who could. When we lost him, everybody knew it. The coaches knew it, the players knew it.
"We still have to go out and coach and play and do our job, but in games when Janarion was there, if we were behind, everybody just felt like at some point he was going to make a play to spark the sideline and change momentum and get us back in the game. And he did that. When he was gone, we lost that. The mentality changed and the confidence wasn't there. Having him back is a big lift for everybody."
Grant's return wasn't a sure thing, since he could have still tested his luck and entered the NFL draft instead of appealing for a medical redshirt for a mulligan on his senior season.
But a combination of boosting his professional stock, the chance to add to his college legacy as a returner and helping rebuild Rutgers were all among the factors pulling Grant back. And now he's got the chance to finish what he started when he took that short screen pass, turned up field and came so close to leaving only the Hawkeyes in pain.
"I'm itching for it," Grant said. "It's just a daily thing because I want to be out on that field and I love the game.
"The results I'm seeing with the strength, the stability of my leg, being able to make cuts, being able to run and turn sideways ... I envision coming back and doing the same things. I'm willing to do anything for our team. I'll put my body on the line for each and every one of those guys just to be able for us to have a successful season."
Rutgers certainly knows how important Grant is to having one. And if the Scarlet Knights are winning again, expect to see plenty of opponents checking their ankles.