March, 22, 2017
Mar 22
12:00
PM ET
Most of the Big Ten is hard at work by this time in March, trying to find a way to dethrone Penn State and win a conference title next December. It might be nine months away, but we're taking a look this week at some of the top title contenders in 2017 and the reasons they have a legitimate shot to be making confetti snow angels in Indianapolis next winter.
Up next is Michigan, which begins its spring practice Friday after a few months to stew over three losses in its final four games by a total of five points. The Wolverines were close in the second year of coach Jim Harbaugh's tenure in Ann Arbor. Here are five good arguments for the Wolverines taking the next step in Year 3.
1. Speed, speed and more speed. Three strong recruiting classes (including back-to-back finishes as No. 6 in ESPN's recruiting team rankings) have put the Wolverines in the same conversation as rival Ohio State for the league's fastest roster top to bottom.
Their quickness shows up all over the field. Young players such as running back Chris Evans and Eddie McDoom showed great bursts last year. They were both beaten by five-star freshman Donovan Peoples-Jones when the team tested the 40-yard dash (the rookie ran it in 4.41 seconds) earlier this month. Two defensive ends -- Rashan Gary and Chase Winovich -- ran the 40 in 4.7 or faster. And while all four starters have to be replaced in the secondary, last year's standouts consistently said the next wave of players are more impressive athletes than they were at the same stage of their careers. Getting faster helped the entire Big Ten restore its reputation in the past half-decade, and it will be a key piece if Michigan is to restore its place as a regular Big Ten champ.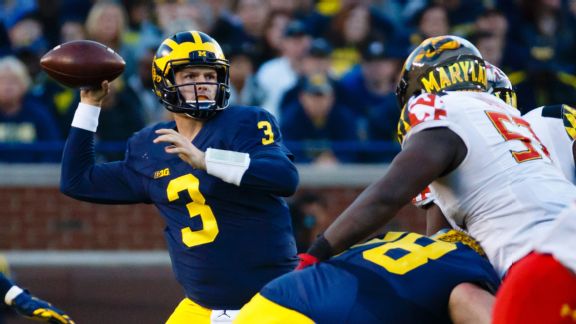 Rick Osentoski-USA TODAY SportsWilton Speight returns as the starting quarterback at Michigan, and that's vital because the top Big Ten East contenders each have a proven winner coming back.
2. Experience at quarterback. Michigan loses a staggering 17 starters in 2017, but they return players at center and quarerback, where it counts most -- Mason Cole and Wilton Speight. Speight, a rising redshirt junior, established himself as a cool-under-pressure conductor of Harbaugh's offense last year. This season, surrounded by young talent, the offense and maybe the entire team will be his to lead. Speight appears to have the steady confidence that can help a group that might be unsure of itself go about its business. The top three contenders in the East Division this season all return impressive quarterbacks, which should make for some very entertaining matchups.
3. The Harbaugh effect. The Wolverines repeated at 10-3 in Harbaugh's second season, but the continued progress was obvious to anyone watching closely in 2016. He has reshaped the program in his first two years, and, given his long track record, there is no reason to believe he won't continue to push his team forward. For a guy who is reportedly competitive enough to strong-arm his niece to win a family pickup basketball game, losing leads in the final minute of two games and another on a controversial call in double-overtime aren't likely to lead to a leisurely offseason.
4. Defensive coordinator Don Brown has produced with less. Brown had a stable of future NFL players at his disposal during his first season in Ann Arbor. He used them to finish No. 1 nationally in passing yards allowed and third-down defense as well as No. 2 in scoring defense and total defense. Let's not forget, though, that Brown produced similar results at Boston College the previous year without the same level of pro talent. Most of Michigan's starters are gone, but there is still more potential there – including possible Big Ten Defensive Player of the Year Gary -- than Brown ever had with Boston College when he was shutting down the ACC's best offenses.
5. Ohio State is a home game. The biggest roadblock between Michigan and a Big Ten title comes on the final week of the regular season against Ohio State. Yes, the Wolverines also have to go to Happy Valley and find a way to slow down Penn State's Saquon Barkley and Trace McSorley -- an equally difficult challenge. But the competitive nature of the East Division makes it reasonable to assume the divisional winner might not be decided until the final weekend of play.
Last year's version of The Game could not have been decided with a slimmer margin. Michigan came within an inch of stopping Ohio State on a fourth down in overtime that would have ended the game. Many in maize and blue, including Harbaugh, say they got the stop. Home-field advantage might not amount to too much in this rivalry, but perhaps a friendly crowd is the last little push Michigan will need to snap its five-game losing streak to the Buckeyes.